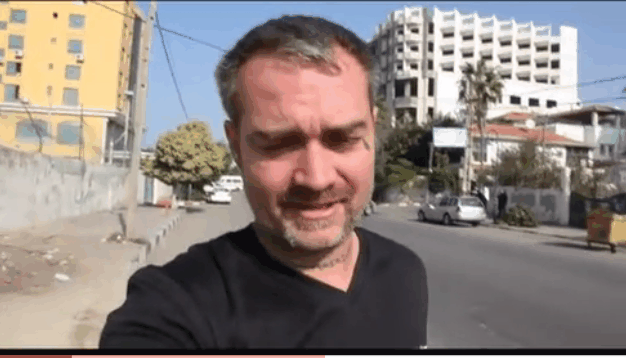 Road to Hope (R2H) Convoy Reaches Gaza
Despite kidnapping, government obstacles and financial challenges
The Road to Hope Convoy reunited in Egypt after having been split by the Egyptian requirement to charter a ship from Libya to El Arish and the kidnapping of 10 convoy members from Libya to Greece.  3 members of the convoy travelled to Egypt by sea with 30 vehicles and £500,000 of humanitarian aid, 29 convoy members flew in a chartered jet from Libya to El Arish and 3 of the 10 kidnap victims flew from the UK and Greece to Egypt on November 21, 23 and 25, all reuniting on the 25th.  The convoy was subsequently challenged by the Egyptian resistance to the 3 kidnapped convoy members rejoining the convoy, this because they had not flown in with the chartered jet from Libya.  This was not possible however because of their inability to get new passports after having been separated from them against their will.  Importantly, Egypt had approved travel to Gaza for all 3 of these convoy members just days before.
[youtube 2SbSW_Fa6a8&feature=player_embedded]
Being unable to negotiate the return of the kidnapped convoy members to the convoy they were compelled to jump into the vans when they proceeded from El Arish Port to Rafah.  When the Egyptian authorities realized that these convoy members were among the entire convoy group at Rafah, they announced that these three would not be able to reach Gaza.  Among these members was Ken O'Keefe, convoy leader and survivor of the Israeli attack on the Mavi Marmara.  With the entire convoy standing firm, the Egyptian authorities reversed their decision after several hours and the entire convoy passed through to Gaza.
After a demanding and very long 7 week journey the convoy members have been given just over two days to stay in Gaza or risk joining the imprisoned population of Gaza; this is typical of the Egyptian control of the Rafah Crossing.  13members of the convoy were blacklisted by Egypt, including a seventy-year-old children's entertainer and magician from Wales who was transporting toys for the children of Gaza.  Also blacklisted was a Scottish national who has never left Scotland and has no affiliation with any organization, along with a 19 year-old British national, again with no associations that could be considered prohibitive.  Several survivors of the Mavi Marmara were banned, along with British/Pakistani nationals and previous convoy members.  This trend makes it harder and harder for people to support Palestine and should be considered a part of the overall blockade of Gaza.
The convoy members will do their best to experience as much of Gaza as possible and share with the world the reality of life for people entering four years of a brutal collective punishment policy.  The vehicles and aid will be distributed to various charities and organizations that are doing invaluable work.  Among the aid is medical equipment and medicines, wheel chairs, crutches, toys, clothes footballs and shoes.
Ken O'Keefe will remain in Gaza for 40 days (or longer if imprisoned) and begin daily video reports focusing on the children of Gaza.  These will be posted at his Facebook and Twitter accounts and his blog.
R2H Facts – The Road to Hope humanitarian aid convoy left London on the 10th of October with £500,000 of humanitarian aid for the besieged people of the Gaza Strip. The convoy travelled with over 100 members and 32 vehicles over 5,000 miles through the UK, France, Spain, Morocco, Algeria, Tunisia and Libya and Egypt.
Contact:
Ken O'Keefe (Gaza) +970 5977 52919

Facebook – http://www.facebook.com/1worldcitizen
Twitter – http://twitter.com/1worldcitizen
Ken is a former U.S. Marine who served in the 1991 Gulf War and subsequently spoke out about the use of depleted uranium as a "crime against humanity" and the US military using soldiers as "human guinea pigs" with experimental drugs that were directly linked to Gulf War syndrome. He is also a social entrepreneur utilizing direct action marine conservation, he is more widely known for leading the human shield action to Iraq and as a survivor of the Israeli attack on the MV Mavi Marmara in which he participated in "defending the ship" and "disarming two Israeli Commandos".
On January 7, 2004, O'Keefe burned his US passport in protest of "American Imperialism" and called for US troops to immediately withdrawal from Iraq. He replaced his US passport with a "World Passport", subsequently proclaiming himself a "Citizen of the World" with "ultimate allegiance to my entire human family and to planet Earth." His is also legal citizen of Ireland and Palestine citizenship. Read Full O'Keefe Biography>>>
ATTENTION READERS
Due to the nature of independent content, VT cannot guarantee content validity.
We ask you to
Read Our Content Policy
so a clear comprehension of VT's independent non-censored media is understood and given its proper place in the world of news, opinion and media.
All content is owned by author exclusively. Expressed opinions are NOT necessarily the views of VT, other authors, affiliates, advertisers, sponsors, partners or technicians. Some content may be satirical in nature. All images within are full responsibility of author and NOT VT.
About VT
-
Read Full Policy Notice
-
Comment Policy