(SALEM / PARIS) – I think the new film Idiot Cycle that delivers the good on the world's top cancer causing culprits, could easily have been titled "The Business of Cancer"- as it so fully divulges the dark and dirty side of companies like Bayer, BASF, Dow, Dupont, Monsanto, Syngetna, Novartis, Pfizer, and others.
These are the very worst…
This country is on its knees, in fact the whole world is fairly screwed for the long run, but it all has red, white and blue paint. It's over kids and what seems good or right about it is nothing more than a temporary illusion.
I hate to say it but I don't think there is any way to turn the clock back on this one.
We are cooked; our food and water supplies are impaired, specifically by the hands of American business, and our kids will have such an increased risk of cancer because of American business practices, that you might as well start your good byes now.
We have been reporting for years about the horrible illnesses plaguing former U.S. Marines who served at Camp Lejeune in North Carolina and the Marine Corps Air Station at El Toro.
They have been impacted by contaminants in the soil and in the water at both bases. Contact with substances like Benzene, Trichloroethylene (TCE), Perchloroethylene (PCE) and a long list of other contaminants.
Marines and former Marines, Marine families and base employees, have spent their time after serving at these bases, fighting a variety of ailments, many deadly, that include cancers, lower stomach problems and birth defects in their children. That is just the beginning.
Monsanto is a large focus of this movie, and it should be. The producers don't delve into Monsanto's real history as the American company that manufactured a terrible substance called Agent Orange that was used to thin the jungles of Vietnam during the U.S. war there.
Idiot Cycle official movie trailer

Americans have been terribly affected by Agent Orange, they range from veterans of all services, to civilians like Lesli Moore Dahlke, who recently joined our team of writers.
The Idiot Cycle will screen for the first time in America on 7 December 7th, 2010 – at Dark Cinemas in Corvallis, Oregon and at the same time at California States University in Sacramento.
She was part of a USO tour in 1970 that led her to all kinds of crazy bases in Vietnam. Today she suffers all of the effects of Agent Orange contamination, and is a multiple cancer survivor.
Yet there is no place for her to turn, as the government accepts no responsibility for her illnesses.
This is just one of so many terribly stories that are tied to Monsanto and their irresponsible decisions to encourage untested chemical use.
Oh, they will tell you that tests took place, but agencies like this often police themselves. Just know that they are behind so many cancer deaths that you could never count them.
Another thing somewhat difficult to tally, is the number of cancer causing agents present on our grocery store shelves. Baby bath in America is sold with a known cancer causing agent ingredient. Europe bans the same substance, what happened to lead us to this?
Greed and profit.
Monsanto and Dow and DuPont should all be closed down and the property they own should be used to create solar farms.
In the rare cases where their ground is not totally toxic, it should be used to grow hemp to replace the long list of plastic products that have no business ever being sold in the first place.
The Idiot Cycle will screen for the first time in America on 7 December 7th, 2010 – at Dark Cinemas in Corvallis, Oregon and at the same time at California States University in Sacramento.
The film has been at the center of much discussion, since it was denied E&O insurance because of "subject matter" (which means it probably will not be shown on television in the USA or Canada) and recently the university of Montpeiller's screening of the film was almost canceled by the school director when he heard the school's sponsor BASF was cited in the film.
Emmanuelle Schick Garcia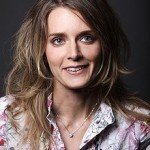 The Idiot Cycle was made by UCLA undergrad and film school alum, Emmanuelle Schick Garcia. It is a serious film about cancer and how chemical companies not only profit from making the chemicals that cause cancer, but also profit from selling the drugs that treat cancer.
From Wikipedia:
She was a Spanish Junior Swim Champion. [1] At eighteen, she earned a swimming scholarship to University of California, Los Angeles where she received her B.A. in Art History. She was awarded "Outstanding UCLA Swimming Freshman" in 1996 and the UCLA swim team "Bruin Pride" award in 1998 and 1999. She was ranked sixth all-time in the 200 IM and eighth in the 400 IM, and was the swim team co-captain in 1999. [2] She was featured in the TAG Heuer link watch campaign photographed by Richard Burbridge in 2000.

She received a M.F.A. in film production (directing) at UCLA School of Theater, Film and Television. Her mentor at UCLA was the Russian filmmaker Marina Goldovskaya[3].

In 2003 she was awarded the Motion Picture Association of America Award and the Mary Pickford Award for Excellence in documentary filmmaking. Her UCLA thesis film La Petite Morte won three film festival awards for Best Documentary [4] and one nomination for Best Documentary [5].

Her films Cancer and A Safe Place were screened as official selections at Les Films du Monde, Montreal. She directed Richard Bohringer's C'est Beau Une Ville La Nuit, and 20 Ans Déjà with French rugby star Denis Charvet; appears as "Françoise" in Juliana Hatfield's memoir "When I Grow Up"; is a member of the Canadian experimental band Japanese Pop Songs; and wrote, directed and coproduced (with Laila Tahhar) the feature length documentary The Idiot Cycle.
These same companies are now developing genetically modified crops, which have never been tested for long term health impacts like cancer. Along with the development of these non-natural food products, has been the creation of an infrastructure to support and supplement their efforts to literally modify the patterns of nature.
As our writer April Scott noted in her article, Feeding the Hungry or Population Control?
Russian scientists are not the only ones that have warned of noted health effects caused by genetically modified foods. Let us not forget that the scientists that were fired after they discovered serious health effects in animals after feeding them GM food products.
Believing in the potential of GM foods, UC Berkeley's Ignacio Chapela and Arpad Pusztai, a plant genetic modification expert from Scotland Rowett Research Institute, were commissioned to conduct the first independent study on animals fed GM foods.
Studies showed stunted growth, impaired immune systems, bleeding stomachs, abnormal and potentially pre-cancerous cell growth in the intestines, impaired blood cell development, misshaped cell structures in the liver, pancreas and testicles, altered gene expression and cell metabolism, liver and kidney lesions, partially atrophied livers, inflamed kidneys, less developed organs, reduced digestive enzymes, higher blood sugar, inflamed lung tissue, increased death rates and higher offspring mortality as well.
The film focuses on six major companies: Dow Chemical, Bayer, BASF, Monsanto, Dupont, and Astrazeneca. It was filmed in eight countries, including the U.S.
The Idiot Cycle just won the "Green Report" award and it played to a sold-out audience during France's biggest anti-GMO trial in October. It has been screened at the biggest documentary festivals in the world to packed theatres. Just some of the highlights include:
RIDM in Montreal and IDFA in Amsterdam
the Slow Food movement premiered the film in Italy
Verve Girl (Toronto) has compared it to Al Gore's "An Inconvenient Truth"
Global TV called it a "must see" documentary
 major universities from University of Oxford to Université de Toulouse have screened the film, a few universities have even had multiple screenings
the United Nation's IARC (International Agency for Research on Cancer) is organizing a special screening for their staff.
The buzz surrounding this film has been completely by word-of-mouth, since the film was made without a distributor or TV support. After its European premiere in Amsterdam it was signed to a French TV distributor. European TV dates start early 2011.
The revelations are shocking; a former Monsanto attorney who as a judge, consistently hears cases involving Monsanto, exclusively ruling in their favor in spite of what could only be called highly corroborated scientific evidence, to the contrary.
The clips that are included with this article, in addition to the actual trailer, give you a very good idea of what this movie is about. It is essential, it is mandatory for all people in this world to see. GMO's are being forced into Africa under the notion that they will help "Feed the World" and it is money grubbing political propaganda at best.
The Idiot Cycle exposes the minimal amount of testing that has taken place and reveals how even in the long run, the most extended periods available to gauge are only four years. The onset of cancer is frequently fifteen to twenty years down the road for victims.
 – Tim King: Salem-News.com Editor and WriterTim King is a former U.S. Marine with twenty years of experience on the west coast as a television news producer, photojournalist, reporter and assignment editor. In addition to his role as a war correspondent, this Los Angeles native serves as Salem-News.com's Executive News Editor. Tim spent the winter of 2006/07 covering the war in Afghanistan, and he was in Iraq over the summer of 2008, reporting from the war while embedded with both the U.S. Army and the Marines.Tim holds numerous awards for reporting, photography, writing and editing, including the Oregon AP Award for Spot News Photographer of the Year (2004), first place Electronic Media Award in Spot News, Las Vegas, (1998), Oregon AP Cooperation Award (1991); and several others including the 2005 Red Cross Good Neighborhood Award for reporting. Tim has several years of experience in network affiliate news TV stations, having worked as a reporter and photographer at NBC, ABC and FOX stations in Arizona, Nevada and Oregon. Serving the community in very real terms, Salem-News.com is the nation's only truly independent high traffic news Website. As News Editor, Tim among other things, is responsible for publishing the original content of 65 Salem-News.com writers. He reminds viewers that emails are easily missed and urges those trying to reach him, to please send a second email if the first goes unanswered. You can send Tim an email at this address: [email protected]
ATTENTION READERS
We See The World From All Sides and Want YOU To Be Fully Informed
In fact, intentional disinformation is a disgraceful scourge in media today. So to assuage any possible errant incorrect information posted herein, we strongly encourage you to seek corroboration from other non-VT sources before forming educated opinion. In addition, to get a clear comprehension of VT's independent non-censored media, please read our
Policies and Disclosures
.
Due to the nature of uncensored content posted by VT's fully independent international writers, VT cannot guarantee absolute validity. All content is owned by the author exclusively. Expressed opinions are NOT necessarily the views of VT, other authors, affiliates, advertisers, sponsors, partners, or technicians. Some content may be satirical in nature. All images are the full responsibility of the article author and NOT VT.
About VT
-
Comment Policy