Israeli PM Netanyahu Tours Fire Ravaged Area
(San Francisco) – Early December 2, 2010 deadly fires were set in Israel's remaining forest. Before it was all said and done at least 42 people were dead – burned to death in the fire, three prisons, a hospital and a university evacuated.
Israel was caught quite unprepared and asked more than 20 countries to send help – quick! What started out as a forest fire quickly escalated to a major international incident.
Israeli Prime Minister Benjamin Netanyahu said on a visit to the scene by helicopter Israel had suffered a "disaster on a scale we have never seen before."
A Week Later…….
It is now Dec 9, 2010. The forest fire in the Carmel Mountains around Haifa, Israel, killed 42 people, destroyed about 250 homes, 17,000 people were evacuated, 5,000 acres (2,023.5 hectares) burned and about 5,000,000 trees were lost.
But, let's back up to that first night and a photo op that PM "Bibi" Netanyahu, like all politicians, just could not pass up. The Prime Minister of Israel embarked on "a visit to the scene by helicopter …"
My first thought was "He did WHAT?" I was concerned for his safety, of course.
After all, Israel is in the middle of a nuclear war being fought with little American nuclear weapons and hundreds of thousands of tons of nuclear munitions.
What goes around, comes around and uranium dust never goes away. The Prime Minister's office, no doubt, got the memo from the UN International Fire Fighters on the re-suspension of uranium dusts during forest fires.
My second thought was "I wonder how much of a shot of re-suspended highly radioactive uranium oxide, and its lethal decay products, PM Netanyahu got while flying around in his helicopter? What an idiot!" that's what I thought immediately, more or less.
Israeli Sperm and Eggs take a hit from DU
Just a few months ago, I did an article on a plummeting sperm count report from the  Israeli Sperm Bank at University Hospital in Jerusalem. Long story short, all Israeli male teenagers make a sperm deposit at the University Hospital on entering their compulsory two years of military service.
The Israeli national sperm count has fallen 40% in less than ten years according to the Israeli Sperm Bank. Another eight years of this and Israel is extinct, history, a disappearing population; since 20% live sperm is considered baseline Sterility in men.
By now the Israeli guys are shooting blanks, mostly, when it comes to making babies.  In the article I blamed pervasive uranium oxide radiation poisoning for the Israeli race to bottom – Extinction.
Sterility is one result of 20 years of uranium wars in Central and Western Asia, aka, the Middle East to Westerners. The military forces using uranium weapons are the US, the United Kingdom and Israel itself. Looks like using weaponized uranium poison gas is its own punishment for the Israeli troops and now the national leader. The leader of the Israelis, at least.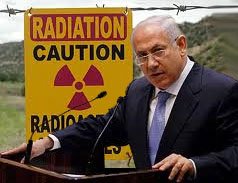 The third thing his deadly helicopter trip through Uranium smoke did: it explained the riddle of the insane actions of the IDF (Israeli Defense Forces) in using radioactive poison gas to bomb countries adjoining Israel. Since any Corporal on the battlefield knows the Army cannot control poison gas – no one can, it goes with the wind – there is only one conclusion left.
When all the possible answers are dismissed and only the improbable or impossible answers remain, then, the improbable/impossible is the answer. Prime Minister Benjamin 'Bibi' Netanyahu and the IDF leadership are just plain old garden variety Stupid. They probably foolishly believed the American Defense Department Big Lie that radiation does not hurt you. After all, it was in the New York Times. Right?
Nothing else explains poison gas bombing your own country. Netanyahu and the IDF Generals are morons. No other explanation works. They can't be trusted to run with knives or screwdrivers, much less 1,875 mph F-15s with 5,000 lb GBU-28 uranium poison gas bombs; both  supplied by the American Pentagon.
15 Million Jews and No Babies?
There are about 15 Million Jews in the world today; including about 5.6 Million Jews in Israel. All Jews worldwide had best use all their Powers to ditch this schlemiel now. Netanyahu is as deadly as any mass murderer in history.  No live Sperm = no more Jewish babies. It is that simple.
Do you have a better answer? Let's hear it! All the forest fire did was recontaminate every man, woman, child and fetus in Israel – again! The uranium poison dust from the American Uranium Wars, the Lebanon and Gaza War, the 1973 Yom Kippur War, Chernobyl, the Mayak fires, and all other nuclear activities, all re-suspended by the Mt Carmel fire.
Here's what you got yourself into, Mr. Netanyahu. It is called the "photo-electric enhancement of background radiation." The tiny radioactive particles that went through your skin and that you breathed into your body magnify Gamma and X-Ray Radiation by 583,365  times. This photo-electric enhancement effect has even been patented and used for radiotherapy.
That makes you, Mr Netanyahu, a walking, talking, out of control X-Ray Machine until the day you die. The high powered radioactivity won't stop even then. Tell your staff of yes-men to dispose of your remains as Radioactive Waste.
Chris Busby Explains Why Uranium Is Bad For You (Part 1 & 2)
Dr. Chris Busby is a world famous physicist and an expert on Uranium.
"Fact (1) : Absorption of gamma and X-radiation is proportional to the fourth power of the atomic number Z." See chart at 8:45.
Uranium binds "ferociously strongly" to DNA, Mr. Netanyahu. Scientists working for the American military and political leaders have known this since 1960, when you were only 11 years old.
Don't feel like you are special or singled out, Mr Prime Minister. The American Politicians and military lied to you the same way they did to more than a million American Soldiers.
Want to shoot somebody? Get in line, Dude, err, … Mr Prime Minister, … get in line.
Related Articles

Sources and Notes

Ecological Development Biology: Intergrating Epigenetics, Medicine and Evolution Scott F. Gilbert and David Epel, December 2008, 459 pages, 182 illustrations, Sinauer
"42 People Died in Blaze," Netanyahu flew to the scene by helicopter and said Israel had suffered a "disaster on a scale we have never seen before."
The Joys of Yiddish, Leo Rosten, *"schlemiel" Pronounced shleh-MEAL., to rhyme with "reveal." McGraw-Hill Book Company.

1. A foolish person, a simpleton, "He has the brains of a shlemiel."
2. A consistently unlucky or unfortunate person, a "fall guy"; a hard-luck type; a born loser; a submissive and uncomplaining victim. "That poor schlemiel always gets the short end of the stick." A Yiddish proverb goes: "That schlemiel falls on his back and breaks his nose."
3. A clumsy, butterfingered, all-thumbs, gauche type. "Why does a schlemiel like that ever try to fix anything?"
4. A social misfit, congenitally maladjusted. "Don't invite that schlemiel to the party."
ATTENTION READERS
Due to the nature of independent content, VT cannot guarantee content validity.
We ask you to
Read Our Content Policy
so a clear comprehension of VT's independent non-censored media is understood and given its proper place in the world of news, opinion and media.
All content is owned by author exclusively. Expressed opinions are NOT necessarily the views of VT, other authors, affiliates, advertisers, sponsors, partners or technicians. Some content may be satirical in nature. All images within are full responsibility of author and NOT VT.
About VT
-
Read Full Policy Notice
-
Comment Policy