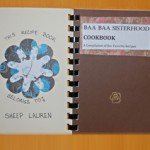 Lauren Baas, a US Air Force Academy graduate, was the victim of proselytizing by Cadets for Christ. This cookbook (pictured at left) entitled "Baa Baa Sisterhood Cookbook," was given to Baas and other female members of the ministry by Cadets for Christ.
By Nadia Prupis at  t r u t h o u t
Jean Baas' daughter Lauren entered the US Air Force Academy (USAFA) in Colorado Springs in 2006, hoping to someday become a pilot. But during Lauren's time there, Baas said, her daughter was the victim of proselytizing by Cadets for Christ, a ministry founded by Don and Anna Warrick, which promotes a fundamentalist, evangelical agenda.
By the time Lauren graduated earlier this year, Cadets for Christ had convinced her to abandon her career goals and instead focus exclusively on marriage and subservience to her future husband, Baas said.
For years, the USAFA has been confronted with hundreds of complaints that  fundamentalist Christian organizations, some with close ties to senior Pentagon officials, have been given free reign to roam the campus and proselytize to cadets.
While USAFA climate surveys have shown varying responses from cadets on religious tolerance in the academy, some families have expressed additional concern over on-campus organizations that claim to have a First Amendment right to preach to students – specifically, the Cadets for Christ ministry.
"They're targeting leaders," Baas said. "My daughter had high aspirations."
After forgoing her plans to become a pilot, Lauren began training in missile launching, which Jean Baas characterized as a lower-level position that leaves little room for growth.
"She's totally taken off the map as far as career," Baas said about her daughter.
Baas' concerns were heightened a few weeks ago when she found a cookbook entitled "Baa Baa Sisterhood Cookbook," and addressed to "Sheep Lauren." The compilation of recipes was created by Cadets for Christ and given to the female members of the ministry, all of whom are referred to as sheep.
According to the Baas family, Cadets for Christ encouraged Lauren to begin attending Bible study classes and arranged for her to marry a cadet two years her junior whom she didn't know prior to becoming involved with the ministry. Lauren has been estranged from her family since Baas spoke out against Cadets for Christ earlier this year. Two months after Baas complained about the ministry to the USAFA, Lauren and her match were engaged.
"As soon as you come forward, any relationship you had with your child is now gone," Baas said. "[Lauren] called Cadets for Christ her family."
The USAFA then sent a chaplain to the Baas family's diocese on behalf of the academy, Baas said, but she refused to talk with a USAFA representative and insisted on a meeting with USAFA Superintendent Mike Gould himself. Baas's request was never granted.
"If they are sincere with what they want to do, then they need to contact us directly," Baas said. "You're not doing anything by hiding. People need to become aware of it and people who are part of it need to speak up."
A USAFA spokesperson did not return calls for comment.
The Baas family is one of five families who have reached out to the Military Religious Freedom Foundation (MRFF) for help in fighting the USAFA's evangelical on-campus presence.
Truthout needs your help to sustain groundbreaking, independent journalism in 2011. Make a tax-deductible contribution now by clicking here.
"Trying to reach out through the Catholic hierarchy is preposterous, demeaning, absolutely insulting and completely transparent," said MRFF founder and president Mikey Weinstein. To say that unwanted proselytizing is no longer an issue at the USAFA "is like saying there's no combat going on in Afghanistan or snow in Minnesota."
MRFF, a civil rights group twice nominated for the Nobel Peace Price, has spent the past half-decade raising awareness about the meteroric rise of fundamentalist Christianity within the US Armed Forces.
In addition to the Baas' and the four other families, who have chosen to remain anonymous, MRFF also represents 172 individual clients who attend or work at the academy that have been subject to proselytizing and religious pressure on campus.
In November, Baas published a letter she had sent to Don and Anna Warrick, stating her family's anger towards the ministry for their treatment of Lauren. "You have taken Lauren's mind and soul and twisted it to your fundamentalist Christian liking. She was brainwashed to believe she was 'unenlightened' and an 'unsaved fool' in the Catholic faith," Baas wrote. "We are keenly aware that Lauren must now denounce us because your 'teachings' are being questioned."
Jean Baas sent a copy of the letter to Gould, asking him to acknowledge the continued widespread proselytizing taking place on campus; academy officials say they never received the original letter and have only seen it in republication.
The Baas family's complaint follows the USAFA's reluctant release of recent climate survey results showing an increase in religious intolerance among cadet leaders. Shortly after the results were made public, the USAFA held a Religious Respect Conference, which took place over two days in November and notably excluded MRFF from the guest list.
"The academy, to me, has not really done anything to change the day-in, day-out practices of what goes on with these kids," Baas said. "Taxpayers paid $400,000 for an intelligent person to go to the US Air Force Academy … What is the ulterior motive to get the women in their place and the men in their place?"
ATTENTION READERS
We See The World From All Sides and Want YOU To Be Fully Informed
In fact, intentional disinformation is a disgraceful scourge in media today. So to assuage any possible errant incorrect information posted herein, we strongly encourage you to seek corroboration from other non-VT sources before forming an educated opinion.
About VT
-
Policies & Disclosures
-
Comment Policy
Due to the nature of uncensored content posted by VT's fully independent international writers, VT cannot guarantee absolute validity. All content is owned by the author exclusively. Expressed opinions are NOT necessarily the views of VT, other authors, affiliates, advertisers, sponsors, partners, or technicians. Some content may be satirical in nature. All images are the full responsibility of the article author and NOT VT.