Peace Veterans and Supporters Mass at the Gates of Power – 16 Dec 2010
Back in late November, Veterans Today published an Action Alert from Veterans and Military Families in the Peace Movement converging on the White House to demand an end to the occupations of Iraq and Afghanistan in my article December 16, 2010: Veterans, Military Families Demand an End to US Wars.
Here is a followup and commentary from several sources within the Peace and anti-war movement of action taken on 16 December. Copyright credit goes to Veteran Willie Hager at VETSPEAK.org and extracts from writer/reporter Chris Hedges' article Hope, Real Hope, Is About Doing Something published on Monday, November 29, 2010 by TruthDig.com.
I especially enjoyed Chris Hedge's play on words of Hope used as a political slogan by the Obama campaign leading into the last Presidential election. Guess one can say that a little hope is better than none.

ROBERT L. HANAFIN, Major, U.S. Air Force-Ret, U.S. Civil Service-Ret, Veterans Issues Editor, Veterans Today News Network
VETERANS TODAY is a full service network of 63 web sites that service the U.S. Military Veterans Community. With over 390,000 plus unique visitors per month bringing in over 22,000,000 page hits, we're growing into a dynamic interactive conglomerate of information, service, and product sites serving the U.S. Military Family and Veterans market. Created in 2004, Our "Veterans Today" brand name is growing and gaining mass acceptance.
Excerpts from Hope, Real Hope, Is About Doing Something by Chris Hedges published on Monday, November 29, 2010 by TruthDig.com
Yesterday, 16 Dec 2010, reporter/commentator Chris Hedge joined PEACE Movement Activists  Daniel Ellsberg [of Pentagon Papers renown BIO] , Medea Benjamin [founder of the PEACE organization – Code Pink BIO], Ray McGovern [Retired CIA Officer, Political Activist BIO] and several military veteran activists [Iraq and Afghanistan War Vets] outside the White House to protest the futile and endless wars in Iraq and Afghanistan.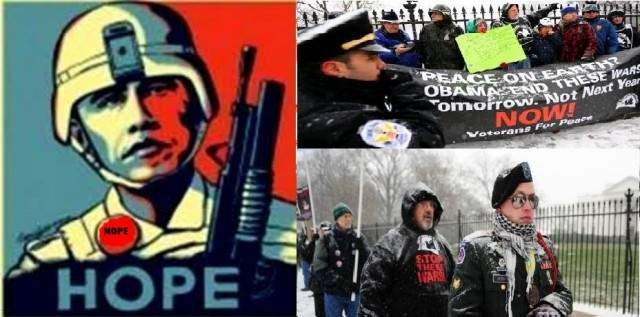 After their rally in Lafayette Park, many attempted to chain themselves to the [photogenic and popular] fence outside the White House. It was a pretty good bet those who did would all spend a night in jail.
HOPE, from now on, will be defined this.
HOPE is not trusting in the ultimate goodness of Barack Obama, who, like Herod of old, sold out his people. It is not having a positive attitude or pretending that happy thoughts and false optimism will make the world better.
HOPE is not about chanting packaged campaign slogans or trusting in the better nature of the Democratic Party.
HOPE does not mean that our protests will suddenly awaken the dead consciences, the atrophied souls, of the plutocrats running Halliburton, Goldman Sachs, ExxonMobil or the government.
HOPE does not mean we will halt the firing in Afghanistan of the next Hellfire missile, whose explosive blast sucks the oxygen out of the air and leaves the dead, including children, scattered like limp rag dolls on the ground.
HOPE does not mean we will reform Wall Street swindlers and speculators, or halt the pillaging of our economy as we print $600 billion in new money with the desperation of all collapsing states.
HOPE does not mean that the nation's ministers and rabbis, who know the words of the great Hebrew prophets, will leave their houses of worship to practice the religious beliefs they preach. Most clerics like fine, abstract words about justice and full collection plates, but know little of real hope.
All who resist keep HOPE alive.
HOPE knows that unless we physically defy government control we are complicit in the violence of the state. All who resist keep HOPE alive. All who succumb to fear, despair and apathy become enemies of HOPE. They become, in their passivity, agents of injustice. If the enemies of HOPE are finally victorious, the poison of violence will become not only the language of power but the language of opposition. And those who resist with nonviolence are in times like these the thin line of defense between a civil society and its disintegration.
HOPE is an action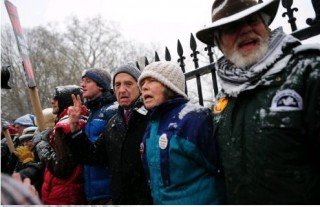 HOPE has a cost. HOPE is not comfortable or easy. HOPE requires personal risk. HOPE does not come with the right attitude. HOPE is not about peace of mind. HOPE is an action. HOPE is doing something. The more futile, the more useless, the more irrelevant and incomprehensible an act of rebellion is, the vaster and the more potent HOPE becomes. HOPE never makes sense. HOPE is weak, unorganized and absurd. HOPE, which is always nonviolent, exposes in its powerlessness the lies, fraud and coercion employed by the state. HOPE does not believe in force. HOPE knows that an injustice visited on our neighbor is an injustice visited on us all. HOPE posits that people are drawn to the good by the good. This is the secret of HOPE'S power and it is why it can never finally be defeated. HOPE demands for others what we demand for ourselves. HOPE does not separate us from them. HOPE sees in our enemy our own face.
Hope is what our corporate overlords are determined to crush.
HOPE is not for the practical and the sophisticated, the cynics and the complacent, the defeated and the fearful. HOPE is what the corporate state, which saturates our airwaves with lies, seeks to obliterate. HOPE is what our corporate overlords are determined to crush.
Above all do not think. Obey for HOPE has gone away.
Be afraid, they tell us. Surrender your liberties to us so we can make the world safe from terror. Don't resist. Embrace the alienation of our cheerful conformity. Buy our products. Without them you are worthless. Become our brands. Do not look up from your electronic hallucinations to think. No. Above all do not think. Obey.
The powerful do not understand HOPE.
HOPE is not part of their vocabulary. They speak in the cold, dead words of national security, global markets, electoral strategy, staying on message, image and money. The powerful protect their own. They divide the world into the damned and the blessed, the patriots and the enemy, the rich and the poor. They insist that extinguishing lives in foreign wars or in our prison complexes is a form of human progress. They cannot see that the suffering of a child in Gaza or a child in the blighted pockets of Washington, D.C., diminishes and impoverishes us all.
HOPE means nothing
[Like Charles Dickens' Ebenezer Scrooge, the Ghost of Christmas Present with the children name Ignorance and Want – where there is no HOPE for people with ignorance and want.]
The powerful are deaf, dumb and blind to HOPE. Those addicted to power, blinded by self-exaltation, cannot decipher the words of HOPE any more than most of us can decipher hieroglyphics. HOPE to Wall Street bankers and politicians, to the masters of war and commerce, is not practical. It is gibberish. It means nothing.
Chris Hedges speculated that he could not promise fine weather or an easy time. He could not assure us that thousands will converge on Lafayette Park in solidarity. He could not pretend that being handcuffed is pleasant. He could not say that anyone in Congress or the White House, anyone in the boardrooms of the corporations that cannibalize our nation, will be moved by pity to act for the common good.He could not tell us these wars will end or the hungry will be fed. He could not say that justice will roll down like a mighty wave and restore our nation to sanity.
HOPE cannot be sustained if it is extinguished and cannot be seen.
However, Chris could say this: If we resist and carry out acts, no matter how small, of open defiance, HOPE will not be extinguished. [As Ebenezer  Scrooge extinguished the Ghost of Christmas Past.] If all we accomplish is to assure a grieving mother in Baghdad or Afghanistan, a young man or woman crippled physically and emotionally by the hammer blows of war, that he or she is not alone, our resistance will be successful. HOPE cannot be sustained if it cannot be seen.
[One only need ask any member of the Tea Party] Any act of rebellion, any physical defiance of those who make war, of those who perpetuate corporate greed and are responsible for state crimes, anything that seeks to draw the good to the good, nourishes our souls and holds out the possibility that we can touch and transform the souls of others. HOPE affirms that which we must affirm. And every act that imparts HOPE is a victory in itself.
Taking A Stand!
Anti-war Veterans and Supporters Mass at the Gates of Power….
On 16 Dec 2010, Veteran Willie Hager sent this report, video, and update into Veterans Today with request to publish and share with our readers.
Washington, D.C – Members of Veterans For Peace, Vietnam Veterans Against The War, and Iraq Veterans Against The War rallied with other peace and justice organizations in Washington D.C., [yesterday].
Together, they delivered a unified and powerful message of Peace On Earth – NOW!, to the gates of the White House. The delivery came in the form of Post Cards of Peace floated over the White House Fence, and 120 Veterans and other activists chaining themselves to the White House Fence in solidarity, and commitment to up the ante in the struggle for peace, in the coming months.
Please share this compelling video, courtesy of davidcnswanson, with your social networks and list shares. Hopefully, this action will be the start of a prairie fire of grassroots activism in the name of Peace & Justice that will end US involvement in the current wars in Iraq (Yes, we're still there…after all these years) & in Afghanistan.
In Unity,
Willie Hager
VVAW Fl
www.VetSpeak.org
ATTENTION READERS
Due to the nature of independent content, VT cannot guarantee content validity.
We ask you to
Read Our Content Policy
so a clear comprehension of VT's independent non-censored media is understood and given its proper place in the world of news, opinion and media.
All content is owned by author exclusively. Expressed opinions are NOT necessarily the views of VT, other authors, affiliates, advertisers, sponsors, partners or technicians. Some content may be satirical in nature. All images within are full responsibility of author and NOT VT.
About VT
-
Read Full Policy Notice
-
Comment Policy