by Jim Moodie
March 09, 2011
MANITOULIN—A decade before US choppers doused Vietnamese jungles with a cancer-causing defoliant dubbed Agent Orange, hydro workers from Manitoulin were not only blithely applying the stuff to the brush along transmission corridors but practically bathing in the toxic tincture.
"We knew we were using a chemical but we were told then that it was safe," said Ron Towns of Little Current, whose 39-year career with Ontario Hydro commenced in 1951. "When I first started with a spraying crew, there was no protective clothing except for a hard hat, and when it got hot you took your shirt off. If it got real warm, you'd spray each other a little bit."
Now 78, and retired since 1990, Mr. Towns still recalls the exact names of the mixtures that he and his fellow hydro workers casually spread on foliage, and themselves, while sweating through brambly right-of-ways in the 1950s and 1960s: 2,4,5-T, 2,4-D, Sodium TCA and Tordon 101.
It was a combination of the former two, it turns out, that made for the "the most widely used chemical in the Vietnam war," according to a recent Toronto Star exclusive on Ontario's use of the herbicide.
The concoction was liberally applied in Vietnam as a way to strip vegetation and deprive the enemy of cover, but had the added effect of killing and maiming thousands of the country's inhabitants, as well as causing stillbirths and horrific defects among the babies of exposed parents.
The name Agent Orange was never used in the era when Mr. Towns and his colleagues were unknowingly elbow-deep in the same ingredients that made up this wicked brew, nor does the Ontario government seem to have used that word in sanctioning the use of the chemicals.
But it boils down to the same thing, according to Dr. Wayne Dwernychuk, an expert on the toxic defoliant. "If it's got 2,4,5-T and 2,4-D as a mixture, it's Agent Orange and it has dioxin—I guarantee it," he told The Star. A dioxin would be the highly toxic compound that arises in herbicide production, and can enter the blood and breast milk of those who have contact with the chemical.
According to the Star, "the type of dioxin found in Agent Orange latches onto fat cells and can remain in the body for decades," potentially causing "skin disorders, liver problems, certain types of cancers and impaired immune, endocrine (glandular) and reproductive functions."
While Mr. Towns had no reason at the time to associate health issues in his own life with the substances he was encountering at work, the recent revelation has made him think again about some of the trials that he and his wife have endured.
"I've had some heart and kidney problems, and am going next week to get tested for my thyroid—is that because of the chemicals?" he wonders.
He admits that many of his own ailments could simply be the result of the aging process, or genetics, but in hindsight he can't help but conclude that his exposure to this nasty stuff had an effect on his wife's attempts to bear children.
"We were not long married, and looking to start a family," he said. "My wife had seven miscarriages all told. The more we hear about this Agent Orange, the more suspicious we are that it was probably the cause."
The couple did finally have kids—one of them is now the police chief in Espanola, with adult children of his own—so there's a happy end to that story, but Mr. Towns fears that some of the kids and grandkids of his colleagues were prematurely robbed of a parent or grandparent as a result of the defoliant.
"Quite a few of my fellow workers have long since died, and in most cases it was from cancer," he said. "They're saying now that it could be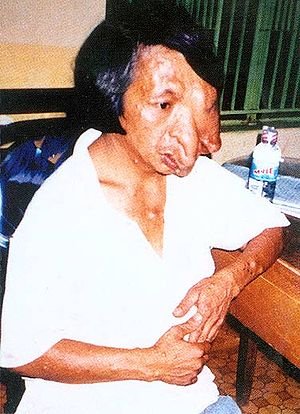 from cancer-causing chemicals."
One hydro contemporary is not only still alive, however, but happens to live right next door. Gerald Fowler signed on with the utility in 1954, a few years after Mr. Towns, and retired in 2003 after experiencing heart issues.
Like his colleague and neighbour, Mr. Fowler, now 77, isn't sure whether his health complaints can be traced directly to his experience with the controversial chemicals, but he probably wouldn't be surprised to learn that there was a connection, given how often and how nonchalantly he dealt with the substances.
"We never had any protective clothing," he recalled. "When I worked out of Sudbury, we didn't even have a hard hat, just a plain hat, and you were always stripping down when it got hot out. We were soaking wet most of the time from the dew, so if you got more wet from the spray it didn't make any difference."
Both Mr. Towns and Mr. Fowler were members of brush-clearing crews in their earliest days with hydro, working on routes north of Sudbury, along the North Shore, and on Manitoulin itself. And in those days, through the '50s and '60s, the approach was very much a chemical-based one, as opposed to the cutting of brush with chainsaws and brush saws that now tends to dominate.
"We had a trailer sprayer that was towed behind a bulldozer, or an old army half-track," said Mr. Fowler. "There were no roads so we pretty much had to make our own roads."
Crewmembers would stay in tents on many occasions, and "the only place to wash up was at the lake or river," he recalled.
Given the ability of Agent Orange to seep through the skin and cause all manner of health problems, this lack of hygienic options looks much worse in retrospect, but at the time the hydro workers were more concerned about other things, like wildlife.
"There were lots of bears," recalled Mr. Fowler. "You could hardly keep them out of the tents."
The tent of the cook was particularly susceptible to bruin visits, so "he wouldn't sleep in the cook tent," noted Mr. Fowler. "He'd sleep in the tent with us, but keep a meat cleaver with him in his bunk."
Neither man recalls experiencing a nasty reaction to the chemicals at the time, although they do remember reeking of it. "When we'd enter a restaurant, a lot couldn't stand the smell of us because of the chemical on our clothes," said Mr. Fowler. "It stunk to high heaven," agreed Mr. Towns with a chuckle.
Visually speaking, the stuff looked pretty benign. It definitely wasn't orange. "It looked just like water, with maybe a bit of a milky colour, that's all," said Mr. Towns.
Later both men would use solo sprayers—two-gallon tanks toted on one's back, with a little engine to pump the herbicide out through a hose. "The propellant was air, like with a leaf blower," said Mr. Fowler. "It would come out as a fine mist, which penetrated the leaves better, but you would have that stuff dripping down your back, too."
It's been rather unsettling to learn, all these years later, just how noxious the substances really were. "We were ignorant of the facts," muses Mr. Towns. "Maybe the chemical companies were ignorant too. We were just young lads and had a job to do."
Mr. Fowler agrees. "It was a surprise to hear this, because we were always told there was no harm," he said. "Nobody then was really affected that I knew of, but now you kind of wonder about some things."
The septuagenarian is still fairly spry and claims to feel "pretty good," but admits that he's been dealing with a whole series of medical issues of late. He had bypass surgery 11 years ago, and just went for a stress test in Sudbury, as there may be an issue with his valves. He had an operation on his eyelids not so long ago, and "now I have to have my gall bladder out," he said.
Whether any of this is connected to his onetime exposure to chemicals, "I couldn't say," the retiree mused.
Mr. Towns is relatively hale, but like his neighbour and colleague, has also made a few trips to the doctor in recent years. Apart from heart and kidney complaints, "I'm going next week to have my thyroid checked out," he said.
The hydro alumni have outlived many of their colleagues, though, and consider themselves relatively fortunate. "One chap was just 52 when he died," noted Mr. Towns. "And I know of two who had cancer."
Is it just that he, and Mr. Fowler, have strong constitutions? "That, or we're lucky," he said.
Hydro workers were not the only ones who were likely subjected to unhealthy doses of Agent Orange. Forestry workers, including young students and junior rangers, are believed to have been particularly vulnerable, in some cases being employed as human markers, with balloons in their hands, as planes passing overhead dumped their toxic loads of defoliant on the brush—and the boys—below.
Natural Resources Minister Linda Jeffrey recently indicated that farmers may also have been unwittingly exposed to the material. "It's certainly becoming clear to me that it was very widely used," she said. "It would have been on the hedge rows, on the fence posts, on the outskirts of their properties."
The Ministry of Natural Resources (MNR) is continuing to collect information on the scope and possible consequences of Agent Orange use in earlier decades, and has engaged the Workplace Safety Insurance Board (WSIB) and Ontario's chief medical officer of health to assist in the process. Hydro agencies are also expected to co-operate in the inquiry.
A hotline has been set up for people with concerns about potential exposure to the herbicides, and MNR staff is eager to locate former employees who might have been exposed to the chemical, assured the minister.
"It happened a long time ago, and so it's going to be a challenge to identify these former employees," Ms. Jeffrey told the press. "They may not necessarily be alerted until they read it in the media."
Both Mr. Towns and Mr. Fowler have placed calls to the Agent Orange hotline, but neither knows at this point what may come of this involvement. "Apparently the government has set up a board of some sort, and they may take a bunch of us old duffers and run us through some tests," said Mr. Towns.
Islanders who have reasons to suspect that they may have been exposed to the chemical in the 1950s and 1960s (it was phased out sometime in the 1970s) are encouraged to call the hotline at 1-888-338-3364.
Information is also available through the WSIB's occupational disease information line at 1-800-387-0750, as well as the MNR website at www.mnr.gov.on.ca, or the WSIB website at www.wsib.on.ca.
ATTENTION READERS
Due to the nature of independent content, VT cannot guarantee content validity.
We ask you to
Read Our Content Policy
so a clear comprehension of VT's independent non-censored media is understood and given its proper place in the world of news, opinion and media.
All content is owned by author exclusively. Expressed opinions are NOT necessarily the views of VT, other authors, affiliates, advertisers, sponsors, partners or technicians. Some content may be satirical in nature. All images within are full responsibility of author and NOT VT.
About VT
-
Read Full Policy Notice
-
Comment Policy