The Sesquicentennial – 150th – Series…by Jim Dean
I got the expected responses on my first Sesqui article on the 'correct' name to use for The War. My attempt to walk the tightrope successfully by using the three most common got me chewed up anyway 🙂
But, not to worry as I have been around the name controversy gig for many years now  and Confederates especially will argue about it passionately and endlessly. It's generally all good natured jousting event, but when weapons are around one must proceed with caution.
I was doing a Heritage TV show years ago with guest Charles Lunsford and he told be a lovable story about the old United Confederate Veterans and their reunions. In those days the arguments were most often over the battles. And occasionally a remark was made about some one, or some unit having 'left the field' in a too hasty,  improper manner…and a slugfest would ensue.
Charles shared that this continued way up into their old age, where a new name was given to these historical altercations…"Cane Fights'. Yes folks, I am not pulling your leg here.  So many were using canes in their olden age they were the weapon of choice for beating history into the thick skulls of those not blessed with the correct views. And those that did not really need them would bring them to Reunions anyway, in case a 'need' arose.
On one occasion a cane fight broke aborad a special reunion train on it's way to New Orleans.  It had to stop in Montgomery, Alabama where local authorities boarded and disarmed the mutinous octogenarians.  On another occasion the Kansas City police had to be summoned to the reunion convention hall to breakup another spirited cane fight.
But I am most proud to say this method of historical enlightenment was never used at a joint Confederate and Federal Reunion.
Ever the peacemaker be I, there are no cranial abrasions on my unprotected noggin. And wanting to maintain my perfect record of never having been physically wounded in historical discourse I endeavored to construct the last word article on 'what to call it'. But I could not write the first word…complete writer's block.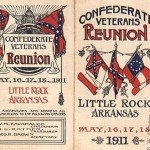 The angels came to my rescue and my email box delievered me an already crafted solution to my conundrum. Historian Gregg Clemmer had slashed the Gordian knot. Despite his being of 'mixed lineage' with both Northern and Southern ancestors he has done a wonderful job.  And as our old readers know,  we here at VT like to spotlight good work when and where we find it.
We look forward to mixing in some fun along with the serious part of our Sesqui series so keep an eye peeled on our History section. My Sons of Confederate Veterans crew and I have lots of surprises on the way for you. Check out the SCV website for links on what might be going on in your area.  And if you are not sure if you might have Confederate ancestors, shoot the boys an email and they will be happy to help you out.
We use a  special genealogical service called Macho DNA. To make sure they have an adequate size sample along with the required test of courage demonstration they use a random selection device to determine which appendage you will using to make your DNA contribution.  Period knives are used in keeping with historical tradition. Mouth swabs are for sissies, so don't even go there.
If you hurry you might even get to meet some of the few remaining Real Sons, like Jim Brown and Marion Wilson, whose fathers fought in the War. I even have some video with brother Brown I will be sharing later on.
Oh… if any of y'all are wondering what this kind of stuff is doing on the biggest online veteran's website in the world, it's because Confederates are official American veterans by Act of Congress, 1958, in honor of the Centennial…something to do with a weird concept called reconciliation. Imagine that? (more on this later).
So without further adieu, I present my escape from having to write the 'what do you call the what-chu-ma-call-it'. 🙂
Jim Dean…Heritage TV…Atlanta, and a son of many Confederate and Amerian veterans. www.scv.org
Walt Whitman called it… This Strange Sad War…by Gregg Clemmons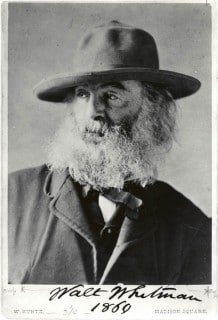 Officially, we are on the cusp of commemorating the Civil War Sesquicentennial. One hundred fifty years have passed since that conflict began, yet as we've discussed in recent Examiner posts, many Americans still cannot agree on the war's causes, purposes, and even long term effects. Why, we can't even agree on what to call this mess.
Three years before it exploded, as we noted in an earlier post, New York Senator William Henry Seward warned of The Irrepressible Conflict. In the decades immediately after Appomattox, the government published the conflict's war records in a long series of volumes entitled The Official Records of the War of the Rebellion. About this same time southerners began (and continue) to call it The War Between the States. Yet today, it is most recognized as The Civil War, or The American Civil War.
The list goes on and on. In fact, Professor Jay Hoar of the University of Maine, author of several works including The South's Last Boys in Gray, documents more than 200 noms de guerre, from The American Iliad and The Brothers' War to The Ordeal of the Union and The War of the Mason-Dixon Line.
What's going on here? Your Examiner grew up in Virginia's Shenandoah Valley where Stonewall Jackson marched into legend and Sheridan burned everything else. Out there, everyone knew what you were talking about when you simply referred to The War.
Nope, not WW 2. THE WAR!
But intensity burns even hotter in Georgia where Sherman is known to this day as the "father of urban renewal." The War? Nope. Locals refer to what happened down in the Peach State as IT. And according to Prof. Hoar, in the deeper South, some folks know the period as simply…The Wauhwah.A number of prominent Americans have weighed in on this name game. Walt Whitman wrote of This Strange Sad War; Mark Twain referred to The Great Trouble. Frederick Douglass identified with The Abolition War while poet Sidney Lanier wrote of The Blood Red Flower that Bloomed in 1861.
Sir Winston Churchill referenced our troubles as The Last War Between Gentlemen and The Last Civilized War while Abe Lincoln once called it This Mighty Scourge.
Sectional interpretations, to this day, differ. From the South, we get The War of Northern Aggression, The Yankee Invasion, The War for States' Rights, The War for Southern Independence, and Mr. Lincoln's War. From the North…The Southern Rebellion, The Crisis of the Union, The War of the Southrons, The War to Free the Slaves, and Mr. Davis' War.
As you read more and more, you may adopt your own favorite. Perhaps Our Lachrymal Extravanganza or The Ce-Cesh War?
Your Examiner likes The Late Unpleasantness. Yet no matter what you come to prefer, you'll find, as Prof. Hoar notes,
"…the names you select will more than likely reflect who you are, where you are, and what you are. And from that, perhaps we can learn a little something."
[youtube -SjoUqXh5MU]
***Gregg Clemmer lives in Maryland but as a native Virginian possesses an interest in the American Civil War that hearkens back to the Civil War Centennial. He numbers two Union generals and 14 "lesser ranked" Confederates in his ancestry. Gregg has a MA in Military History and is the author of five books including the acclaimed "Valor in Gray." His biography, "Old Alleghany," won the Douglas Southall Freeman Book Prize for 2005. Contact Gregg at [email protected].
Author Details
Jim W. Dean is Managing Editor of Veterans Today involved in operations, development, and writing, plus an active schedule of TV and radio interviews. He broke into television work doing Atlanta Public TV programs for variety of American heritage, historical,military, veterans and Intel topics and organizations since 2000. Jim's only film appearance was in the PBS Looking for Lincoln documentary with Prof. Henry Lewis Gates, and he has guest lectured at the Army Command and General Staff School at Fort Gordon, GA.
He is working to find time now to database his extensive video archive of Americana and interviews filmed during his public TV days so individual topic segments can be key word searched to quickly use in future multi-media projects.
Read Full Complete Bio >>>
Jim's Latest Posts
ATTENTION READERS
Due to the nature of independent content, VT cannot guarantee content validity.
We ask you to
Read Our Content Policy
so a clear comprehension of VT's independent non-censored media is understood and given its proper place in the world of news, opinion and media.
All content is owned by author exclusively. Expressed opinions are NOT necessarily the views of VT, other authors, affiliates, advertisers, sponsors, partners or technicians. Some content may be satirical in nature. All images within are full responsibility of author and NOT VT.
About VT
-
Read Full Policy Notice
-
Comment Policy