Following Oil Drug Cartels, Russia and China By Silence, Complicit With USA Myths Hoaxes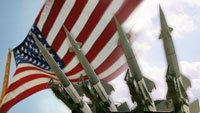 The silence of Russia and China to U.S. belligerence across the world spectrum with $trillion dollar wars confiscating and theft of natural resources signals a collusion of interested government apparatus in war against humanity for greed.
Middle Eastern East Asia Natural Resources
"Neighbors China and Russia are key economic partners, providing sources of export demand and government project financing," Reported by Central Asia Newswire
c.2001 price of a gallon of gas in the U.S. was $1.70 see
PBS News
.  In Iraq Saddam Hussein had signed all the oil contracts for future production with no restrictions to Western oil interests that would result in stable world prices . Oil had more production than demand on the world markets c.2001. The striking focus to be made here is that the invasion of Iraq by American Imperialism hoaxes ratcheted up the price of a barrel of oil. Instead of a controlled market price downward. Retail gasoline prices now are $3.50gal and climbing exponentially to possible $10gal with global disruption, illegal wars and occupation of sovereign nations.
Nevertheless, U.S. arrogant Imperialists document a decade of 'Too big to Fail' crime organization incompetence masking a pretext "terrorist" threat myth. A decade resulting in accelerating oil prices by illegal invasions, war on humanity, and genocides at a cost of and the confiscation of $ trillions of U.S. citizenry taxpayer labors, property, and hard assets.
Furthermore, Taliban leadership limited and curtailed all opium poppy crop in Afghanistan. This includes halting Western private oil cartel pipeline construction. Afghanistan's Taliban leadership halted Western oil interest negotiations for pipelines through Afghanistan.
Obfuscation, Deception, Diversion, of USA Nation of Laws
So a vital premeditated decision to circumvent the US Constitution, Articles Bill of Rights was made by U.S.corrupt neo-con bureaucratic apparatus and crime organizations. This includes the financial and bank baron cartels self admission to control monopolize Middle Eastern and East Asian natural resources. The manufactured fog of war alibi and newly created enemy "terrorists" mythology accomplishes a false calibration of limited production of natural resources and elimination of competition. Repeating a striking parallel, the historical factual monopolistic crime organization Wall Street banking hoax. The financing of the Bolshevik's Communist theft confiscation and elimination of competition of Czarist Russia c.1917.see "Wall Street and the Bolshevik Revolution" by Modern History Project and here Zionist Blogspot.
Subsequently, decreasing petrol production by turmoil, confusing events, and destruction of civilization. Conversely, increasing false demand and manufactured inflated retail costs. Dr. James Petras writes; "Baghdad was considered the 'Paris' of the Arab world, in terms of culture and art, science and education. The destruction of the scientific, academic, cultural and legal foundations of an independent state means increasing reliance on the Western multinational corporations and their technical infrastructure, thereby facilitating imperial economic penetration and exploitation." "Destruction of Civilization" by Dr. James Petras Global Research
War Against Libya Commences African Natural Resource Monopoly
Creating turmoil, confusion, death, destruction, and illegal war on humanity under the jingoistic banner of patriotic parody and hoax of fighting terror in Afghanistan, Iraq, and AFRICOM. A  flawed dynamic of North African natural resources theft and monopoly on oil, diamonds, gold, silver, platinum, and the famous uranium "yellow cake" circus and numerous strategic resources. "The vote was 10-0 with five countries abstaining including Russia and China, which have veto power in the council,"America's hidden hand behind UN Resolution in the war against Libya." Article Veterans Today
Fast forward to; "Western powers launch airstrikes on Libyan military forces" Posted by Market Watch19 Mar 2011. Western powers intervened in Libya on Saturday to prevent Moammar Gadhafi from crushing the rebellion in the eastern city of Benghazi. In a dramatic statement, French president Nicolas Sarkozy announced that French airplanes were in the air over Benghazi to prevent Gadhafi's aircraft from bombarding the city. Sarkozy said the planes would also attack tanks on the ground if necessary to end any assault".
West Oppose Aggression Against Libyan Civilian Population in Benghazi Hoax
Sarkozy initiates opening round of DOA flawed propaganda hoax "West defends civilians in Libya." The same opposition comprised of France, Britain, US, and Israel who mass murdered upward of 2 million defenseless civilians men, women, children, sick, and the indigent. Mass murder and genocides in Palestine, Iraq, Afghanistan, Pakistan, and bulls eye target Iran as Russia and China pretend that they too are fighting terrorists by abstaining votes in the United Nations.
Response written by Lori Price paragraph; "Except when Israel attacks the 'civilian population' in Gaza, or when US killer drones bomb 'civilian populations' 24/7 in Pakistan, Afghanistan, Iraq and any other place where there's oil, gas or opium routes to control — then no problem! Am I the only one that sees through this hypocritical humanitarian bullsh*t and pathetic calls to oust dictators — aka previous CIA assets 'going rogue,' recipients of tons of US armaments? The US government doesn't give a *damn* about civilians, anywhere! The US just wants oil production to slow to a crawl so Exxon Mobil's profits can skyrocket. More 'bad economy' equals more union busting and further decimation of the working class. –LRP" legitgov.o
Busted Broken and Flawed Bankrupt Powers Assault Competition
The U.S.flawed DOA private gnagbanksters Federal Reserve Corporation c.1910 pushed the bankrupt, morally, physically, and financially, bureaucratic apparatus to the precipice of total war against humanity for all natural resources on the planet. see video Radigan "Con Job."A final fatalistic attempt to control the $ trillions of value wealth and assets of 'We the People.' Eviscerating the worlds economic and financial systems through rigged markets, 'Divide et Imperia' divide and conquer, assaulting eliminating competition, and total war against humanity .
Russia today under Putin rather than opposing US world dominance monopoly and cartels seizes the opportunity of remaining neutral thereby speculating with the Russian future potential value and wealth of immense natural resources.
However, Russia was bankrupted with the defeat of CIA financed Afghanistan war and the fall of the Berlin Wall. Ironically, Russia's Putin strikes a mean pose to deflect the true position of the Russian Republic.  By permitting the U.S. to bankroll Israeli separation wall throughout the confiscated Palestinian lands, totally encompassing Russia with threatening U.S. offensive weapon technology, and standing down against invasions and occupations of Middle Eastern and East Asia sovereign nations.
China is bankrupt by US Nixon Kissinger Detentec.1970. Translation; Nixon Kissinger detente is a formal contract between the two Nations China and U.S.  A contract for the transfer of US Treasury worthless fiat paper IOU's in exchange for China's value, wealth, labor, property, and hard assets. So China remains a true non-entity without US firing an offensive  shot.
Kindergartners Versus Criminal Algorithmic Language
The conclusion reached is that the US militarysatrap machine colludes with the rabid violent neo-con ideologues final quest at Armageddon to control the worlds natural resources labor assets and property. "The Total DEBT of the US (& The rest of the World Exceeds the Total Assets Owned) ….. ie – The US & The Rest of the World is Technically Bankrupt." Posted by Investment Watch. An eternal quest that stretches and extends the mathematical impossibility of U.S. private bank con jobs, shakedowns by select exclusive Zionist interests, daylight theft confiscations of 'We the People,' rigged controlled markets, eliminating competition, cities and states assaulting the citizenry liberty free speech personal assets, outright stealing of Social Security pension funds.
The perspective of this mathematical impossibility is the historical fact that U.S. can invade murder indigenous peoples and confiscate all the worlds natural resources assets property and not ever hope to recover the $78 trillion of monetized debt obligations. The formula posing an equation and analogy of $1 trillion of U.S. fiat monetized debt obligation. In order to recover a $1 trillion theft scenario the gangbanksters would have to accelerate the theft and confiscation of $1 million generated wealth daily  before Rome was founded for 2,740 years into the future . Now, take $78 trillion of monetized debt that equals $78 million daily of theft, rigged markets, and confiscation of real value wealth and natural resources for 2,740 years into the future.
So then it cannot be argued or disputed that China and Russia and faux capitalist USA will be better served by admitting to this mathematical impossibility, and get a grip on alibis. A reality that any four year old child can explain 2+2=4 and 2-2=0. The analogy of pre-schoolers versus over educated under performing cavalier Nobel laureates, dysfunctional dismissive academics, delusional computer programmers, rigged market gangbanksters, crime organization bank barons, military satraps, and corrupt to the core corporate media.
Operating cryptic algorithmic language with ultra high speed computer programs ignoring pre-school basic arithmetic, lacking basic common sense, self dignity,and self respect.   Resulting in obfuscating US Constitution Laws, deflection Articles Bill of Rights, illegal wars, dismissing ignoring capitalist competition, and the deception of a zero sum demise. Russia China and USA pretend that they are fighting terrorists while they are self immolating and destroying the planets; human life, animal, flora, and fauna.
Sources:

Tommy is a freelance contributing writer for 21st Century Reverse Pyramid AK47 Blog.
Tommy writes primarily about current global events that impacts each citizen and all individuals of our 21st Century world. Tommy volunteers for AK47 Blog does not shill for income has no silent investors or cryptic affiliations to any organizations or focus groups.
Tommy's freelance motivation is purely volunteer in nature and operates in conjunction with all collectively run media organizations. Working in solidarity with the international network of free and independent media centers and news outlets globally. Goals are to function as a organizational counter intuitive free unencumbered voice to the dominant MSM status quo.
Tommy's articles have beeen published throughout the global community in all languages.
.
ATTENTION READERS
Due to the nature of independent content, VT cannot guarantee content validity.
We ask you to
Read Our Content Policy
so a clear comprehension of VT's independent non-censored media is understood and given its proper place in the world of news, opinion and media.
All content is owned by author exclusively. Expressed opinions are NOT necessarily the views of VT, other authors, affiliates, advertisers, sponsors, partners or technicians. Some content may be satirical in nature. All images within are full responsibility of author and NOT VT.
About VT
-
Read Full Policy Notice
-
Comment Policy