Local women who spent time at Alabama base join push for disclosure on health issues
TROY — Female veterans of Fort McClellan in Alabama are questioning whether their serious health problems are related to the time they spent there after learning that the Army base was contaminated with harmful chemicals.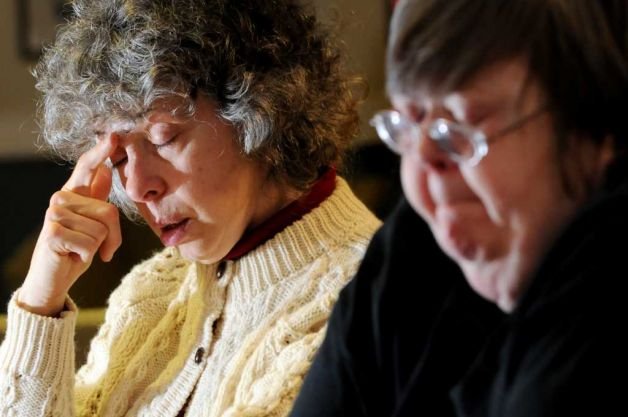 Linda Geser and Paula Hebert, who live doors apart in Troy's John F. Kennedy Towers, completed basic training at the Anniston, Ala., base during the Vietnam War. The sprawling facility hosted the Women's Army Corps School, Military Police School and Chemical Corps, and served as the military's primary chemical and biological training center before closing in 1999.
Hebert, 61, left Troy for Fort McClellan in 1968 and served in the Army for three years. Geser, 56, trained at the base in 1973, and worked as a soldier for almost two years. Years later, both struggle with unexplained and worsening neurological problems.
Hebert started experiencing head shakes about 20 years ago that recently spread to her arms and hands. Geser fell ill in 1990, and was diagnosed four years ago with myasthenia gravis, a disorder that weakens body muscles. A few years ago, Geser could climb the towers' stairs. She now uses a wheelchair.
"It's frightening," said Geser, who was promoted at every job she had prior to 1990.
Three other women from the Capital Region and a handful of out-of-state veterans also contacted the Times Union after reading a Feb. 28 article about female soldiers becoming sick years after training at Fort McClellan.
The story profiled Albany veteran Susan Frasier, who played in an Army band at Fort McClellan in 1970 and is now disabled with fibromyalgia and other disorders. Diana de Avila of Malta, who served at Fort McClellan from 1983 to 1984, now suffers from multiple sclerosis. Both lost their ability to have children, as did Geser.
Frasier, 60, is fighting for answers. She is lobbying national leaders to support a Fort McClellan Health Registry Act, which would require the Department of Veterans Affairs to establish a list of service members who were on the base between 1935 and 1999, and examine their health records for signs of toxic exposure. Rep. Paul Tonko plans to introduce the bill to Congress in a few weeks.
Geser and Hebert joined the Army for an education that their families could not provide. Both received Good Conduct Medals. The ex-soldiers are now in treatment for depression and depend on federal housing, disability payments and food stamps to survive, for which they feel ashamed. They do not receive service-related monthly disability payments from the VA for their injuries.
The pair do not blame the military for their problems. But they want to know what caused their issues, and don't understand why the Army or EPA never informed the Fort McClellan population of known environmental concerns.
"I don't know what else to pin it on," Hebert said in an interview, tears streaming down her face. "I don't want handouts. What bothers me the most is the condition I am in and not knowing if things are going to get better."
Soldiers on the 42,286-acre base were located just miles from the Monsanto Corp. chemical manufacturing plant, which discharged tons of polychlorinated biphenyls — PCBs — into Anniston's air, soil and water for decades, according to the Environmental Protection Agency. Monsanto's release of the PCBs made Anniston the most toxic place in the nation, say scientists, who have discovered increased rates of illnesses among the city's residents. PCB exposure is linked to neurological and reproductive problems, higher rates of cancer and autoimmune diseases in humans.
Monsanto and its subsidiaries have paid more than $1 billion in damages and cleanup costs to Anniston residents, who were ordered not to grow food in their yards or eat fish from local waters. In addition to the pollution caused by Monsanto, Army operations around Fort McClellan, including the incineration of nerve gas and the storage and use of chemical munitions, turned the base into a hazardous waste site that the military is still cleaning, the EPA says.
Government officials have never studied the health of Fort McClellan vets. Those who served at Fort McClellan exchange information about their illnesses on websites.
Debra L. Marlar of Lincoln, Neb., an Army veteran who trained at Fort McClellan with her sister in 1973, was one of several veterans who contacted Tonko in support of a health registry. Her sister, Elena Evans, died of lung cancer at the age of 50. Marlar, 58, has diabetes and a thyroid disorder. She lost three babies prematurely before giving birth to two children with the help of hormone shots. She believes her health issues stem from her months in Anniston, though she says she would do it again.
"I am hopeful that Mr. Tonko will press forward and let the record speak for itself," Marlar said in an interview.
The military experimented with Agent Orange, a toxic defoliant used to clear vegetation from the jungles of Vietnam, at Fort McClellan, and stored it near the women's barracks, says Paul Sutton, former longtime chairman of the Vietnam Veterans of America's National Agent Orange/Dioxin Committee. Sutton estimates that about 10,000 veterans, mostly women, were exposed to toxic chemicals at the base during the Vietnam era.
Army veteran Rebecca Fass, 57, recently wrote about the Agent Orange-Fort McClellan connection on the website VT. She served at Fort McClellan for more than six months in 1972. A doctor in Houston later diagnosed her with Agent Orange exposure after she became a diabetic at age 30, had two heart attacks at a young age and suffered liquid-filled blisters on her skin.
Fass is appealing a denial from the VA for monthly disability payments. While the VA now presumes that veterans who served in Vietnam were exposed to Agent Orange, that presumption does not extend to service members who were exposed on domestic soil, Fass said in an interview from her home in Mexico.
The women veterans say that national leaders need to examine what caused their spiraling health conditions. And, they said, the government should make sure others know of the toxic contamination.

"Awareness is primary," Geser said. "Anyone who went should receive a letter notifying them of what's going on."
Reach Yusko at 454-5353 or [email protected].

ATTENTION READERS
We See The World From All Sides and Want YOU To Be Fully Informed
In fact, intentional disinformation is a disgraceful scourge in media today. So to assuage any possible errant incorrect information posted herein, we strongly encourage you to seek corroboration from other non-VT sources before forming an educated opinion.
About VT
-
Policies & Disclosures
-
Comment Policy
Due to the nature of uncensored content posted by VT's fully independent international writers, VT cannot guarantee absolute validity. All content is owned by the author exclusively. Expressed opinions are NOT necessarily the views of VT, other authors, affiliates, advertisers, sponsors, partners, or technicians. Some content may be satirical in nature. All images are the full responsibility of the article author and NOT VT.