Eric Cantor does not see America as his country of choice, he sees Israel as his country of choice.
Sami Jamil Jadallah / STAFF WRITER
Not so sure if the voters of Virginia 7th Congressional District knew when they voted Eric Cantor into Congress some 11 years ago, they will be electing him as the leader of the "American Knesset".  For sure Congressman Eric Cantor chose to represent Tel-Aviv not Richmond, Virginia.
Putting Israel not America first is an insult to all the people of Richmond, insult to all Virginians and certainly an insult to all Americans.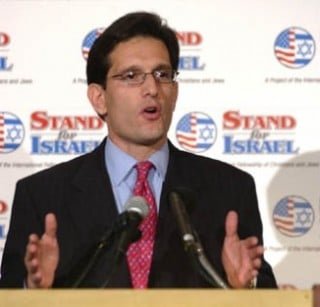 Never did we have a member of Congress who put a foreign country ahead of his own.  Eric Cantor does not see America as his country of choice, he sees Israel as his country of choice. Eric Cantor is the House Majority leader. I am also sure if a congressman of a different "ethnic or religious" background puts Italy, Germany, Poland, South Africa, France, Saudi Arabia, Lebanon or the Pope ahead of his own country and gives undivided loyalty to his ethnic or religious groups, there will calls for his/her immediate demands for resignation and constituents will be up in arms, but not if the country is Israel.
It is so ironic that the Republican Party, the party of Eric Cantor tried and failed to make the faith of John Kennedy's as a Catholic an issue, assuming his loyalty will be to the Pope and not to the US Constitution, this same party does not see any thing wrong with its leader in the House of Representative pledges loyalty to Israel as an issue.
Not the case of Eric Cantor, he is so proud of his undivided loyalty to Israel, that his press office was boasting of his commitment to "his" Prime Minister Bibi Netanyahu  making sure he and his Republican Party will stand up to President Obama as president of the United States. The actions and statements of Congressman Eric Cantor show clear contempt for America, for its Constitution and for voters in Virginia. We all should know where Eric Cantor stands when it comes to Israel and the US. Eric Cantor made his choice, Israel.
With Republicans the majority of the House, the American Congress is looking more and more like an Israeli Knesset and one has to wonder why should the likes of Eric Cantor and the rest of the Republican leadership have to stand up and pledge their allegiance to the United States of America when their loyalty is to Israel? Is this is the kind of congressman the people of Virginia 7th District elected and wants to represent them in the American Congress. But then Democrats too always pledge allegiance to Israel too.
Eric Cantor does not see any problems of cutting aids and funding to US and Virginia tax payers, and he sees no problem cutting funding and aids to US and Virginia schools and universities, even to American Veterans, and see no problem cutting aids to the poor and the unemployed Americans, he does not see a problem denying help for the millions who lost their homes and the millions more waiting their turn. He and his Republican Party do not see a problem with spending billions down the drain on wasteful wars they started, but he does see the urgent need to continue funding Israel, its military and its armed thugs and squatters to the tunes of tens of billions of US tax dollars. He even went further by proposing to include funding for Israel as part of the national defense budget, part of the Pentagon budget as if Israel is already part of the Defense Department and in a way, it is.

It seems Congressman Eric Cantor simply forgot that his "country of loyalty and choice" is the country that spies on the US, that steals national security documents, pass technology secrets to third parties, kill and murder American sailors, use "natives" as a Fifth Column working against the interests of the United States.
Eric Cantor does not see America worthy of his loyalty, does not see President Obama as worthy of his respect and loyalty if only as president of the country. He sees Israel as the country of his choice. Perhaps the people and voters of Virginia 7th District should fire Eric Cantor and ask him to move to Israel and run for a seat in the Israeli Knesset as member of the Likud Party. Eric Cantor has no place in the American House of Representative.
Never did we expect the Republican Party, the party that claims "America First" will elect a member of Congress as a leader representing the majority when this man, this congressman in words and actions put a foreign country ahead of his. True, Eric Cantor and the Republican Party proves again that loyalty to Israel not the US is a litmus tests of membership. I wonder what Abraham Lincoln, John Adam, George Washington, Thomas Jefferson, John Kennedy even Lyndon Johnson think of how the Republican Party is turning away from America and emerging more and more like the Likud Party of Israel.  Eric Cantor has lots of company and support with the likes of Michele Bachmann and Ilena Ros- Lehtinen as leading members of the new American Knesset.
ABOUT THE AUTHOR: Sami Jamil Jadallah is born in the Palestinian city of El-Bireh (presently under Israeli Military and Settlers Occupation). Immigrated to the US in 62. After graduating from high school in Gary, Indiana was drafted into the US Army (66-68) received the Leadership Award from the US 6th Army NCO Academy in Ft. Lewis, Washington. Five of us brothers were in US military service about the same time (Nabil-Army), (Lutfi-Marines), (Sam-Army) and (Taiseer-Marines) with two nephews presently with US Army. Graduated from …Read Full Bio
AIPAC Policy Conference 2010
Sami, a Palestinian-American and a US Army Veteran (66-68), recipient of the "soldier of the month award and leadership award from the 6th Army NCO Academy, is an international legal and business consultant with over 40 years of international experience, in construction, hospitality services, conservation, and defense, in the Middle East, Europe, and North Africa. Sami is a holder of BA, MPA in Public and Environmental Affairs, Jurist Doctor from Indiana University. While at IU he was elected class president, student government president and chairman of the Indiana Students Association,
Active in peace movement as a co-author of the pre-amble for the One State for All of its people and voluntary service program SalamNation. A frequent contributor on national and international affairs. He resides in the United States.
ATTENTION READERS
Due to the nature of independent content, VT cannot guarantee content validity.
We ask you to
Read Our Content Policy
so a clear comprehension of VT's independent non-censored media is understood and given its proper place in the world of news, opinion and media.
All content is owned by author exclusively. Expressed opinions are NOT necessarily the views of VT, other authors, affiliates, advertisers, sponsors, partners or technicians. Some content may be satirical in nature. All images within are full responsibility of author and NOT VT.
About VT
-
Read Full Policy Notice
-
Comment Policy