By Raja G Mujtaba
"The Pakistan Air Force is stronger than ever. Since the last Indo-Pak air war of 1971, the Pakistan Air Force has with steely determination built up numbers, lethal capabilities and a combat force now counted as one of the most disciplined and well-trained air forces in the world. Headlines Today has a disturbing proof that all this has made India worried." India Today 20th April 2011
Over the years since 1971 the leadership and planners of Pakistan Air Force (PAF) have not slept, they did not believe in status quo. 1971 was the watershed period of PAF when the country had fallen from grace and truncated through internal and external conspiracies. To rise from ground zero is no mean job. But PAF has been lucky that by and large it remained in the hands of committed, dedicated professionals who took the challenge from the horn.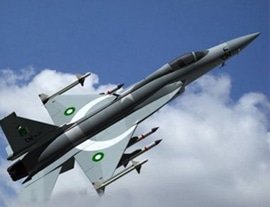 The US, true to its traditions dried all sources of military hardware and economic res ources. But those sanctions proved blessing in disguise. Pakistan looked inwards and laid the foundations for self reliance with technical assistance from dependable friendly countries like China, Ukraine, Sweden etc. France was also willing to provide but its costs were prohibitive that kept the cooperation to a minimum level.
The bulk work was done with the cooperation of China that helped Pakistan in almost all the defence production, overhauling and rebuilding. The foundation of Pakistan Aeronautical Complex, Kamra was laid. Here a very modest beginning was made when the light Swedish aircraft (Mashak) was launched as a basic trainer to meet the needs of PAF and Pakistan Army. From assembly to manufacture and enhancement this aircraft became the training bed for a full fledged fighter aircraft production.
F-6 Rebuild Factory that rebuilt the Chinese MIG 19s re-designated by PAF as F-6. When all other sources had dried and Pakistan did not have the finances to go for highly expensive Mirage aircraft F-6 became the mainstay of PAF. It was modernized with latest avionics, ejection seats, armament, breaking system and taxing capability that added much more lethal power to an old vintage technology.
On the drawing boards of F 6 Rebuild Factory, newer aircraft designs were developed that were given computer simulation for design tests. First a Super Saber that was to be developed on the frame of MIG 21 or F-7 fighter bomber but due to some technical snags, it was called off. Then with a little gap and new thought process, a brand new design was developed with active participation of China the end product was JF 17 that exceeded all the performance parameter envelop by significant margins. This aircraft was designed, built, tested and inducted in the PAF in a record time.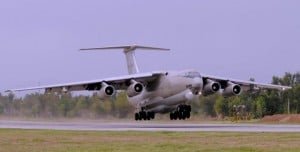 JF 17 is a close match to F 16 with a huge price difference. It has been displayed at International Air Shows of China and Farnborough in the UK where it was admired by all. It soon became the most fancied aircraft of the developing world for its performance and low price tags and complete absence of any strings. China has also emerged as a major buyer with 300 copies of JF 17 and about the same number would be acquired by PAF.
Its not just the Chinese origin induction but PAF has also received latest F 16s that has a total strength of 60 aircraft half of which are block 52, the latest upgrade. The F-16 As already on the inventory of PAF are also undergoing major upgrade and soon will become equivalent to Block 52 version, in capabilities.
Not stopping here, as reported by India Today in its latest issue, "There's a deeper threat at play than just fighter numbers. Consider these newly inducted force multipliers that all but kill the Indian air advantage. Pakistan is inducting four Swedish Saab Erieye and four Chinese Y-8 airborne early warning aircraft, while India, currently, has three. India no longer has the mid-air refueller advantage. Pakistan is inducting four identical IL-78M aircraft."
After the acquisition of four mid-air refuelers (IL-78) from Ukraine and early warning systems like Saab 2000 from Sweden and ZDK-03 from China, PAF has had a quantum jump in reducing the gap with India over technology and firepower.
Whereas Pakistan is fast phasing out its old vintage, India is still stuck with old Russian equipment that is fast losing its edge over Pakistan. India Today states, "Finally, with an ageing Soviet fleet of aircraft (MIGs)that are troublesome and facing retirement, the Air Force looks at an even greater dip in the numbers advantage. The message to the Defence Ministry and the government is simple. Cut your losses and plan hard for the future. If you don't, the Indian Air Force will lose the one thing you've always counted on: its combat edge."
PAF has not stopped here. According to official sources, PAF is in the process of acquiring J10 the latest machine from China. The exact number or its assembly or production in Pakistan has not yet been finalized. This aircraft would surpass most of the advance jet fighters and compete with any aircraft in its class.
Now most PAF aircraft are nuclear capable and all can be refueled in mid-air. This is a punch that's hard to match in any given theatre. What PAF lacked in deep penetration aircraft has more than made up with mid air refueling and latest F-16 Block 52 aircraft, which has a long range.
In last decade, the induction of latest aircraft by PAF has completed the requirements of fighting a modern concept of net centric war, in future. All these modern aircraft and allied air defence systems acquired by PAF are now fully integrated in a net centric environment, ready to deliver a decisive blow to the enemy in any future encounter.
[youtube pZwJIv6mwzk]
After graduating from college, I joined Pakistan Army and was commissioned in a Tank Regiment.   I am a veteran of the Indo-Pakistan war. After leaving the Army, I joined IT as a profession. I was hired by Kuwait Air Force And Air Defence as an Adviser to computerize its entire operation.   Here I was the Chief Coordinator of the Project, Kuwait Automated Support System (KASS).   It was a state-of-the-art leading-edge technology where we established over 500 online terminals network with dedicated voice and data communications. It had Satellite linkups to connect with other systems and track the inventory movement for KAF & AD.   On this project, I was coordinating with the US Navy, IBM World, AT&T, and Martin Marietta for the development, deployment, and operation of the KASS.  Writing has always been a passion for me, been writing for 25 years for various newspapers and periodicals. Now for the last four years, I have formed my virtual Think Tank, Opinion Maker.  Here we have some renowned writers from Pakistan and abroad who contribute regularly that's helping the world opinion in some way.  I am a keen golfer may not be a good one but play on a daily basis. I am also fond of using the camera to picture nature and people.
ATTENTION READERS
We See The World From All Sides and Want YOU To Be Fully Informed
In fact, intentional disinformation is a disgraceful scourge in media today. So to assuage any possible errant incorrect information posted herein, we strongly encourage you to seek corroboration from other non-VT sources before forming educated opinion. In addition, to get a clear comprehension of VT's independent non-censored media, please read our
Policies and Disclosures
.
Due to the nature of uncensored content posted by VT's fully independent international writers, VT cannot guarantee absolute validity. All content is owned by the author exclusively. Expressed opinions are NOT necessarily the views of VT, other authors, affiliates, advertisers, sponsors, partners, or technicians. Some content may be satirical in nature. All images are the full responsibility of the article author and NOT VT.
About VT
-
Comment Policy