News, Views, and Action from Military Families Speak Out
Despite the fact that both the Bush and Obama Administration have made it easier for Americans to go to war,  since most U.S. citizens have never been asked by either administration, or any political party, to share in the sacrifice of our troops and military families. Both the conservatives and so called liberals have been able to neutralize the anti-war movement (defined as pure pacifists) into being as much of a nuisance as a mosquito on an elephant.
Throw in the fact that there is NO DRAFT, and those folks [conservatives, ultra-conservatives, liberals, and leftist] who have a get out of the war free card, especially politicians who make decisions to keep other people's children and love ones in harms way, have effectively check mated the evolution of any 21st Century anti-war movement.  That is why I personally prefer not to call the questioning or opposing the Iraq and Afghanistan Wars an anti-war movement for there is NO anti-war movement. It has been effectively NEUTRALIZED by those who cannot relate to multiple deployments into a combat zone.
I prefer to call it a Peace Movement because of the uniqueness of the mix of people who question and oppose the war(s) for whatever reason compared to the more effective Vietnam Anti-War Movement. Now, that was an anti-war movement with Veterans participating come lately and little to no military family representation what so ever.
UPDATE: The responses I've gotten to the original article indicate that VT needs  "to continue covering the full spectrum of veterans "peace organizations" as noted by Adrienne Kinne – a member of both Iraq Veterans Against the War (IVAW), and Veterans for Peace (VPF) – and not to assume that  VFP/Vietnam Veterans Against the War (VVAW),  and their members are so out of touch with the concerns of veterans of today that they are not relevant to the struggles of today (not to put words in your mouth but that's how it reads). We are all veterans and many of us organize and struggle together, and we draw strength and inspiration from one another – young and old, past and present wars alike. We do ourselves a disservice the more we fragment, and I think you would be doing your coverage of the veterans peace movement a disservice by arbitrarily drawing a line in the sand of which organizations are/are not relevant based on your perceptions which may or may not be accurate.
VT also listened to the concerns of Dave Ross of  VFP  and VVAW: " This article infers that Veterans for Peace will not be covered [by VT in the future], only "younger" veterans groups. This is very shortsighted. I respectfully ask you reconsider and include all vets groups working for peace, veterans care and social justice – we are very much your supporters as well." In response, I've decided to edit the original article to be less divisive and more unifying.
ROBERT L. HANAFIN, Veterans Issues Editor
Despite there being a pacifist and non-pacifist division within Veterans groups in the Peace Movement, it is the acceptance of these diverse views on war that bring more unity than factionalism to the Peace Movement.
Yes, we may find a faction of pacifist in Veterans for Peace (VFP) but not all members of VFP are pacifists anymore than all members of Vietnam Veterans of America, or Iraq and Afghanistan Veterans of America are war mongers.
However, one significant group in the PEACE MOVEMENT that makes it clear they ARE NOT PACIFISTS remains Military Families Speak Out (MFSO). This groups that along with Veterans (regardless if the Vets are pacifists or not) today make up the tip of the spear of the Peace Movement. Not only that but they are the sharpest point on the spear, for that is why mainstream media and political parties proactively try to IGNORE THEM into SILENCE.
Those with most to lose – Military Families – and very little room to go public with their questions and opposition to the occupations of Iraq and Afghanistan for fear of military retaliation against love ones, or worse yet breaking up their family over diverse views on the wars, potentially make for the most effective war protesters.
Families and people with 'skin in the game' are the most likely group that could be taken seriously by the American public, so aggressive steps are taken by our government in collusion with mainstream media (propaganda apparatus) to keep those with most to lose silent unless of course the image they project is unquestionable support for the war(s) regardless how many deployments their spouse, child, or love one is exploited and abused to go on.
Thus, I have decided to continue focusing on THE PEACE MOVEMENT'S  POINTY TIP OF THE SPEAR – Veterans of all war, all eras, and their families who have and still have most to lose, any Veterans group that QUESTIONS and OPPOSES the war(s).
To be more effective in providing the broadest coverage, we will post links to action alerts, media releases, and useful news from any and all Veterans and Military Family groups regardless of age, generation, wars or eras spend defending our nation. All have earned the rights and freedoms, including defending or allowing similar rights and freedoms to the people of other nations by our inspiration and spreading of democracy (OK, now I'm being sarcastic).
Seriously,  there must be a UNIFIED effort within the Peace Movement and I strongly believe that Veterans (pacifists or not) can effectively bridge the gap of experiences between those who never served yet question and oppose the wars and those who volunteered to serve.
In order to provide other military families, Veterans (young and old), and our troops who question THEIR WARS but have yet to found the voice to speak out or feel they have nowhere to turn KNOW that they do have  alternatives, once the week or two patriotic and sincere Welcome Home wears thin, and they witness American public APATHY toward THEIR WARS not America's. Those still on active duty (troops as well as military families) can remain anonymous becoming part of MFSOs underground movement of families reluctant to go public with their concerns, questions, or opposition to the war(s) and occupation(s) for FEAR OF MILITARY RETALIATION  retaliation against their love one or military attempts to break up your family.
[The above are MY VIEWS, not necessarily the views of other editors or writers on the VT staff, and certainly may not be the views of every member of MFSO].
Respectfully,
ROBERT L. HANAFIN, Major, U.S. Air Force-Retired, U.S. Civil Service-Retired, Veterans Issues Editor, VT News Network
Military Families Speak Out to CONGRESS and President Obama
During late March, members of Military Families Speak Out delivered thousands of postcards to 80 Senators and 175 Representatives on Capital Hill. This was an amazing testament to the hard work of many MFSO  members and supporters to collect postcards, and the widest communication MFSO has had with Congress yet. Click to see the letters MFSO delivered with the postcards.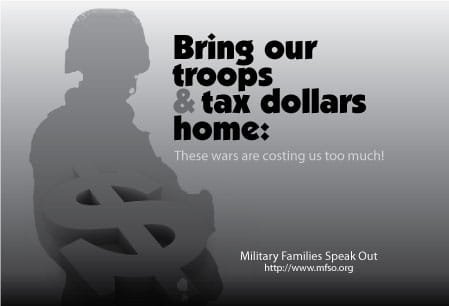 These deliveries and meetings were part of a weekend of action to mark the 8th Anniversary of the start of the war in Iraq.
Outside of Washington, DC – MFSO members participated in:
Reports, photos and news coverage
See reports, photos and news coverage from these events and more.
*MFSO needs to seize the momentum generated by all of these efforts.*
* In just two weeks, MFSO raised $3,000 towards the $5,000 matching gift from a generous donor. If you haven't already, please make a donation here.
* In the coming weeks MFSO will be providing information about upcoming activities such as a National Day of Action on Military Spending, a multi-media project to communicate with Michelle Obama, and a Spring membership drive.
Related News, Views, and MFSO activities:
The Questions Congress Couldn't Answer By MFSO member Mary Hladky
As a mother of an infantry soldier currently serving in Afghanistan, I travelled to Washington DC  in late March to ask our elected officials a few questions, such as:
How long do we need to be in Afghanistan and what is our objective?
Why do you think our troops should continue to fight & die for a corrupt Karzai government?
Are you willing to continue to drive up the deficit to pay for the $120+ billion a year cost of this war?
Several of the legislative assistants actually squirmed in their seats when asked these basic, direct questions. You could see them thinking "I should be able to answer this question." Their response was that they would get back to me. It is terrifying to realize that those who "support" the war can't clearly define why.
(See the rest of my report and info on MFSO activities to mark the 8th Anniversary of the start of the war in Iraq here)
I've already scheduled follow up meetings in Ohio to continue asking these questions – when Congress went on recess in their home districts from April 18 – 29th.
Since MFSO does not anticipate our representatives in Congress to serious want to answer these basic questions, please join me and Military Families Speak Out in turning up the heat. There are ways you can help even if you are not part of a Military Family:
Order post cards to deliver locally or have them delivered in DC
Connect with MFSO Communications Coordinator Samantha Miller about other ways to get involved at [email protected]
Sign the petition to President Obama and encourage your friends to join you
Make a contribution to MFSO – right now your donation will be doubled thanks to a matching grant!
Thank you for reading – I hope you'll join me!
On Behalf of MFSO,
Mary Hladky
Springfield, Ohio
Outrageous! Disgraced General McChrystal wrong choice to support Military Families!
In mid-April, MFSO announced the launch of "We Are Military Families," a new web site to speak directly to [and counter]
"Joining Forces,
" the effort by First Lady Michelle Obama and Jill Biden to support military families. We Are Military Families lets military families talk about the support they need. Click here to visit the site, and email
[email protected]
to contribute your story.
ABC News and other venues later covered Mary Tillman's opposition to Retired General Stanly McChrystal's appointment. Not only was McChrystal fired and forced into retirement for disrespectful comments he made about his Commander-In-Chief, but McChrystal was involved in the cover-up surrounding the death of Mary's son, former NFL star Pat Tillman.
MFSO couldn't agree more with Mary, and we thank her for speaking out.
In addition to being involved in this cover-up, McChrystal found himself in hot water when the unit he oversaw at Camp Nama in Iraq came under investigation in 2006 for the use of torture and abuse of prisoners as part of its interrogation methods.  It has been reported by Army intelligence officers that not only did McChrystal directly violate the Geneva Conventions by prohibiting the Red Cross from making inspections at Camp Nama, but that he was often present when torture and prisoner abuse were occurring.
McChrystal's appointment to Mrs. Obama and Biden's efforts to rally military families to cope with multiple deployments is an insult to military families, and shows how out of touch their "Joining Forces" really is.
Will readers please sign our petition to ask McChrystal to resign from this commission?
Military families need an advocate with a record of compassion, not torture and lies.
Once you have signed the petition, please help spread the word by forwarding this message and link to your friends and family and posting the petition to facebook. If you would like to get more involved, please write to [email protected].
Read the VT article Mrs. Obama and Biden, Military Families Don't Need Another Propaganda Program.
Healing in a time of war
22 April marked yet another tragic wartime milestone: 6,000 U.S. service members have been killed in the wars in Iraq and Afghanistan. MFSO mourns for these lost lives, as well as those who've taken their own lives as a result of their experiences. MFSO extends our deepest condolences to all Gold Star families, and honor those who have chosen to speak out and channel their grief into ensuring that no other family goes through what they have gone through.
After almost 10 years of war, it's time for us to begin healing as a community.
Please join MFSO for a special opportunity to build community and foster healing at a retreat in the Northern Black Hills of South Dakota this Memorial Day Weekend, May 27-30.  The retreat is called "He Sapa," which is Lakota for "Heart of the People," and will include a traditional Sioux healing ceremony.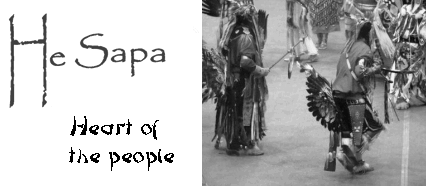 The Lakota Sioux tradition is deeply steeped in a respect for the Warrior, but also offers a new way of looking at healing. Lakota spiritual tradition seeks to bring people in harmony with the experiences of their lives, and the people and environment around them. Lakota healing focuses on bringing the many aspects of a person into balance, and maximizing wellness in each area. In the Lakota spiritual and holistic model of health, the removal of symptoms or "curing", is not as important as "healing." He Sapa will provide a trans-formative opportunity for participants and a way to address the devastating impacts of war on veterans and their families.
The presenters and leaders that will conduct the retreat come from diverse backgrounds and bring a tremendous body of skill-sets.  The presenters will include spiritual elders, veterans, medical doctors, social workers, and traditional healers from different Native traditions.
Military family members, Gold Star family members, service members, and veterans (of any era) are welcome to attend.
Please click here to register.
Questions? email [email protected] or [email protected].
Other ways to get involved:
Make a donation to help support this retreat, or help a local veteran/family attend
Volunteer to send condolence cards to Gold Star families who are MFSO members. To volunteer, write to [email protected]
Let other families know about the resource page MFSO provides to help families cope.
*Thank you for speaking out about the ongoing True Costs of War. *
On Behalf of MFSO,
Jack Amoureux, Rosanna Cambron, Debbie Carruth, Rosalie Donatelli, Sarah Fuhro, Adele Kubein, Jeff Merrick, Emiko Ortega, Diane Santoriello, Larry Syverson, Katy Zatsick — MFSO Board of Directors
Nancy Lessin and Charley Richardson – MFSO Co-Founders, Samantha Miller, Nikki Morse and Zaskya Perez — MFSO Staff

Readers are more than welcome to use the articles I've posted on Veterans Today, I've had to take a break from VT as Veterans Issues and Peace Activism Editor and staff writer due to personal medical reasons in our military family that take away too much time needed to properly express future stories or respond to readers in a timely manner.
My association with VT since its founding in 2004 has been a very rewarding experience for me.
Retired from both the Air Force and Civil Service. Went in the regular Army at 17 during Vietnam (1968), stayed in the Army Reserve to complete my eight year commitment in 1976. Served in Air Defense Artillery, and a Mechanized Infantry Division (4MID) at Fort Carson, Co. Used the GI Bill to go to college, worked full time at the VA, and non-scholarship Air Force 2-Year ROTC program for prior service military. Commissioned in the Air Force in 1977. Served as a Military Intelligence Officer from 1977 to 1994. Upon retirement I entered retail drugstore management training with Safeway Drugs Stores in California. Retail Sales Management was not my cup of tea, so I applied my former U.S. Civil Service status with the VA to get my foot in the door at the Justice Department, and later Department of the Navy retiring with disability from the Civil Service in 2000.
I've been with Veterans Today since the site originated. I'm now on the Editorial Board. I was also on the Editorial Board of Our Troops News Ladder another progressive leaning Veterans and Military Family news clearing house.
I remain married for over 45 years. I am both a Vietnam Era and Gulf War Veteran. I served on Okinawa and Fort Carson, Colorado during Vietnam and in the Office of the Air Force Inspector General at Norton AFB, CA during Desert Storm. I retired from the Air Force in 1994 having worked on the Air Staff and Defense Intelligence Agency at the Pentagon.
ATTENTION READERS
We See The World From All Sides and Want YOU To Be Fully Informed
In fact, intentional disinformation is a disgraceful scourge in media today. So to assuage any possible errant incorrect information posted herein, we strongly encourage you to seek corroboration from other non-VT sources before forming an educated opinion.
About VT
-
Policies & Disclosures
-
Comment Policy
Due to the nature of uncensored content posted by VT's fully independent international writers, VT cannot guarantee absolute validity. All content is owned by the author exclusively. Expressed opinions are NOT necessarily the views of VT, other authors, affiliates, advertisers, sponsors, partners, or technicians. Some content may be satirical in nature. All images are the full responsibility of the article author and NOT VT.