Right on schedule, the recognition of a Palestinian state will be voted on at the United Nations in September.
by

James M. Wall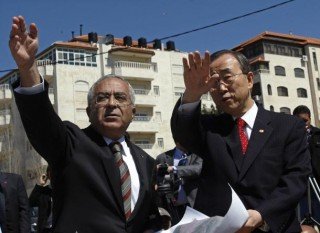 In the summer of 2009, Palestinian Authority Prime Minister Salam Fayyad (at right) released a lengthy document which described plans and a program to build a future Palestinian state alongside Israel, with borders along the 1967 Green Line.
He predicted that such a state would be ready for statehood within two years.  The London Guardian greeted the announcement with the optimistic observation and with a nod to the movie, Field of Dreams, "If you build it, the state will come."
This coming September, 2011, the two years are up. Over the past two years, Fayyad and the Palestinian Administration, have put into place a working structure for statehood.
Right on schedule, the recognition of a Palestinian state will be voted on at the United Nations in September.
And something that was not anticipated in the Fayyad plan, there is a strong possibility that a unified Hamas-Fatah political structure will be in place.
In a Wall Writings posting, dated September 2, 2009, I reported on a Washington Post column written by former President Jimmy Carter, in which Carter discussed the Fayyad program and described the support it had received from Javier Solana, secretary general of the Council of the European Union.
Carter and the Elders, a group of distinguished world leaders, met with Fayyad in 2009 after he announced his two year plan. After that meeting, Carter wrote:
. . . Solana proposes that the United Nations recognize the pre-1967 border between Israel and Palestine, and deal with the fate of Palestinian refugees and how Jerusalem would be shared.

Palestine would become a full U.N. member and enjoy diplomatic relations with other nations, many of which would be eager to respond. Palestinian Prime Minister Salam Fayyad described to us [the Elders traveling with Carter] his unilateral plan for Palestine to become an independent state.
I wrote in Wall Writings at the time that "Fayyad's program was published under the optimistic title, 'Palestine: Ending the Occupation, Establishing the State.' It was described in the Huffington Post by Palestinian Journalist Daoud Kuttub, as 'brilliant'".
Kuttub explained the reason for his optimism:
Palestinians have finally started to act in a different way. Instead of cursing the occupation, the new strategy is aimed at building up the desired Palestinian state.

The idea is to force the Israelis to the negotiating table rather than beg them to come. The way to do that is to work for a state as if there were negotiations. This idea has been brilliantly developed by the Palestinian prime minister.

Salam Fayyad proposal for the de facto creation of a Palestinian state within two years is a brilliant idea that is hard to ignore or oppose it.

Fayyad's blueprint includes plans to end the Palestinian economy's dependence on Israel, unify the legal system and downsize the government. The idea, submitted by him after weeks of meetings with his ministers and staff, also involves building infrastructure, harnessing natural energy sources and water, and improving housing, education and agriculture.
After the Brussels meeting in April, 2011, Riyad Mansour, PA ambassador to the UN, told a UN committee that it is time to end Israel's occupation of Palestinian land and to "allow for full membership of a Palestinian  state in the UN."  Press TV has a clip:
Someone who has the ability and the experience to connect the dots in developments in the Middle East is veteran American diplomat, Ambassador Chas Freeman, who delivered a major lecture on May 4, at the Palestine Center, in Washington.
Freeman was this years's Hisham B. Sharabi Memorial Lecturer, part of a lecture series named in honor of Dr. Sharabi, who help found the Palestine Center as well as the Center for Contemporary Arab Studies at Georgetown University.
Freeman described Sharabi as a "great figure in the study of Arab politics and society" and "an indefatigable advocate of Palestinian rights. "Sharabi was born in Jaffa, Palestine. He received his undergraduate degree from American University and an MA from the University of Chicago. He died, at the age of 78 in Beruit.
Sharabi was an outspoken supporter of Palestinians, but was also known for his willingness to speak critically of Palestinian leaders when they failed to exercise strong leadership.
Ambassador Freeman fits nicely in the Sharabi tradition. After many years of service as an American diplomat, Freeman was appointed by President Barack Obama to serve as chairman of Obama's National Intelligence Council.
Freeman, and Obama, ran into intense pressure from hardline Israeli Zionist supporters, led by New York Senator Chuck Schumer. The pressure was so intense that President Obama agreed that Freeman should withdraw from the nomination. Freeman did not go quietly. For background and more on the political infighting around this episode, click here to read my piece in the AMEU publication, The Link.
Zionists seem never to learn.  They savor small victories only to discover that they have set themselves up for future defeats.  Ben Smith covered Freeman's departure from the National Intelligence Council for Politico:
The attacks on Freeman, in the end, hinged primarily on the question of Israel, something the Democratic senators who helped break the back of the nomination Tuesday made clear.

"His statements against Israel were way over the top and severely out of step with the administration," said Senator Chuck Schumer in a statement. "I repeatedly urged the White House to reject him, and I am glad they did the right thing."

Hours before the Director of National Intelligence, Dennis Blair, expressed his "regret" at Freeman's withdrawal, Sen. Joe Lieberman (I-Conn.) told Blair he was concerned about "statements that [Freeman]'s made that appear either to be inclined to lean against Israel or too much in favor of China."

In particular, Freeman has described "Israeli violence against Palestinians" as a key barrier to Mideast peace, and referred to violence in Tibet last year – widely seen in the United States as a revolt against Chinese occupation – as a "race riot."

Freeman left no doubt where he places blame in a written statement after his withdrawal.

"The libels on me and their easily traceable email trails show conclusively that there is a powerful lobby determined to prevent any view other than its own from being aired, still less to factor in American understanding of trends and events in the Middle East".
In his 2011 Sharabi lecture, delivered two years after his Zionist-inspired departure from the Obama administration, Chas Freeman spoke of the role played by Zionist forces in American politics and governance in the US. I would like to believe Hisham B. Sharabi was applauding throughout. Below are a few excerpts from the lecture.
Freeman's lecture (38 minutes) deserves to be read and/or heard, in full, which you may do by clicking here:
As the former head of the Israeli Defense Forces' (IDF) Legal Department has argued:
"If you do something for long enough the world will accept it. The whole of international law is now based on the notion that an act that is forbidden today becomes permissible if executed by enough countries . . . . International law progresses through violations."
A colleague of his has extended this notion by pointing out that:
"The more often Western states apply principles that originated in Israel to their own non-traditional conflicts in places like Afghanistan and Iraq, then the greater the chance these principles have of becoming a valuable part of international law."
These references to Iraq and Afghanistan underscore the extent to which the United States, once the principal champion of a rule-bound international order, has followed Israel in replacing legal principles with expediency as the central regulator of its interaction with foreign peoples. The expediently amoral doctrine of preemptive war is such an Israeli transplant in the American neo-conservative psyche.
Neither it nor other deliberate assaults on the rule of law have been met with concerted resistance from Palestinians, Arabs, or anyone else, including the American Bar Association. The steady displacement of traditional American values – indeed, the core doctrines of western civilization – with ideas designed to free the state of inconvenient moral constraints has debased the honor and prestige of our country as well as Israel. . . . .
Given the protracted failure of U.S. diplomacy in the Israel-Palestine arena, Palestinians and others may be forgiven for believing that it is time to entrust peacemaking to other parties who are more objective, less politically constrained and less emotionally biased. Others in Europe and elsewhere have taken alarmed note of the adverse effects of the unending conflict on Israel, on the Palestinians, on Arab politics, on regional stability, on inter-religious relations, on the moral standing of global Jewry and Islam, on Arab and Islamic relations with the West, on international law and organizations and on world order.
Media outside the United States have taken progressively more balanced and nuanced note of the human suffering in the Holy Land. Europeans and others now evidence a considerably greater sense of urgency about these problems than Americans have done. The notion that only Americans have the capacity to manage conflict resolution in the Middle East will no longer withstand scrutiny. One recalls the role of Norway in crafting the Oslo Accords. Perhaps, now that the United States has struck out, it's someone else's turn at bat.
Ambassador Freeman then points the way to what could, should and must happen in 2011.
A new game is clearly beginning. A self-confident, religiously tolerant but secular Turkey has emerged as a major influence on regional affairs and as an inspiration to its democrats.

Arab diplomacy is being invigorated by the aftereffects of the revolutions in Egypt and elsewhere. There is mounting pressure on all Arab governments to accord greater deference to popular opinion in both domestic and foreign policy. The Middle East will no longer allow itself to be the diplomatic playground of great powers outside it.

There will, however, be new opportunities for interested outside parties to forge diplomatic partnerships with those in the region.
Opportunities, like, a unified Fatah-Hamas government which has become a significant development in this emerging "new game".
Nazareth-based Jonathan Cook describes this dramatic new move in CounterPunch (May 5).
Israeli officials have expressed alarm at a succession of moves by the interim Egyptian government that they fear signal an impending crisis in relations with Cairo.
The widening rift was underscored yesterday when leaders of the rival Palestinian factions Hamas and Fatah signed a reconciliation pact in the Egyptian capital. Egypt's secret role in brokering the agreement last week caught both Israel and the United States by surprise.
The Israeli prime minister, Benjamin Netanyahu, called the deal "a tremendous blow to peace and a great victory for terrorism".
Several other developments have added to Israeli concerns about its relations with Egypt, including signs that Cairo hopes to renew ties with Iran and renegotiate a long-standing contract to supply Israel with natural gas.
More worrying still to Israeli officials are reported plans by Egyptian authorities to open the Rafah crossing into Gaza, closed for the past four years as part of a Western-backed blockade of the enclave designed to weaken Hamas, the ruling Islamist group there.
Egypt is working out details to permanently open the border, an Egyptian foreign ministry official told the Reuters news agency on Sunday. The blockade would effectively come to an end as a result.
JAMES WALL is currently a Contributing Editor of The Christian Century magazine, based in Chicago, Illinois.  From 1972 through 1999, he was editor and publisher of the Christian Century magazine.  He has made more than 20 trips to that region as a journalist, during which he covered such events as Anwar Sadat's 1977 trip to Jerusalem, and the 2006 Palestinian legislative election. He has interviewed, and written about, journalists, religious leaders, political leaders and private citizens in the region.  Jim served for two years on active duty in the US Air Force, and three additional years in the USAF (inactive) reserve. Jim launched his new personal blog Wallwritings, on April 24, 2008. He can be reached at:  [email protected]
ATTENTION READERS
We See The World From All Sides and Want YOU To Be Fully Informed
In fact, intentional disinformation is a disgraceful scourge in media today. So to assuage any possible errant incorrect information posted herein, we strongly encourage you to seek corroboration from other non-VT sources before forming an educated opinion.
About VT
-
Policies & Disclosures
-
Comment Policy
Due to the nature of uncensored content posted by VT's fully independent international writers, VT cannot guarantee absolute validity. All content is owned by the author exclusively. Expressed opinions are NOT necessarily the views of VT, other authors, affiliates, advertisers, sponsors, partners, or technicians. Some content may be satirical in nature. All images are the full responsibility of the article author and NOT VT.