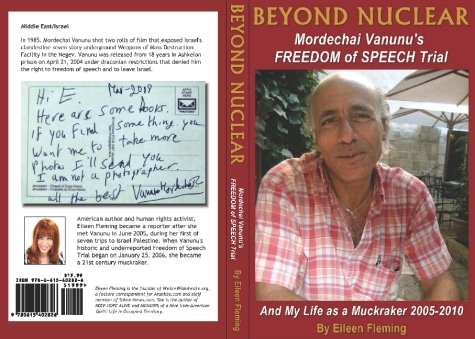 FAXED to White House tel: 202-456-2461 begin_of_the_skype_highlighting 202-456-2461 end_of_the_skype_highlighting @ 8:51 AM
May 9, 2011
Dear President Obama,
Thus far I have received snail mail acknowledgments from VP Biden, the Knesset Archives, President Peres and Prime Minister Netanyahu [see attached] regarding the receipt of their copies of BEYOND NUCLEAR: Mordechai Vanunu's FREEDOM of SPEECH Trial and My Life as a Muckraker: 2005-2010, but as you and Secretary of State Clinton have ignored me, this FAX has been published on the WWW, because dissent is the only thing that can ensure a healthy democracy.
And by the way, Israel is NOT and NEVER was a Democracy:
"The terms 'democracy' or 'democratic' are totally absent from the Declaration of Independence. This is not an accident. The intention of Zionism was not to bring democracy, needless to say. It was solely motivated by the creation in Eretz-Isrel of a Jewish state belonging to all the Jewish people and to the Jewish people alone. This is why any Jew of the Diaspora has the right to immigrate to Israel and to become a citizen of Israel."– Ariel Sharon, May 28, 1993 edition of Yedioth Ahronoth.
On 5 May 2011, Israel's Moroccan born Nuclear Whistle Blower, Mordechai Vanunu petitioned the State of Israel regarding another racist law passed by the Knesset on 28 March 2011, which allows for the revocation of citizenship of anyone convicted of espionage or treason. Vanunu wrote, "I am asking and expecting the enforcement of this law to its letter to revoke my Israeli citizenship."
In 1987, Vanunu was convicted of "Aggravated Espionage, High Treason and Assisting the Enemy."
Vanunu served nearly all of his 18 years in prison in solitary, he has been subjected to 24/7 surveillance ever since he emerged from a windowless tomb sized cell on 21 April 2004, and he has been denied the right to leave the 'only democracy in the Middle East'.
The establishment of Israel's statehood was contingent upon upholding the Universal Declaration of Human Rights.
On 6 May 2011, Professor of international law, Francis A. Boyle emailed me:
"Under the Universal Declaration of Human Rights, Mordechai has the perfect right to renounce his Israeli citizenship: Article 15(2): No one shall be denied the right to change his nationality. Article 13(2): Everyone has the right to leave any country, including his own, and to return to his country."
Because America is a Member State of the Universal Declaration of Human Rights, the USA is responsible to hold ALL Member States accountable and this Citizen of Conscience is beseeching you to honor that commitment and give US some change we can really believe in!
Most sincerely and very flamingly yours,
Eileen Fleming, A Citizen of Conscience for House of Representatives
Founder of WeAreWideAwake.org
Staff Member of Salem-news.com
A Feature Correspondent for Arabisto.com
Producer "30 Minutes with Vanunu" and "13 Minutes with Vanunu"
Author of "Keep Hope Alive" and "Memoirs of a Nice Irish American 'Girl's' Life in Occupied Territory" and BEYOND NUCLEAR: Mordechai Vanunu's FREEDOM of SPEECH Trial and My Life as a Muckraker: 2005-2010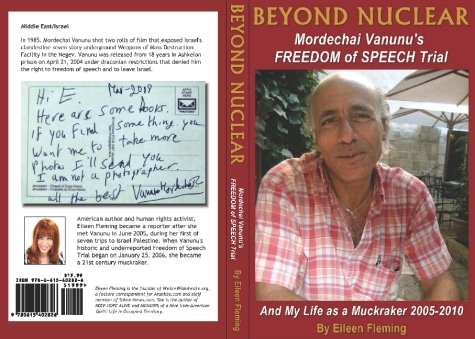 Paper copy of the above with a copy of BEYOND NUCLEAR: Mordechai Vanunu's FREEDOM of SPEECH Trial and My Life as a Muckraker: 2005-2010
Posted to:
President Obama
The White House
1600 Pennsylvania Avenue NW
Washington, D.C. 20500
###
While Vanunu was locked up for 78 days in solitary in 2010-punishment for speaking to foreign media in 2004 , I received my first reply from Israel since I began petitioning them in 2005 to FREE VANUNU NOW!
View PDF of State of Israel Ministry of Justice Response
Response to Israel Minister of Justice vis a' vis Human Rights of Mordechai Vanunu
My Open Letter Response to State of Israel Ministry of Justice The Human Rights and Foreign Relations Department-which has yet to be acknowledged:
Dear Sir/Madam,
Ref: 952
Thank you for your letter dated July 21, 2010, that I received in my gmail on July 29.
I would now like to address all "relevant authorities" and the State of Israel Ministry of Justice The Human Rights and Foreign Relations Department regarding points 1-13:
On April 30, 2007, the Jerusalem Magistrate's Court, convicted Vanunu on 14 [out of 21] counts of violating a court order prohibiting him from speaking to foreign journalists in 2004. Vanunu was also convicted for traveling the four miles from Jerusalem to Bethlehem when he hoped to attend Christmas Eve mass at the Church of the Nativity, his first Christmas after being released from 18 years in jail [most of it in solitary] on April 21, 2004.
On July 2, 2007, Israel sentenced Vanunu to six more months in jail for speaking to foreign media in 2004.
On September 23, 2008, the Jerusalem District Court reduced Vanunu's six-month jail sentence for speaking with foreign media in 2004, to three months, "In light of his ailing health and the absence of claims that his actions put the country's security in jeopardy."
After appealing that sentence, the Israeli Supreme Court returned Vanunu to jail on May 23, 2010, after they refused his counter-offer to do three-months of community service in Arab east Jerusalem, the only community he has known since 21 April 2004.
The Court insisted Vanunu must serve in west Jerusalem, which is 99% Jewish-populated, but Vanunu feared attack there by angry Israelis, most of whom consider him a traitor, and thus his three month sentence in solitary began on 23 May 2010.
The restrictions that have subjected Vanunu to 24/7 surveillance [his movements, phone calls and emails] for the last six years come from the Emergency Defense Regulations, which were implemented by Britain against Palestinians and Jews after World War II.
Attorney Yaccov Shapiro, who later became Israel's Minister Of Justice, described the Emergency Defense Regulations as "unparalleled in any civilized country: there were no such laws in Nazi Germany."
Israel also kidnapped Vanunu in 1986, but Article 9 of the International Covenant on Civil and Political Rights states: "No one shall he subjected to arbitrary arrest or detention", including abduction of a person by agents of one state to another state.
Vanunu was charged with and convicted of treason and espionage.
Section 99 of the Israeli Penal Code, treason is defined as "an act calculated to assist (an enemy) in time of war…delivering information with the intention that it fall into the hands of the enemy."
Section 113 defines aggravated espionage as "deliver(ing) any secret information without being authorized to do so and with intent to impair the security of the state" and a sub-clause provides for a penalty of seven years for the unauthorized collection, preparation, recording or holding of secret information; if this is done with intent to impair the security of the state and then, the penalty is increased to 15 years.
On November 24th, 2006 Vanunu wrote:
"My lawyer succeeded to reveal a few very important facts: This General of the Army also was not allowed to see all the secrets that he is required to protect by these restrictions that they claim I know them. So, he gave orders of restrictions without knowing what he is protecting or that he is also following orders blindly, and Mossad Sheen Bet using its authority for just punishing me. He testified that it is not a crime for me to talk with foreigners in general anywhere. He testified that I can speak freely to any Israeli citizens about anything; it is not his concern what I am saying to them. These Israelis can give this information to any foreigners. It was difficult for the Judge to understand why this dichotomy exits between foreigners and Israelis. It means that it is not about secrecy but about something else."

In 2004, Yossi Melman wrote for Haaretz:

"This is the secret that hasn't yet been told in the affair: the story of the security fiasco that made it possible for Vanunu to do what he did, and the story of the subsequent attempts at cover-up, whitewashing and protection of senior figures in the defense establishment, who were bent on divesting themselves of responsibility for the failure. The 18-year prison term to which Vanunu was sentenced is almost exactly the same period as that in which Yehiel Horev has served as chief of internal security in the defense establishment [who has been] involved in the affair as deputy chief of security at the Defense Ministry, and also after Vanunu's abduction and arrest, as a member of an investigative commission.

"Shortly after taking office as chief of security at the Defense Ministry, Horev began to take punitive measures to hobble Vanunu. He is responsible for the harsh conditions in which Vanunu was held, which included years in solitary confinement, and the sharp limitations on the number of visitors he could have…[and has fought] a rearguard battle to prevent Vanunu from leaving Israel and to place him under supervision and restrictions that will be tantamount to house arrest. Horev has always been considered the strictest of all the security chiefs in Israel, especially in regard to the protection of institutions such as the Dimona facility and the Biological Institute. He is apprehensive that if Vanunu goes abroad, he will continue to be a nuisance by stimulating the public debate over Israel's nuclear policy and the nuclear weapons he says Israel possesses…all the hyperactivity being displayed by Horev and those who support his approach is intended only to divert attention from what has not yet been revealed: the security blunders and their cover-ups."

On July 29, 2010, Mordechai Vanunu's American parents, Nick and Mary Eoloff wrote, "Please advise Mr. Radzyner that Mordechai Vanunu has never been told what 'secret information' he holds that 'constitutes a relevant threat to the security of the State of Israel' after the passage of 20 years. At court hearings those matters are dictated to the court in its chamber by the Mossad without Mordechai being present. But, of course, that is how the 'only democracy' in the Middle East operates…"

On February 22, 2006, in a Jerusalem court it was revealed that Israel had asked Microsoft to hand over all the details of Vanunu's Hotmail account before a court order had been obtained, while eluding that Vanunu was being investigated for espionage

Vanunu wrote:

"Microsoft obeyed the orders and gave them all the details…three months before I was arrested and my computers were confiscated. It is strange to ask Microsoft to give this information before obtaining the court order to listen to my private conversations. It means they wanted to go through my emails in secret, or maybe, with the help of the secret services, the Shaback, Mossad.

"The State came to the court with two special secret Government orders; Hisaion [documents or information that are deemed confidential by the government and kept from the court, the defendant, and lawyers.] This allows the prosecution to keep documents related to my court hearing secret. One was from the Minister for Interior Security and one from the Minister of Defense.

"The policeman did not have any answers and said that he brought all the evidence to the court. When Sfard asked him again about any material related to the espionage [charge] Peterburg had no answers.

"Sfard proved that the police had misled the judges who gave the orders to arrest me: to search my room, to go through my email, to confiscate my computers and [that they] misled Microsoft to believe they are helping in a case of espionage.

Israel claims Vanunu received a fair trial; the facts prove other wise and the point remains that on 18 June 2010, Malcolm Smart, Director of Amnesty International's Middle East Programme announced:

"Mordechai Vanunu should not be in prison at all, let alone be held in solitary confinement in a unit intended for violent criminals. He suffered immensely when he was held in solitary confinement for 11 years after his imprisonment in 1986 and to return him to such conditions now is nothing less than cruel, inhuman or degrading. Mordechai Vanunu is a prisoner of conscience. The prison authorities might claim that he has been put in isolation to protect him from the risk of attack by other inmates, but if the Israeli government is really concerned for his safety it should release him without delay. His re-imprisonment is both harsh and unjustified. The restrictions on Mordechai Vanunu arbitrarily limit his rights to freedom of movement, expression and association and are therefore in breach of international law. They should be lifted and he should be allowed to start his life again as a free man."
ATTENTION READERS
Due to the nature of independent content, VT cannot guarantee content validity.
We ask you to
Read Our Content Policy
so a clear comprehension of VT's independent non-censored media is understood and given its proper place in the world of news, opinion and media.
All content is owned by author exclusively. Expressed opinions are NOT necessarily the views of VT, other authors, affiliates, advertisers, sponsors, partners or technicians. Some content may be satirical in nature. All images within are full responsibility of author and NOT VT.
About VT
-
Read Full Policy Notice
-
Comment Policy