Main Stream Press continues to ignore Fukushima but two month catastrophe continues unabated as TEPCO now admits it lied about severity of damage to reactor #1 and a nuclear meltdown has occurred that releases deadly amounts of radiation comparable to Chernobyl
by Allen L Roland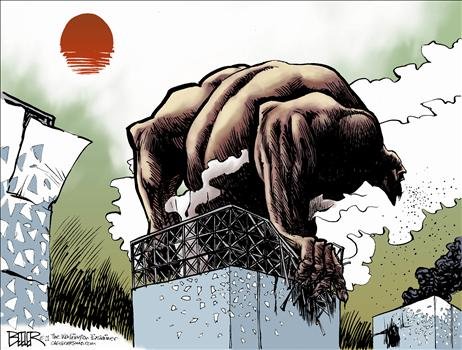 Over 60 days have passed since the Fukushima nuclear catastrophe but the main stream press continues to downplay the ramifications of this continuing radioactive disaster.
Greenpeace has urged Tepco to abandon plans to flood the container with water, given the likelihood that melted fuel has damaged it. Shaun Burnie, nuclear adviser to Greenpeace Germany, said: "Flooding a reactor that has fuel [that has fallen] through the pressure vessel is not a good idea."
Outlining a worst-case scenario, Burnie said very large amounts of cold water hitting the melted fuel could cause an explosion, trigger substantial damage to the reactor and create a "high risk of atmospheric release running for days, if not weeks." He added: "I think [the flooding option] will now be scrapped."
Greenpeace also said significant amounts of radioactive material had been released into the sea and that samples of seaweed taken from as far as 40 miles of the Fukushima plant had been found to contain radiation well above legal limits. Of the 22 samples tested, ten were contaminated with five times the legal limit of iodine 131 and 20 times of cesium 137. Seaweed is a huge part of the Japanese diet and the average household almost 7lbs a year. Greenpeace's warning came as fishermen prepared to start the harvest of this season's seaweed on May 20.
It's the blind leading the blind in this deteriorating crisis and the Japanese public and the World still does not know the true extent of this growing disaster that definitely has ramifications for the West Coast of the United States and the world in general.
Vivian Norris, Huffington Post, commented recently on the current deadly silence of Fukushima ~ "I received the following email a few days ago from a Russian nuclear physicist friend who is an expert on the kinds of gases being released at Fukushima. Here is what he wrote: "About Japan: the problem is that the reactor uses "dirty" fuel. It is a combination of plutonium and uranium (MOX). I suspect that the old fuel rods have been spread out due to the explosion and the surrounding area is contaminated with plutonium which means you can never return to this place again. It is like a new Chernobyl. Personally, I am not surprised that the authority has not informed people about this."
Norris ended her article with this appeal ~ "People need answers, data and honest information to help them deal with what is going on. Media blackouts, propaganda and greedy self-interested industries, of any kind, who allow human beings' health to be affected, and deaths to occur, must be stopped now. That senior TEPCO man and the leading nuclear academic in Japan did not break down crying and resign their positions because all was well at Fukushima. Think about it world, and act now before it is too late."
Arnie Gundersen, was a high level nuclear executive for years and analyzes the information he has been receiving in a calm and scientific way but his latest May 13th ten minute video update is worth watching in light of current developments ~ Gundersen reveals that all four reactors are in severe shape and that the "Fukushima Groundwater Contamination is the Worst in Nuclear History".
Only when the last tree has died and the last river been poisoned and the last fish been caught will we realize we cannot eat money." Cree Indian Proverb
Freelance Alternative Press Online columnist and psychotherapist Allen L Roland is available for comments, interviews, speaking engagements and private consultations ( [email protected] )
Allen L Roland is a practicing psychotherapist, author and lecturer who also shares a daily political and social commentary on his web log and website allenroland.com He also guest hosts a monthly national radio show TRUTHTALK on www.conscioustalk.net
Engineers from the Tokyo Electric Power company (TEPCO) entered the No.1 reactor at the end of last week for the first time and saw the top five feet or so of the core's 13ft-long fuel rods had been exposed to the air and melted down. That's the first time that Japanese officials have admitted that one of their reactors at the crippled Fukushima Daiichi power plant has had a nuclear meltdown.
ATTENTION READERS
Due to the nature of independent content, VT cannot guarantee content validity.
We ask you to
Read Our Content Policy
so a clear comprehension of VT's independent non-censored media is understood and given its proper place in the world of news, opinion and media.
All content is owned by author exclusively. Expressed opinions are NOT necessarily the views of VT, other authors, affiliates, advertisers, sponsors, partners or technicians. Some content may be satirical in nature. All images within are full responsibility of author and NOT VT.
About VT
-
Read Full Policy Notice
-
Comment Policy