VT Columnist Eileen Fleming Reports From Within the Belly of AIPAC 2011
Find Out Why She's Too RED to be Pink!
Washington, D.C. – AIPAC/American Israel Public Affairs Committee's annual conference brought together over 11,000 sisters, brothers and cousins in the Family of Father Abraham-including 1,500 youth representing 400 schools and 215 universities, 500 journalists from 2 dozen countries and representatives of over 100 endorsing organizations to Move AIPAC Over:
On 22 May 2011, inside the Washington Convention Center, Lee Rosenberg, the President of AIPAC greeted that crowd by saying:
"We are here because we care and decided to do something."
Do Something has been a mantra of mine ever since my first of 7 trips to Israel and Occupied Palestine: Read more…
Because I care so much and love America and the promises and spirit of Israel's Declaration of Independence:
"On the day of the termination of the British mandate and on the strength of the United Nations General Assembly declare The State of Israel will be based on freedom, justice and peace as envisaged by the prophets of Israel: it will ensure complete equality of social and political rights to all its inhabitants irrespective of religion it will guarantee freedom of religion [and] conscience and will be faithful to the Charter of the United Nations." – May 14, 1948, The Declaration of the Establishment of Israel

I recently decided to live out a dream I began dreaming after my first trip to occupied territory in 2005, which is to run for U.S. House of Representatives as the first candidate for the Citizen of CONSCIENCE for House of Representatives 2012
Because it is no longer enough to just write my broken heart out over the 44 years of military occupation of the indigenous people of the so called Holy Land-which is in pieces; disconnected enclaves that in no way can become a sustainable Palestinian state if this map remains the same:
And because "Everywhere except in America, the Palestinian narrative is well known."-Rashid Khaladi  Read "The Ongoing NAKBA and Vanunu" my conscience compelled me to attend AIPAC's annual conference to listen, learn and discern;
And also so I could introduce myself as a reporter who has been to Israel 7 times since 2005 [I did not mention I spent most all my time in occupied Palestine] because knowledge brings responsibilities, so I am looking for a district in Florida to represent in the US House of Representatives.
[Everyone I told that I was on staff with Salem-news.com which is based in Oregon assumed it was based in Connecticut and all were impressed that I was a columnist for the Military and Foreign Affairs Journal Veteranstoday.com ]
Everyone responded to me warmly and I felt a kinship with all, but the rebel in me rejoiced that if and when any click onto my website I may blow many minds.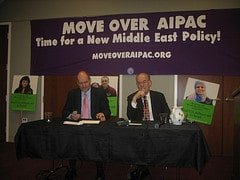 As PRESS I could have been in the audience for Prime Minister Netanyahu's address at Monday night's gala, but I chose to remain outside the door greeting all with "Shalom, I love America and Israel so much that I am running for Congress."
Many accepted my business card, some ignored me and one young man hit the card out of my hand. No doubt he acted out as a reaction to the vocal activists affiliated with Move AIPAC Over [as the founder of We Are Wide Awake I am an endorser] who seized their right to free speech to demand an end to the occupation and oppression of Gaza Palestine.
During Monday night's gala while Prime Minister Netanyahu addressed the crowd, about a dozen courageous activists for justice and peace rose up vocally to Move AIPAC Over and one was tackled and injured by AIPAC participants.
During Netanyahu's address to Congress on Tuesday morning, just after the Prime Minister spoke about the youth around the world rising up for more democracy, 28 year old CODEPINK activist Rae Abileah was assaulted and forced to the ground by AIPAC members in the House Gallery as she stood up with a banner that read "Occupying Land Is Indefensible" while shouting, "No more occupation, stop Israel war crimes, equal rights for Palestinians, occupation is indefensible."
Rae was arrested by D.C. police for disturbing the peace at George Washington University Hospital where she was being treated for neck and shoulder injuries. Rae had no regrets for her physical pain and said she stands in solidarity with the Palestinian and Israeli activists who are routinely jailed and beaten for speaking out for democracy.
This reporter applauds the commitment and chutzpah of all the stand up and vocal activists; but I choose a different way to rise up for it has been understood for millennium that if you want to change the world: WRITE!
"I understand the need to engage in a peaceful and civilized conversation."-Sasha Matthews, AIPAC Campus Activist from Florida A&M University.
Sasha spoke those words and shared her story during a Sunday AIPAC break-out group, "From Campus to Congress: Deflecting Detractors and Exerting Real Influence."
Sasha also explained, "I am a baby in this movement and I am not Jewish or political. As a Christian I learned about the historical ties to the Jewish State in church, but I had only a lukewarm interest."
America and Israel partner closely in the field of science and technology and as a physics student Sasha, "became engaged" and was then "bombarded" with information from AIPAC.
Sasha said, "My issue is getting students involved and the focus of my action is to attract students in general with balloons, music and food and then bombard them with all the information-ammo that AIPAC provides.
"I have partnered with FSU's Hillel [The Foundation for Jewish Campus Life] as I understand the need to engage in a peaceful and civilized discussion."
Before Sasha spoke, the facilitator brought up –and demeaned the work of Mearsheimer and Walt, and chances are that most of the AIPAC campus activists have not yet read: The Israel Lobby by John Mearsheimer and Stephen Walt – read " The Israeli Lobby"
Mearsheimer and Walt were keynote speakers on 21 May 2011 for Move AIPAC Over President Obama's Sunday morning address to AIPAC was met with energetic applause and a few standing ovations.
Obama spoke about the dangers of the spread of nuclear weapons but not a word about Israel's still un-inspected WMD facility-which everyone in the world, except most Americans learned about in 1987, when Mordechai Vanunu's photos and testimony made front page news in London's The Sunday Times.
Obama told of his experience at the Hall of Names at Yad Vashem and how he reflected upon the modern day fear of nuclear war.
As it is human nature to desire what the other has, only a Nuclear Weapons Free Middle East-and World-can obliterate that potential!
Obama also mentioned his visit to the Wailing Wall and how he thought about the generations who have wanted a homeland; but not a word was uttered about the generations of indigenous Palestinians who are still denied their inalienable right to return home or about the 21st century Wailing Wall, as nailed by Vanunu Mordechai:
Vanunu's Message to Hillary Clinton RE: The Real Wailing Wall; The Apartheid Wall
[youtube _Omq-QG7isA]
Obama told of his visit to Sderot and the struggles of those residents, but he neglected to travel five minutes away into the open air prison of Gaza where 1.5 million human beings-800,000 are under the age of 16-struggle every moment of the day just to survive under a brutal siege aided and abetted by USA policy!
I spent an evening in Sderot in 2009 and learned that most everyone there would be just as happy to migrate to Las Vegas than live in Israel: Read more…
Israel's existence is a fact of life, but what can never be accepted is Israel's 'right' to steal land and resources of the indigenous people of Palestine!
All through the AIPAC conference I heard the incessant drumbeat of Israel's rights, about the "special relationship" "shared values" "common Interests" the "Jewish State" and claims that Israel is a democracy, but Israel is not-and never has been a Democracy!
In the May 28, 1993 edition of Yedioth Ahronoth, Ariel Sharon explained:
"The terms 'democracy' or 'democratic' are totally absent from the Declaration of Independence. This is not an accident. The intention of Zionism was not to bring democracy, needless to say. It was solely motivated by the creation in Eretz-Isrel of a Jewish state belonging to all the Jewish people and to the Jewish people alone. This is why any Jew of the Diaspora has the right to immigrate to Israel and to become a citizen of Israel."
Jeff Halper, American Israeli, co-founder and coordinator of Israeli Committee Against House Demolitions and Professor of Anthropology wrote:
"An ethnocracy is the opposite of a democracy, although it might incorporate some elements of democracy such as universal citizenship and elections. It arises when one particular group-the Jews in Israel, the Russians in Russia, the Protestants in pre-1972 Northern Ireland, the whites in apartheid South Africa, the Shi'ite Muslims in Iran, the Malay in Malaysia and, if they had their way, the white Christian fundamentalists in the US-seize control of the government and armed forces in order to enforce a regime of exclusive privilege over other groups in what is in fact a multi-ethnic or multi-religious society. Ethnocracy, or ethno-nationalism, privileges ethnos over demos, whereby one's ethnic affiliation, be it defined by race, descent, religion, language or national origin, takes precedence over citizenship in determining to whom a county actually 'belongs.'"[1]
In his Farewell Address, President George Washington warned US:
"Observe good faith and justice towards all nations; cultivate peace and harmony with all…and passionate attachments for others, should be excluded; and that, in place of them, just and amicable feelings towards all should be cultivated. The nation which indulges towards another a habitual hatred or a habitual fondness is in some degree a slave…a passionate attachment of one nation for another produces a variety of evils."
It was President Harry Truman who crossed out the word "Jewish state" on the draft of the Establishment of Israel that was cabled him and substituted "State of Israel" which he affirmed was contingent upon Israel upholding the UN Universal Declaration of Human Rights.
Obama admitted that true friends speak open and honestly and that "the current situation does not allow procrastination. The world is moving too fast [and] the Talmud teaches as long as one has life do not abandon faith. We will never abandon universal human rights."
All this American dissident writer has been saying since I went online in 2005 after my first of 7 trips to Israel and Occupied Palestine is that when Israel honors its founding promises and America upholds its obligation as a Member State of the UN Universal Declaration of Human Rights, then YES WE CAN and YES WE WILL begin this world again.
Godspeed on it!
Eileen Fleming founded WeAreWideAwake.org. She produced videos "30 Minutes with Vanunu" and "13 Minutes with Vanunu".  She has authored many books including; A USS Liberty Remembrance of 50 years USA Government Cover-Up of Israel's 8 June 1967 Attack on USA Spy-Ship, Wabi Sabi Body ETERNAL SPIRIT, and Heroes, Muses and the Saga of Mordechai Vanunu. Click here to see her latest books. Visit Eileen's YouTube Channel
ATTENTION READERS
Due to the nature of independent content, VT cannot guarantee content validity.
We ask you to
Read Our Content Policy
so a clear comprehension of VT's independent non-censored media is understood and given its proper place in the world of news, opinion and media.
All content is owned by author exclusively. Expressed opinions are NOT necessarily the views of VT, other authors, affiliates, advertisers, sponsors, partners or technicians. Some content may be satirical in nature. All images within are full responsibility of author and NOT VT.
About VT
-
Read Full Policy Notice
-
Comment Policy