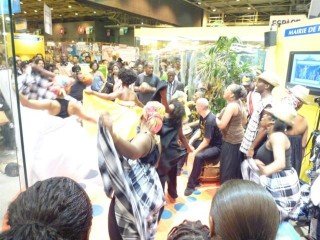 This year the 107th Foire de Paris took place from April 28-May 8, 2011 at the exhibition center Porte de Versailles in Paris. with the theme "Slow."  Although I have  gone there for the last three years, this year was different. The other years I  viewed La Foire de Paris,  translated as a trade show of Paris, only  as a place to buy things at retail prices, eat some great food from the Caribbean Islands and see some new furniture at cheaper prices than in the stores.  In 2010, 600,000 visitors attended. In 2011 the admission charges were 12 Euros for adults, 18 Euros for two nights and 7 Euros for children.
This year, the new theme"Slow" gave the show a new meaning for me and thousands of other visitors. In today's hectic world full of stress, people were interested to learn about the concept of "Slow: which enables them to have a better quality of life. "Slow" means relaxing to enjoy time with children, love relationships ( French like love relationships), food, work,health  Mae West said that anything worth doing is worth doing slowly. Thanks to the "Slow" philosophy, billions of people worldwide enjoy a more productive, richer life.
Foire de Paris  gave  people time to  discuss,choose, compare, see new inventions,dance, dine, enjoy time with family and friends and to explore new ideas.
People came to the Foire de Paris for several reasons.  Some came to see new products from other countries particularly l'Outre Mer( French territories outside of France) like Guadeloupe and Martinique. They came to see jewelry, sculpture, art and to eat Caribbean specialties. Some came to "faire la fete"( have a party) with friends. The ate dinner in restaurants in the pavilions serving  typical food from the Caribbean, drank good  rum, wine and alcoholic punch. People came to learn new ideas of how to decorate their homes,  get advice about gardening problems   and get new ideas of how  to design their gardens and lawns.  Some came to see new inventions.  Relaxing techniques were also presented such as lectures about tai-chi and meditation techniques.  Some women came to buy some new makeup some of which could only be purchased at the foire. There was even  a lady selling a home dental bleaching kit!   Special exhibitors in the fitness and  beauty products areas  sold  great oils for skin, reducing programs  and reducing teas.
Some visitors told me that they came just to hang out and be with friends to see all the things of interest. I met several visitors who spent money only for dining. However, most visitors bought some things that they couldn't get in stores.
Didier Lambert, another journalist for Veterans Today, and I  went to the Foire de Paris,May 5th a  night when it was  open until 11 p.m.) and enjoyed  a delicious meal in a open restaurant where we could here live music from a nearby stand.  After a special rum punch,  boudin ( black sausage) and Caribbean fish with special spices and rice  and glasses of red wine,  homemade coconut ice cream for dessert , we saw the dancers from Martinique dancing typical dances. They were dressed in bright festive costumes mainly bright orange, red, yellow and blue  wearing typical  bright colored headscarves.  They danced with a great tempo accompanied by musicians.  They invited visitors to join them for some dances.  I asked two ladies why they came to the Foire and they said to see people from Martinique where they come from.
2011 is L'Annee de l'Outre Mer  which translated is The Year of the French Overseas Territories. In Paris, there were many celebrations such as concerts, dances, plays and art exhibitions. At the Foire there were 60 live musical events in 11 days including ballets and typical dances from the Islands. There was a tropical nuit until 11:00 p.m. on May 6.
Carl Honore  was the sponsor of the Foire. He was a journalist with the Economist, National Post and the Houston Chronicle. In 2004 he wrote a famous book entitled L'Etoge de la Lenteur ( Praise  of Slow) which has been translated into more than 30 languages. He was the precursor of the slow movement and was a key speaker who presided over the conference programs, round tables and educational events.

To explore other cultures was part of the experience at La Foire de Paris. There were four halls devoted to this.
Vins et Gastronomy ( Wine and Gastronomy)
This hall featured wine and gastronomic food with 12,000 square meters of space and more than 200 exhibitors.  French people and international visitors could taste delicious artisan ( homemade) beer and punch, wine from different countries , cognac and Grand Marnier. There were not many free samples and visitors did not mind paying 4 or 5 euros for a little rum punch.
For visitors to discover different kinds of recipes there were over a hundred cooking demonstrations. People adapting the "slow" attitude wanted to learn the secrets of their grandmothers' recipes.  People, being "green conscious" wanted to have seasonal products. Each day chefs cooked specialities from different regions of France and Outre Mer.
Wednesday May 4 there was a contest to see which company could open 50 hollow oysters and 50 flat oysters the fastest and which company could make the best presentation of a seafood platter.
The ladies of Guadeloupe had cooking demonstrations and tastings of their specialities of seafood and desserts. They were delicious especially to those of us who like coconut.
Artisinal & metiers d'art ( Handicraft Items)
In another hall,handicraft articles were interesting to see but expensive to buy. There were sculptures, handbags, and jewelry. Many people bargained and received good discounts. The buyers enjoyed purchasing unique gifts  and items for themselves that they could not find in stores!
 This hall with 8000 square meters and more than 200 exhibitors presented article from the French Islands.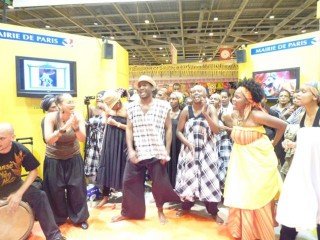 Terres de Tropiques ( Tropics)
Polynesia  – textiles, makeup, sculptures, art work, tattooing.
It was Tahiti Assn. that  the idea to show their specialities.
Guayana – an Amazon territory. They showed 2 lodges in the forest and also cosmetics, food, spices and jewelry. It was hard not to buy anything because the products were so interesting. They had their own restaurant which served dinners with their specialities.
Richesse du Monde  World Objects
There were arts and crafts from France and other countries in Europe, Asia and Africa.  Mexico had a section where people could see their special talents.  A Mexican restaurant prepared special Mexican dishes. People enjoyed drinking tequila with their meals. Most people enjoyed their meals at this Mexican restaurant and said it was not like the usual Mexican restaurants where they live.
Polynesia  – textiles, makeup, sculptures, art work, tattooing.
It was Tahiti Assn. that  the idea to show their specialities.
Artisinal & metiers d'art ( Handicraft Items)
In another hall,handicraft articles were interesting to see but expensive to buy. There were sculptures, handbags, and jewelry. Many people bargained and received good discounts. The buyers enjoyed purchasing unique gifts  and items for themselves that they could not find in stores!
Inventions
In 1901, Le Concours de Lepine ( Competiton of Lepine) was created to give inventors the opportunity to do a market study, to find a manufacturer, a distributor, a company that would give a trademark to their invention, a franchisee or a way to sell the invention directly to the public.  This year there were over 500 inventions from over 14 countries including Bosnia-Herzegovina, China, Iran, Poland, Russia and Taiwan.  In 2010, 55% of the inventions, seceded from a prototype which was presented to manufacturing of the item and distribution.  Some notable inventions from Concours Lepine in previous years raille a include, ballpoint pens, steam irons, electric ovens and others.  More recently,  Fly Car, a flying car, Easy Metros, a vocal map of the metro ( subway) and Top Braille a machine that fits in a pocket which reads braille instantly or speaks a printed text.
There were 12 categories in 2011
building.
mechanical industry and metallurgy,
office machines and materials,
games,
sports including camping and tourism articles,
agriculture, farming and environment,
house, electrical appliances, maintenance machines, kitchen and table accessories,
transportation,
health including products to help handicapped people and products and devices for veterinarians,
processes for chemicals and plastics, thermal isolates
scientific material including optical,cinema and audio-video,
arts including sculpture and painting, decoration, design, music, furniture and clothes.
People enjoyed seeing the new inventions which were prototypes  and looked forward to buying them some day.
"Slow" gave a new perspective to the Foire de Paris. People adopted the "slow" concept and enjoyed the activities in a leisurely way.  They shopped, ate. learned about new cultures, new methods of relaxing, new inventions and enjoyed entertainment with live music.  They had  very rich, happy experiences at La Foire de Paris 2011.
Jane Rosenstein is a U.S. citizen living in Paris, France. She is a professional translator/interpreter. She is the owner of The International Connection which does international marketing consultation including sales of wine, interpretation, and translation.
She enjoys the cultural life that living in Paris offers and has talents in organizing events. She speaks English, French, and Spanish. She has a B.S. degree in mathematics from the University of Pittsburgh and an M.B.A. degree from Georgia State University in Atlanta, GA.
ATTENTION READERS
Due to the nature of independent content, VT cannot guarantee content validity.
We ask you to
Read Our Content Policy
so a clear comprehension of VT's independent non-censored media is understood and given its proper place in the world of news, opinion and media.
All content is owned by author exclusively. Expressed opinions are NOT necessarily the views of VT, other authors, affiliates, advertisers, sponsors, partners or technicians. Some content may be satirical in nature. All images within are full responsibility of author and NOT VT.
About VT
-
Read Full Policy Notice
-
Comment Policy