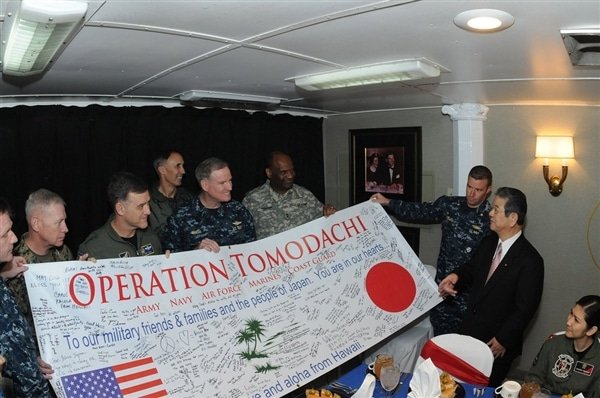 by
Donna Miles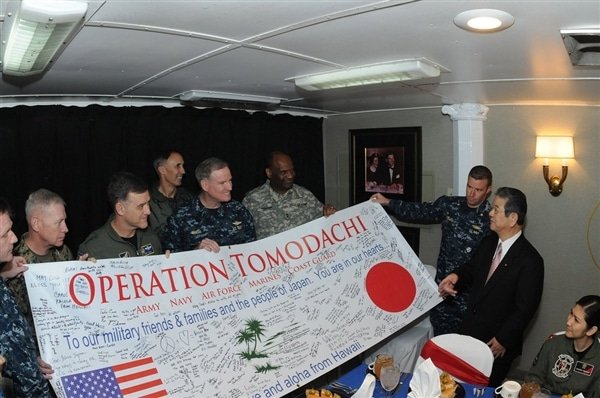 American Forces Press Service

WASHINGTON, June 3, 2011 – As Defense Secretary Robert M. Gates confers with his counterparts at an Asia security summit in Singapore, the commander of U.S. Pacific Fleet emphasized the importance of the U.S. forward presence in the region to support humanitarian crises and deter aggression.
During the Center for a New American Security's fifth annual conference here yesterday, Navy Adm. Patrick M. Walsh described the huge value of that forward presence in the wake of the devastating earthquake and tsunami that struck Japan in March.Within hours, the United States was able to launch Operation Tomodachi, its military support mission, deploying ships from Yokosuka Naval Base, soldiers from Camp Zama, Marines from Okinawa and airmen from Yokota Air Base. Working side by side with their Japanese counterparts and other international contributors, they launched "one of the most remarkable humanitarian assistance and complex operations to date," Walsh said.

"So when you think about what you can do with a force that is forward, ready and has relationships already established in the region, look at Operation Tomodachi," he said.

Citing the many alliances, partnerships and friendships in the region strengthened through the United States' forward presence, Walsh said the quick response capability it provides sends an important deterrent message.

He cited the immediate response after a North Korean artillery attack on South Korea's Yeonpyeong Island in November. "The forces that are in the region were available within hours after the attack," he said.

Walsh called U.S.-South Korean naval cooperation, and the series of exercises following the attack, an unmistakable message to North Korea that such provocations won't be tolerated. But this forward military presence provides just "one instrument" of a broader U.S. national strategy, he emphasized.

"We were part of the national message that went to North Korea that said, 'We are here to support the [South Korea]-U.S. alliance, and that alliance is stronger than ever,'" he said.

The Yeonpyeong attack drew a much stronger and more immediate reaction in South Korea than an earlier provocation, North Korea's sinking of the South Korean navy ship Cheonan in March 2010 that killed 46 sailors, Walsh noted. Even after results of that investigation were released, "a substantial percentage" of South Koreans didn't initially believe that North Korea could have torpedoed the vessel, he said.

But Walsh said the evidence is indisputable. "There is no doubt in anyone's mind as you walk underneath the remnants of Cheonan, split in two, … what tore that ship apart," he said.

Walsh said seeing the Cheonan is important for military members who provide the United States' forward presence. "For people in uniform, to go visit the Cheonan is an absolute must," he said. "It is a stark reminder of the world we live in and how quickly events can change."

If there's one thing that keeps him up at night, Walsh said, it's the "strategic uncertainty" of the Asia-Pacific region, where relatively minor incidents have the potential to escalate in the blink of an eye.

He pointed to an example in September, in which a Chinese fisherman collided with two Japanese coast guard cutters in disputed waters in the East China Sea. Tensions heightened between the two major East Asian powers, with both sides pointing fingers at the other.

Similar scenarios easily could play out in many other disputed islands and waters throughout the region, threatening stability, Walsh said.

Meanwhile, the admiral said, it's unclear what strategy is guiding China, a major economic and military power in the region. Lack of a strong, mature military-to-military relationship leaves China's intentions cloudy, he said, particularly as it builds its military capability with advanced weaponry and technology.

Walsh expressed hope that efforts by President Barack Obama and Gates to restore those military-to-military relations will bear fruit. He noted that he finally got the opportunity to meet with his Chinese counterpart during the International Maritime Defense Exhibition in Singapore in May. Walsh characterized the discussion as "positive and constructive."

"As we move into … a concerted effort on the part of both governments to improve the relationship, we certainly want to keep an open door for an opportunity for dialogue," Walsh said.

Meanwhile, Gates is in Singapore at the Shangri-La Dialogue, where he met for nearly an hour today with Chinese Defense Minister Gen. Liang Guanglie.

Gates told reporters he believes the U.S.-Chinese military relationship is on a more positive trajectory, encouraging more cooperation in areas where the two countries have common strategic interests. But he said working together is even more important in areas of disagreement to provide greater clarity about each other's intentions.

"Together, we can show the world the benefits that arise when great nations collaborate on matters of shared interest," he said.

Biographies:

Related Sites:

Related Articles:
ATTENTION READERS
Due to the nature of independent content, VT cannot guarantee content validity.
We ask you to
Read Our Content Policy
so a clear comprehension of VT's independent non-censored media is understood and given its proper place in the world of news, opinion and media.
All content is owned by author exclusively. Expressed opinions are NOT necessarily the views of VT, other authors, affiliates, advertisers, sponsors, partners or technicians. Some content may be satirical in nature. All images within are full responsibility of author and NOT VT.
About VT
-
Read Full Policy Notice
-
Comment Policy