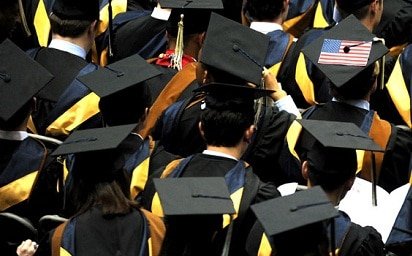 by Alex Horton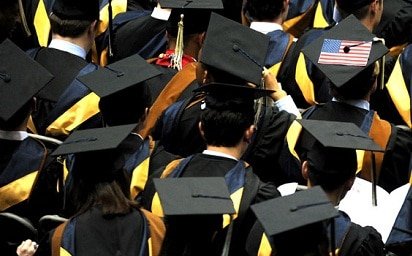 Navy Commander Herb Carmen has a lot on his mind. As an active duty aviator on the Navy staff in Washington, he works under the Director of International Engagement as the branch chief for security cooperation. He's also training for a future assignment as a Navy individual augmentee in support of Operation Enduring Freedom.
If juggling a wife and kids and a high pressure job wasn't enough, Herb spends any remaining free time in class as a student in the Executive MBA program at Georgetown University's McDonough School of Business. But while he's currently attending the program at no cost, recent legislative changes to GI Bill tuition payments for private schools could delay his education and send him into significant debt. Herb suggests a slow process to communicate the implications of the changes has caused additional anxiety at home as he and his wife face a potential for tens of thousands of dollars in unexpected tuition.
"Because I'm at the end of the information chain, I don't know what details have been resolved to this point," he said. "It's very difficult to know what information hasn't been passed because of slow dissemination or what hasn't been passed because VA hasn't finalized details."
Herb's frustrations underscore the complex relationship between VA and universities that allow GI Bill tuition funding. While many universities manage effective relationships with VA, some certifying officials expressed frustration with the communications process. These school employees act as de-facto guidance counselors for Vets and are knowledgeable about everything from certification of enrollment to available benefits. As intermediaries between VA and Veterans, these officials handle the administrative details so Vets can keep their mind on schoolwork—and not worry about whether their tuition will be paid on time.
Challenges in dealing with VA
Since the Post-9/11 GI Bill was enacted, most private schools offset expensive tuition costs for students with the Yellow Ribbon Program, though some schools choose to limit the matching amount instead of opting for an "all-in" agreement to match the difference with VA. But starting this fall, legislation has capped tuition at private universities at $17,500 per year.  Certifying officials have rushed to explain the complex new rules to concerned students. Some are concerned VA has not acted quickly enough to supply final rules and procedures for the fall semester.
"We don't have very much information, so I doubt the students do," said one certifying official at an east coast private school, with an uneasy laugh. "When a student walks into my office right off of active duty, they have no idea what the GI Bill is going to cover or what they're eligible for." She said her university is exploring ways to ensure every Veteran receives all the information they need. But without proper communication, that could prove difficult.
"We're always striving to help students understand their total cost of attendance, so they can think about the right way to pay for their entire degree," a colleague said. "But everything we do in the Veterans world flies in the face of that. I can't tell you what you'll be paying ten minutes from now."
Help by other means
The certifying officials I spoke to all agreed that the flow of information they receive and their relationship with VA is only as good as the Education Liaison Representative (ELR) assigned to their region. (ELRs are VA employees that act as conduits between school officials and VA.)
Some schools enjoy beneficial relationships with their liaisons. Others I spoke to, however, can't reach their representatives or may even not be aware they exist. In one instance, I spoke to a school official who told me she had no means to contact her ELR's supervisor and instead relies on top-level assistance from an outside organization like Student Veterans of America (SVA) when her ELR is unresponsive. This route is not uncommon. When a school cannot staff dedicated certifying officials, groups like SVA often fill an administrative function between students and resources on campus, like financial aid and the registrar's office.
In another example, a school official told me of a Veteran with a Social Security Number that matched another in the system. After an employee on the GI Bill hotline couldn't resolve the issue, she contacted her ELR, who did not respond. She ultimately solved the problem with the help of a VA employee at the Department's central office—an unofficial contact she had made through a student. Listening to these stories, I couldn't help but be struck with the idea that this reliance on back channels didn't seem right.
"We don't even know how this is going to work"
Herb's situation at Georgetown is not unique. 30,000 student Veterans at private schools across the country are at various levels of preparation for the tuition changes. Since they could be hit with unplanned debt, they are especially sensitive to any shortfalls in communication between VA university officials. So too are the schools themselves, who rely on updated information from VA to adjust matching levels under Yellow Ribbon.
Erik Brine, the president of the SVA chapter at Georgetown University, highlighted the difficulties caused by delayed communication. "It has taken some of the wind out of our sails in pushing for changes because we don't even know how this is going to work," he said.
For the 2011-2012 term, Georgetown will be unable to increase their matching amount for student Veterans because order of payment guidelines weren't established before a decision date.
VA: Good communication with schools
Of course, there are schools that enjoy an effective relationship with VA's education staff. Dr. Michael Gillan, co-chair of the Fordham Vets Task Group at Fordham University, said a member of VA's regional office outreach staff keeps in regular contact with certifying officials at his university.
"She's on the ball all the time. I'll frequently receive press releases and news that go to other schools in the area as well," he said.
An office called Education Service administers the GI Bill for the Veterans Benefits Administration. Outreach staff explained the relationship between Education Service and the folks who process enrollment certifications at universities.
"We've always had good channels of communication with schools here," said James Ruhlman, a VA Education Service employee that designs training materials. He described an upcoming manual, aimed at certifying officials, and designed to help clarify the new legislative changes. It's scheduled for release this spring, just in time for schools to begin fall enrollment the following month.
"Everybody is committed to do the best they can on behalf of the claimants, Ruhlman said. "Some questions we can't answer because the regulations haven't been finalized, but if they have an answer to most questions, by and large they're happy with it. But priority number one for them is certifying for the fall."
When the Post-9/11 GI Bill was introduced, it transformed the ways benefits were distributed. Schools are now paid tuition and fees, on behalf of the students, and students receive housing stipends instead of one size fits all payments. This made issues with debt collection and overpayments multiply. Feedback from schools helped VA determine new policies for overpayments.
"We got a lot of feedback saying, hey, we want to refund VA, not the student," Ruhlman said. And if debts are generated, the handbook will explain how the debt collection process works. The handbook will be posted on the GI Bill website for school officials to download, and an RSS feed provides alerts for updates and announcements.
Education Service at VA is working on an outreach campaign to inform Veterans on the changes to the GI Bill, with a focus on new benefits for on-the-job training, apprenticeships and flight school, said Barrett Bogue, the outreach coordinator for Education Service. Online and traditional print advertisements will alert Veterans to available benefits for in- and out-of-classroom instruction.
The way forward
Students depend on the providers of education benefits to clearly explain any changes that might affect them. But that information won't do students any good if the system that supports dissemination is built on a shaky foundation. VA has clearly listened to concerns and has been working to implement a communication effort to ensure students receive timely and accurate information. We must simply ensure the channels are kept open and flow both ways.
Between a family, a busy military career and graduate school, Herb Carmen has plenty to worry about. But without a clear financial picture and proper guidance from VA heading into the fall semester, the anxiety he faces has the ability to impact all aspects of his life, not to mention endanger what he has already worked hard to build. While his education is important, the financial needs of his family remain the first priority.
"I've been able to be a part of the Executive MBA program while continuing to work full time on active duty, and I've already been able to use what I've learned in the classroom at work," he said. "I'm benefiting and the Navy is benefiting, too.  It would be a shame to waste all of that."
ATTENTION READERS
We See The World From All Sides and Want YOU To Be Fully Informed
In fact, intentional disinformation is a disgraceful scourge in media today. So to assuage any possible errant incorrect information posted herein, we strongly encourage you to seek corroboration from other non-VT sources before forming an educated opinion.
About VT
-
Policies & Disclosures
-
Comment Policy
Due to the nature of uncensored content posted by VT's fully independent international writers, VT cannot guarantee absolute validity. All content is owned by the author exclusively. Expressed opinions are NOT necessarily the views of VT, other authors, affiliates, advertisers, sponsors, partners, or technicians. Some content may be satirical in nature. All images are the full responsibility of the article author and NOT VT.