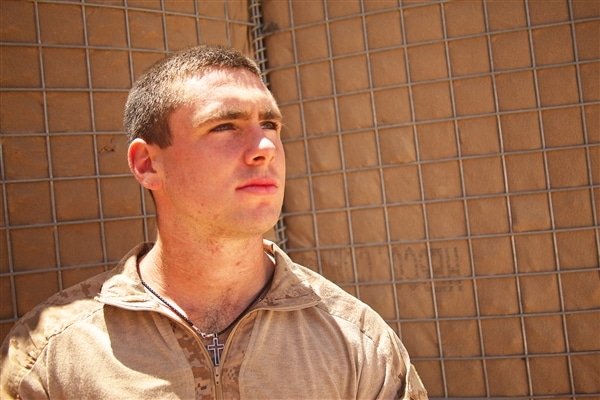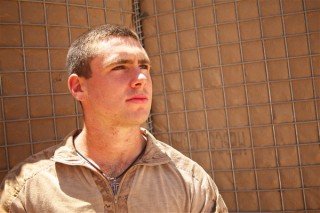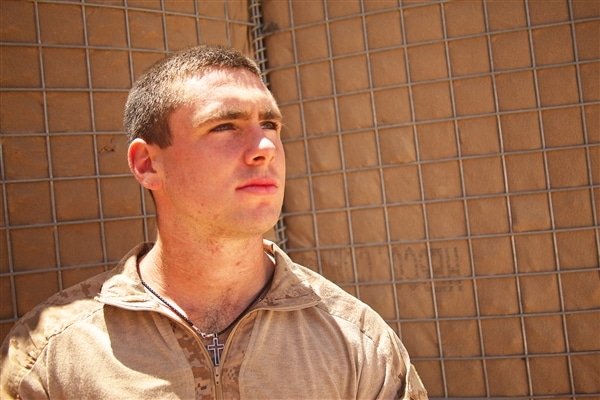 by
Marine Corps Lance Cpl. Bryan Nygaard
2nd Marine Expeditionary Force
COMBAT OUTPOST SHUKVANI, Afghanistan, June 7, 2011 – Lance Cpl. Andrew J. Armstrong's fellow Marines call him "Rock," and the name fits him well. The Corinth, N.Y., native has survived two roadside bomb blasts. He is still in the fight and shows no signs of stopping.
But the memory of the first explosion will always be engraved in his mind.
On Dec. 10, 2010, Armstrong, a forward observer with Fire Control Team 5, Supporting Arms Liaison Team Chuck, 2nd Air-Naval Gunfire Liaison Company, was on a patrol with soldiers of the 32nd Georgian Light Infantry Battalion. He was accompanied by his team chief, Marine Corps Sgt. Jamie Lee Lantgen, and Navy Petty Officer 2nd Class Greg Christ, a hospitalman.
Also present was Marine Corps Cpl. Alex Wilson, 3rd Battalion, 5th Marine Regiment, who was attached to the Georgian liaison team, and Marine Corps Staff Sgt. Stacy Green, 1st Battalion, 8th Marine Regiment, who was working with the Afghan National Army embedded training team.
The patrol members were aboard four mine-resistant, ambush-protected vehicles, and they were driving through the village of Corgulat in mid-afternoon. They then spotted something suspicious on the road: three rocks stacked on top of each other. It was a sign of a possible roadside bomb.
The patrol stopped, set up a perimeter around the area and called in an explosive ordnance disposal team to investigate.
"It's TIC time!" yelled Lantgen, using the battlefield acronym for "troops in contact."
The Marines and Georgian soldiers had learned to expect contact with insurgent forces during that time of day. Minutes later, the patrol started taking fire.
Marine Corps Sgt. Christopher Holm, the team leader for Fire Control Team 6, was on an observation post and saw the patrol taking fire from the east. He radioed the Marines and told them to take cover on the western side of the vehicles.
"I just turned the corner, and the next thing I knew, I was on the ground," Armstrong said about being thrown from the explosive blast. "My initial thought was that I had been hit by [a rocket-propelled grenade]. I felt pain in my right arm. First thing I did was wiggle my fingers and toes to make sure they were still there."
Green was killed instantly from stepping on the roadside bomb. Lantgen was standing between Green and Armstrong. His right arm was broken, and the right side of his face and body was covered in blood from shrapnel wounds. Armstrong was shielded from the blast by Lantgen, and absorbed only about 10 pieces of small shrapnel around his neck, and his elbow was swollen from a piece of Green's gear that hit him on the arm.
Christ was knocked unconscious, but moments later woke up and immediately began administering medical aid to Lantgen.
The firing stopped as soon as the improvised explosive device detonated. Armstrong tried getting up. He said it was comparable to the opening scene of the movie "Saving Private Ryan," in which Tom Hanks' character, Captain Miller, experiences shellshock just as he lands on Omaha Beach.
"I was messed up bad — I had tunnel vision. I couldn't really hear anything. I was shaking," Armstrong said. "I saw doc working on Sergeant Lantgen. Then I saw Staff Sergeant Green's body. I didn't know it was him at the time. I asked Wilson if it was one of our guys. He grabbed me, told me not to worry about it and pulled me away from him."
Everyone was in a somber mood when Armstrong returned to base. Green had been killed, and Lantgen, a valuable member of the team who everyone looked up to, was lost to injury. Lantgen, a veteran of Iraq, was known to deliberately expose himself to draw enemy fire so the rest of his team knew where to aim.
"IEDs don't see your rank or what you've accomplished — they just see a victim," Armstrong said.
Marine Corps Cpl. Matthew Williams, a radio operator with Fire Control Team 5, remembers seeing Armstrong for the first time that night.
"His face told the whole story," said Williams, a native of Temple, Texas. "You could tell he'd been through hell. The first thing he said when he got back was, 'I don't want to go back to [Camp] Leatherneck.'"
Weeks later, during another patrol, Armstrong was within 20 meters of another blast. Nobody was killed, but Armstrong had been exposed to a second roadside bomb. It is policy in Afghanistan for troops to remain on a forward operating base if they are exposed to three IEDs.
Marine Corps Capt. Ramon Pattugalan, the team leader for Fire Control Teams 5 and 6, did not want to risk having Armstrong confined to Camp Leatherneck.
"It was tough to see that look on his face when I told him he couldn't go out anymore," Pattugalan said. "He's a true team player. He's the type of guy that doesn't want us to go into the fight without him."
Armstrong begged Pattugalan to let him stay in the fight. Pattugalan told him that he did not need to worry — he had a plan.
Pattugalan, who serves as the joint terminal attack controller for Fire Control Team 6 and coordinates close air support for the Georgian troops, has mentored Armstrong into becoming a joint forward observer.
"He helped me learn how to control aircraft," Armstrong said. "That way I can go to Joint Forward Observer's Course when we get back to the States. Eventually, I can be a team chief."
Even though Armstrong is not allowed to go out on patrols, he has been designated as a primary machine gunner and is able to provide overwatch from observation posts around the base. He said it is a welcome break from being inside the combat operations center.
"I still get to bring out the [M240 medium machine gun] and I still get to get in on the action," he said. "I don't like being in the COC watching things happen on a TV. I'm just not really an office type of guy."
Related Sites:
ATTENTION READERS
Due to the nature of independent content, VT cannot guarantee content validity.
We ask you to
Read Our Content Policy
so a clear comprehension of VT's independent non-censored media is understood and given its proper place in the world of news, opinion and media.
All content is owned by author exclusively. Expressed opinions are NOT necessarily the views of VT, other authors, affiliates, advertisers, sponsors, partners or technicians. Some content may be satirical in nature. All images within are full responsibility of author and NOT VT.
About VT
-
Read Full Policy Notice
-
Comment Policy