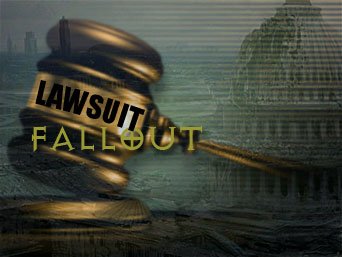 Vet Groups Caught Napping
This week, VA Police Captain Lopez, of the infamous West Los Angeles force cited in the ACLU rights lawsuit,  threatened a VT reporter.  Lopez, considered a "hothead" by fellow officers, has been running a renegade personal campaign against news personnel reporting VA fraud.  This week he confronted a VT correspondent during a major news event in West Los Angeles.
Lopez has been stalking Rosebrock, VT journalist and plaintiff in the ACLU lawsuit citing VA police abuses for some time now.  This incident occurred at a controversial Disney sponsored event, one of many that take place at the VA home veterans have been banned from.
"Lopez appeared to be reaching for a weapon, seemingly frantic and disheveled, face flushed, perspiration pouring through his rumpled shirt and sweat stained body armor.  He was clearly out of control and capable of anything."
Over a year ago, the ACLU filed suit against VA police and officials for civil rights violations and illegal harassment of veterans.  Lopez identified Rosebrock as a the primary plaintiff responsible for citing his department in a landmark lawsuit filed to safeguard America's heroic veterans from lawless elements within the controversial VA security police community.
[youtube L8Rh3FY0_0E]
Last week, in a second lawsuit, the ACLU and top law firms around the country filed a comprehensive suit against the Department of Veterans Affairs for abandoning homeless vets.  The 65 page lawsuit cites misuse of land, misappropriation of funds and a total failure to deal with decades of suffering.  Secretary Shensiki and Donna Beiter were named as defendant/conspirators.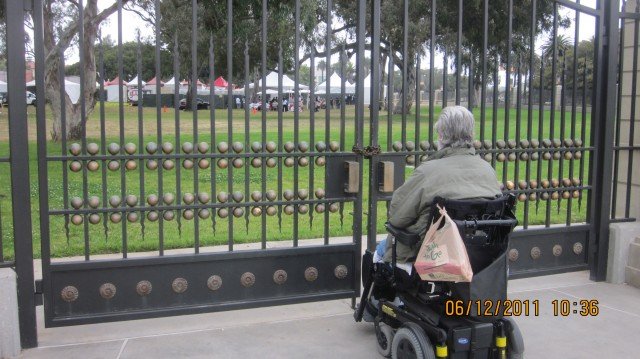 Former Major General Paul Monroe was there to take credit for the effort.  In truth, he had nothing to do with it and had remained on the sidelines until the last minute as had others taking credit for the effort.  The real heroes were never mentioned, a small group of veterans led by vets Robert Rosebrock of VT and the Veterans Revolution.  World War II vet, Steve Palmer, died during the effort after 169 consecutive Sundays, picketing the notorious 387 acre West Los Angeles facility cited in the lawsuit as a playground for corporations and wealthy residents while veterans sleep in dumpsters awaiting medical care at the center, medical care that too often never comes.

The controversy arose when Rosebrock and his group, years ago, began protests and a highly effective public relations campaign to expose the misappropriation of the 387 acre National Veterans Home in West Los Angeles that had been largely given away, piecemeal, by local VA officials, some to private schools, some for corporations with plans to turn much of the rest over to a wealthy neighborhood association for a "contemplative garden."  West Los Angeles has one of the highest incidents of veterans homeless with more than 8,200 homeless vets nearby.
"Their shopping carts and primitive shelters dot the sidewalks and landscaping outside the multi-billion dollar facility closed to all but political insiders, the rich and the friends of Congressman Henry Waxman," Rosebrock said.
Rosebrock has, for nearly four years, worked daily on this project.  The lawsuit is the culmination of his efforts alone, nobody else.  He brought in the Vietnam Veterans of America who joined the class action.  He brought in the American Legion years ago, a group that quickly abandoned the homeless vets and sided with defendant Donna Beiter and the those cited for misappropriation of land and funds.  The Legion is not named in this lawsuit, not as plaintiff nor defendant.
When the Legion was contacted about their position on this controversy, they said their focus would remain on saving the "Mojave Cross," two small pieces of pipe in the shape of a Christian symbol which were stolen from a remote region by secular activists.  A Legion spokesperson told this reporter, "This is the kind of focus we want to keep, issues about flags and symbols.
Homelessness is 'old news.'"
The lawsuit itself is a landmark.  For 170 consecutive Sundays, a group of veterans, most in their 70s and 80s, faced assaults local reservists send by their commander to "deal with this problem," and continual police harassment.  In a parallel case filed over a year ago by the ACLU, Beiter and VA police are cited for broad civil rights violations of Rosebrock and his group.
This reporter spoke with a representative of the VA police:
Our commanders ordered us to lie, falsify arrest citations.  We were pressured to stalk and harass vets.  We finally got sick of it and went to the FBI, not just about this but broad corruption as well.  Money comes in here and nobody knows where it goes.
A VA financial officer responsible for auditing revenues brought in from controversial land deals that pushed homeless vets onto the street told this reporter:
Nothing is accounted for.  Money comes in here, not just from the land deals but clinic business as well.  We send out checks to phony labs that are set up by VA officials.  One office is out there on Wilshire Blvd.  The money goes out, money meant for veterans care but its simple fraud and and nobody here seems to care.
THREATS
Everyone involved in the multi-billion dollars VA scam has been threatened, protesting vets, employees reporting financial crimes and even the VA police themselves when they eventually refused to commit more criminal acts at the request of VA officials.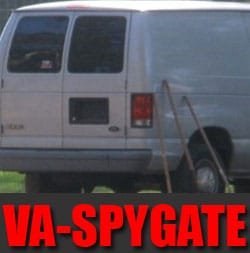 Both the FBI and Department of Homeland Security were brought in, told that the aging vets may be planning terrorist acts.  The FBI confronted the vets when they threatened to remove tattered American flags that dotted the site and the adjacent military cemetery and replace them with new ones.
On another occasion, DHS police confronted the vets when their protest against homelessness and abuses encroached on an anti-American demonstration held by Iranian activists.
The biggest threat has been from VA police.  Some Sunday's police outnumber demonstrators 3 to 1 or more.  Some Sundays, police would leave the facilities and follow veterans to their homes and set up surveillance.
Additional surveillance teams were borrowed from both Army Intelligence and the NSA.  Surveillance vans containing millions in electronic gear designed to locate nuclear materials and germ warfare threats were "tasked" with keeping an eye on the pesky octogenarian "terror threat."
JOHNNY COME LATELY
Nearly four years after the protests began, Bobby Shriver (Brother of Maria Shriver) has moved to the forefront, claiming credit for the efforts of veterans protestors.  In fact, Rosebrock and his group had gone to Shriver for years for help.  Shriver refused.
Shriver, General Monroe and others who have never faced down VA attack dogs, or had been subjected to wire-tapping and illegal VA police surveillance, others who have no history of working for veterans causes at all have now discovered it may well be politically correct to support our veterans and military.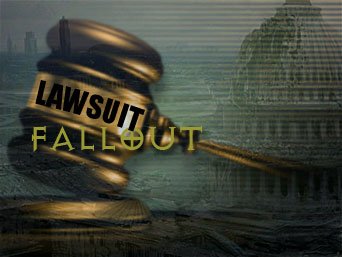 They discovered this years late.
Shriver discovered veterans during a news conference after years of refusing to aid the same group he now claims to lead.
Though Palmer, Rosebrock, Daniel Overmyer, Rees Lloyd and others may have led the fight, those stepping in at the 13th hour claiming the credit are still welcomed onboard.  VT thanks the real heroes, these mentioned and those we have carelessly forgotten.  You know who you are.
VT also cites federal law enforcement authorities who received evidence from VA police whistleblowers and accounting employees and did nothing.
VT cites fellow journalists who have worked hard to support veterans, who have followed and reported this story for years.
While this story drags on, while this lawsuit drags on, suicides will continue, VA fraud will go on as before and the citizens of Brentwood will continue their war against America's heroes.

Gordon Duff posted articles on VT from 2008 to 2022. He is a Marine combat veteran of the Vietnam War. A disabled veteran, he worked on veterans and POW issues for decades.
Gordon is an accredited diplomat and is generally accepted as one of the top global intelligence specialists. He manages the world's largest private intelligence organization and regularly consults with governments challenged by security issues.
Duff has traveled extensively, is published around the world, and is a regular guest on TV and radio in more than "several" countries. He is also a trained chef, wine enthusiast, avid motorcyclist, and gunsmith specializing in historical weapons and restoration. Business experience and interests are in energy and defense technology.
ATTENTION READERS
We See The World From All Sides and Want YOU To Be Fully Informed
In fact, intentional disinformation is a disgraceful scourge in media today. So to assuage any possible errant incorrect information posted herein, we strongly encourage you to seek corroboration from other non-VT sources before forming educated opinion. In addition, to get a clear comprehension of VT's independent non-censored media, please read our
Policies and Disclosures
.
Due to the nature of uncensored content posted by VT's fully independent international writers, VT cannot guarantee absolute validity. All content is owned by the author exclusively. Expressed opinions are NOT necessarily the views of VT, other authors, affiliates, advertisers, sponsors, partners, or technicians. Some content may be satirical in nature. All images are the full responsibility of the article author and NOT VT.
About VT
-
Comment Policy