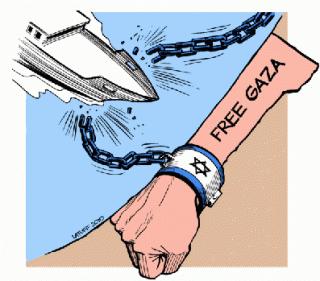 Freedom Flotilla aid ship is setting sail for Gaza again.
The Palestinian message on the ground is clear, but no one's listening. They won't accept surrender for peace. They want nothing less than freedom and justice in their own unoccupied land.
The aid flotilla is being organized by a coalition of pro-Palestinian groups, most of them based in Europe, the Associated Press reported.
The mission is named after the first Freedom Flotilla, which Israeli naval commandos  attacked on May 31, 2010, in international waters,  killing nine Turkish activists and injuring around 50 others.
Huwaida Arraf,  was on board The Challenger, a U.S.-flagged ship that was part of this international effort to break Israel's cruel illegal blockade of the Palestinian Gaza Strip.
Huwaida Arraf ISM Co-Founder

Huwaida recounts : "Israeli commandos grabbed me by my hair and rammed my head into the deck. They then stepped on my head in order to cuff my hands behind my back and then put a sack over my head. Worse yet, the commandoes killed nine of my fellow passengers, including 19-year old U.S. citizen Furkan Dogan, on the Mavi Marmara."

An international fact-finding mission of the UN Human Rights Council concluded that Israel's blockade of the Gaza Strip is "collective punishment"–a war crime–and that its May 31, 2010, attack on the flotilla in order to enforce its blockade was "illegal." The mission found that six passengers, including Furkan, were killed "in a manner consistent with an extra-legal, arbitrary and summary execution," and that survivors were subjected to "torture."

Rather than put pressure on Israel to end its illegal blockade of Gaza, investigate Israel's killing of a U.S. citizen and attack against a U.S. ship, and sanction Israel for misusing U.S. weapons to attack the flotilla, the Obama Administration shamefully has tried to shield Israel from accountability for its actions.

On Saturday, Egypt permanently reopened its border crossing with Rafah. This is an important step toward ending Gaza's isolation. But because Israel is still illegally blockading Gaza by land, sea and air, and because my country–the United States–is still enabling Israel to get away with it (in April, U.S. Ambassador to the UN Susan Rice even publicly pressured governments to block future flotillas), in June I plan to sail for Gaza again with "Freedom Flotilla II–Stay Human."
Four women Nobel Peace Laureates have sent an open letter calling on United Nations Secretary General Ban Ki-moon to support the safe passage of the Freedom Flotilla II. The flotilla will be bringing much-needed humanitarian supplies to the people of Gaza in late June.
Mairead Maguire, Jody Williams, Shirin Ebadi, and Rigoberta Menchú Tum have asked the Secretary General to "support the people of Gaza with two key actions:
First, by appointing a representative to inspect and seal the cargo of the boats of the Freedom Flotilla II—thus assuring the Israeli government that the boats are carrying humanitarian supplies…"
and to "call on all governments to support the safe passage of the Freedom Flotilla II."
Download the open letter here or read the full text below.
Nobel Women's Initiative An Open Letter to Ban Ki Moon

10 June 2011 | Nobel Women's Initiative

UN Secretary-General Ban Ki-moon

United Nations

New York, NY 10017 USA

RE: Inspection and sealing of Freedom Flotilla II cargo

Dear Mr. UN Secretary-General Ban Ki-moon,

We are writing to urge you to use your good offices in support of the humanitarian needs of the people of Gaza.

In our view, you can support the people of Gaza with two key actions. First, by appointing a representative to inspect and seal the cargo of the boats of the Freedom Flotilla II—thus assuring the Israeli government that the boats are carrying humanitarian supplies such as toys, medical supplies, cement and educational materials. Equally important, we strongly urge you to use your authority to call on all governments to support the safe passage of the Freedom Flotilla II. We are disappointed to learn of your recent efforts to persuade member governments from stopping the delivery of humanitarian aid to Gaza on the Freedom Flotilla II. We urge you to reconsider and instead encourage member states to lend support and ask Israel not to use force against legitimate humanitarian initiatives undertaken by civil society to help ease the suffering of the people of Gaza who are facing a humanitarian crisis of devastating scale.

The Freedom Flotilla II, organized by 14 national groups and international coalitions and carrying approximately 1500 'freedom riders,' is set to sail to Gaza this month. Sailing in the spirit of promoting human rights, prosperity, and social responsibility, the aim of the Flotilla is to alleviate the  humanitarian crisis faced by the citizens of Gaza. The blockade in Gaza is clearly having a harmful impact on the people of Gaza, and indeed UNDP and other agencies report high levels of malnutrition and other disturbing health problems.

According to a report by the World Food Programme and the Food and Agriculture Organization, the level of "abject poverty" among the Palestinians of Gaza has tripled since the imposition of the blockade, with 61 % of households not having enough food.

The blockade has crippled the Gaza economy and destroyed Palestinians' livelihoods and homes.

We believe our requests to you are in keeping with UN Security Council Resolution 1860 of January 2009 as well as the 2010 UN Human Rights Council fact-finding mission on the attack on Freedom Flotilla I, which are calling for a lift of the blockade to allow humanitarian assistance. We urge you to do all you can to support this nonviolent international humanitarian effort, to provide UN representatives to inspect and seal the cargo, and to appeal to all governments to allow safe passage of the Freedom Flotilla II.

Thank you for your attention to this important matter. We look forward to your positive response.

Sincerely,

-Mairead Corrigan Maguire

-Rigoberta Menchu Tum

-Jody Williams

– Shirin Ebadi
A short promo video edited by Adam Shapiro, co-founder of International Solidarity Movement, for Freedom Flotilla 2: Message in a Bottle.mp4
Greta Berlin one of the early pioneers of the flotilla initiative and founder of  Free Gaza Movement wrote: "Instead of pressuring countries to stand in our way, or coming up with ways to bribe governments to stop our ships, the United Nations, the United States and the rest of the international community should recognize the power of this non-violent civilian effort to pressure Israel to change its policy."
The world community must force Israel to back off and world public opinion and people of conscience must demand that it does so.
The inability of the world community and the United Nations to challenge Israel only frustrates hopes for a stable and peaceful world.
The US government being the primary negotiator for peace and security between Israelis and Palestinians should bear the responsibility for the Zionist regime's massacre of Palestinian women and children in their homes and territories. Peace and security will be realized only through the establishment of true justice. How can sustainable peace and security be reached by provoking and humiliating others?
Gaza remains under siege, Palestinians in Gaza remain deprived of basic amenities, provoked and angered, the West Bank is also terrorized, Palestinians are being evicted from their homes daily, settlements continue being built, Palestinian land keeps being taken, more innocent lives in the territories are being lost, suffering remains unbearable, and hope for the beleaguered people are dashed.  More Sanctions are being imposed on Israel's perceived  enemies in the region, crippling their economies further.  Israel does all this without offending anybody!
The Palestinian message on the ground is clear, but no one's listening. They won't accept surrender for peace. They want nothing less than freedom and justice in their own unoccupied land. Israel won't leave them in peace, so the struggle continues.
The United States is not being part of the solution, and appears as a great part of the problem.
I believe the only conclusions to the problem is for Americans to force their Government and Congress to stop supporting Israel diplomatically, militarily and financially.
But, first, and above all, someone is going to have to conduct a spinal implant in the US administration and the Congress!
"America's inability to resolve the question of Palestine is one of the gravest tragedies of our times. This is primarily because the US administration and the US Congress have succumbed to the demands of the Zionists in America, the Zionist regime in Telaviv and its various Lobbies, AIPAC (American–Israeli Policy Action Committee) and ADL  (Anti-Defamation League). There exists a coordinating agency called "The Conference of Presidents of Major Jewish Organizations," Their website (www.conferenceofpresidents.org) is worth exploring (and AIPAC is just one of literally dozens of organizations under its umbrella). This is a lethal ailment that afflicts the United States.  The American politicians have fallen captive to this Zionist network."
Debbie Menon is an independent writer based in Dubai. Her main focus are the US-Mid- East Conflicts. Her writing has been featured in many print and online publications.
Her writing reflects the incredible resilience, almost superhuman steadfastness of the occupied and oppressed Palestinians, who are now facing the prospect of a final round of ethnic cleansing. She is committed to exposing Israel's Lobbies' control of 'U.S. Middle East Policy. Control' which amounts to treason by the Zionist lobbies in America and its stooges in Congress, and that guarantees there can never be a peaceful resolution of the Israeli-Palestinian conflict, only catastrophe for all, in the region and the world.
Her mission is to inform and educate internet viewers seeking unfiltered information about real events on issues of the US/Middle East conflicts that are unreported, underreported, or distorted in the American media. PS: For those of her detractors that think she is being selective and even "one-sided," tough, that is the point of her work, to present an alternative view and interpretation of the US-Israel-Middle East conflict, that has been completely ignored in mainstream discourse.
The purpose is to look at the current reality from a different and critical perspective, not to simply rehash the pro-US/Israel perspective, smoke and mirrors that has been allowed to utterly and completely dominate Mainstream discourse.
ATTENTION READERS
We See The World From All Sides and Want YOU To Be Fully Informed
In fact, intentional disinformation is a disgraceful scourge in media today. So to assuage any possible errant incorrect information posted herein, we strongly encourage you to seek corroboration from other non-VT sources before forming an educated opinion.
About VT
-
Policies & Disclosures
-
Comment Policy
Due to the nature of uncensored content posted by VT's fully independent international writers, VT cannot guarantee absolute validity. All content is owned by the author exclusively. Expressed opinions are NOT necessarily the views of VT, other authors, affiliates, advertisers, sponsors, partners, or technicians. Some content may be satirical in nature. All images are the full responsibility of the article author and NOT VT.