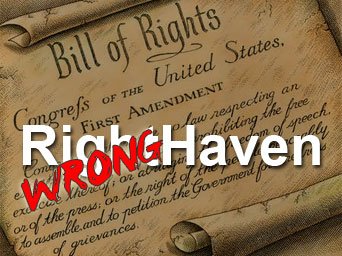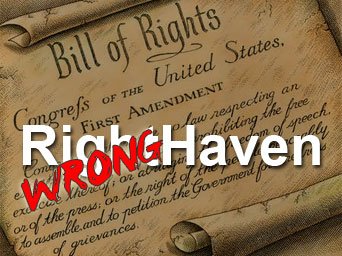 "Righthaven! Say Hello to My Little Friend—Justice!"
The reference above echos Sherman Frederick [aka Shermy], a columnist for Stephens Media who in an infamous warning, writes "I promise you, you will meet my little friend called Righthaven [LLC]." (Las Vegas Review-Journal, September 1, 2010)
Frederick and his shady Vegas outfit should apologise to Oliver Stone and Al Pacino after they have been revealed to be running a fraudulent enterprise that has earned the enmity of an increasing number of federal judges, but a scheme lacking Tony Montana's pathological charm.
Not sexy, headline-grabbing news, but a small group of writers and public interest-minded intellectual property attorneys have taken on a billionaire-funded organization of fraudsters, Righthaven LLC, and are winning a victory for the First Amendment.
And this week, the First Amendment's prospects just shot up.
Righthaven is a notorious straight-to-court outfit filing myriad lawsuits as a business model that drives intellectual property attorneys across the country crazy because of Righthaven's disreputable tactics that are little more than an extortion and organized fraud racket.
Below is a report with some first-person background.

U.S. District Judge Roger Hunt
Righthaven LLC Business Organization
On June 14, U.S. District Judge Roger Hunt ruled in favor of the
and Las Vegas attorney, Chad Bowers,
who are representing the superlative political site, the Democratic Underground.
Righthaven has targeted Mom and Pop operations, progressive sites, veterans [vehemently and appallingly], Ron Paul, the Tea Party and really anyone from whom this particular bunch of vampires thinks they can extort money.
Justice Hunt's opinion has the vampires enduring the legal equivalent of a supernova in what top journalist, Steve Green, covering Righthaven's enterprise, called a "a potentially devastating ruling …" issued July 14.
Writes Judge Hunt, Righthaven's claim that it owned sufficient rights in its copyright is "flagrantly false—to the point that the claim is disingenuous if not outright deceitful."
Righthaven lied, and its entire business model of suing for copyright infringement is based on a lie.
Writes conservative blogger, Ken Bingham: "This is a great victory for all of us who have opposed Righthaven and all copyright and patent trolling in general. The media conglomerate companies Stephens Media and Media News Group now have a lot of explaining for this gross breach of the public trust.
We expect news organizations to be trustworthy and not prostitute their integrity by associating with groups like Righthaven. If they want to sue people for copyright infringement they should have the guts to put their own reputations and finances on the line by doing it themselves rather than try and transfer it by setting up shady front companies like Righthaven."
Justice Hunt's ruling makes clear Righthaven's standard claim in its 100s of complaints [typically seeking $150,000, attorneys' fees, computers, among other outrageous demands] that "Righthaven is the owner of the copyright in and to the Work," [Righthaven v. Leon, Nichols et al] is based upon a self-conscious misrepresentation.
One of Righthaven's attorneys, Shawn Mangano, wrote to me personally: "Righthaven's Approach to Dispute Resolution: … It is well established that to allege a claim for copyright infringement, only two facts need to be alleged: (1) ownership of a copyrighted work … ."
Ken Bingham for the 1st Amendment
Right, Mangano. Are you still claiming Righthaven's ownership of copyrighted work in federal court … still?
The problem for Righthaven and its attorneys like Mangano—the remaining ones who have, excluding Steven Ganin, fled Righthaven—is they lied to federal court justices, something attorneys or anyone should not do … ever.
U.S. District Judge John L. Kane
Justice Hunt's ruling follows the ruling of Senior U.S. District Judge John L. Kane of the U.S. District Court for the District of Colorado.
Justice Kane ruled in early April in a Righthaven case against 20-year-old North Carolina autistic blogger Brian D. Hill [in a case successfully argued by attorney David Kerr of whom Mangano told me by phone on April 20 that I should never mention the name of David Kerr to Mangano] that the "purpose of the courts is to provide a forum for the orderly, just, and timely resolution of controversies and disputes. Plaintiff's [Righthaven] wishes to the contrary, the courts are not merely tools for encouraging and exacting settlements from defendants cowed by the potential costs of litigation and liability." [See Green's coverage.]
Righthaven LLC v. Michael Leon and Medbillz, Case No. 10-cv-01672 (September 27, 2010) [Dismissed]
On March 6, on a Sunday evening while watching True Blood with my girlfriend, I received a ridiculous summons demanding $150,000 among other outrages from the Righthaven vampires, claiming I was infringing on a copyright to which Righthaven had exclusive ownership.
My co-defendants were a 20-year Air Force veteran nurse, Denise Nichols, and some organization called Medbillz that I never even heard of, and which Righthaven describes as a "corporation of unknown orgin." Maybe they're a secret werewolf society.
On April 15, Chief U.S. District Judge for Nevada Roger Hunt had "unsealed the agreement [a Strategic Alliance Agreement] for prosecuting copyright infringement lawsuits between Righthaven LLC and Las Vegas Review-Journal owner Stephens Media LLC" over the objections of Righthaven and Stephens Media, reports Steve Green.
This blew up Righthaven's business model and put the lie to its repeated claim that it has exclusive ownership to the copyrights that it has alleged to have been infringed.
"As many defendants in Righthaven actions have argued, Righthaven does not truly own the copyrights it sues over," Marc John Randazza, one of the attorneys for the Media Bloggers Association, said in a blog post.
"By rejecting Righthaven's and Stephens Media's efforts to keep the [Strategic Alliance Agreement] document secret, Chief Judge Hunt has allowed the various victims of Righthaven's campaign of intimidation to know the truth. The document in question, a Strategic Alliance Agreement, gave Righthaven the right to sue on Stephens' Media's copyrights, but no other rights in the copyrights, which we believe will defeat Righthaven's standing to sue any of those it has targeted," said Laurence Pulgram, an attorney associated with the Electronic Frontier Foundation with the San Francisco law firm Fenwick and West LLP, reports Green.
The following Monday, on April 18, I received an order from federal Judge Gloria M. Navarro to appear in Court on April 20 at which the Judge promptly dismissed my case, and ultimately that of my co-defendant, Denise Nichols who is seeking attorneys' fees from Righthaven.
Denise Nichols
Denise Nichols, 20-Year Air Force Veteran
In an answer by Nichols responding to the absurd original complaint filed by Righthaven, she responds:
"The complaint, which has been served upon her, does not list her as a party. Nor does it contain any reference to her. No claim is stated against her," said the filing by Las Vegas attorney Michael Kimbrell. "In the case at hand, the complaint contains no reference by name or title or occupation that can reasonably be deduced to ensnare defendant or provide even a theoretical guess as to how defendant is supposed to respond."
Mangano later in an April 20 "Status Report" said he made a mistake in serving the complaint upon Nichols.
That's Mangano and Steven Ganim for you.
Nichols, in seeking attorneys' fees now, argues in part:
Displaying the same stubborn posture Righthaven LLC has shown this Court and the same reckless disregard for facts, Righthaven again distorts the record in this matter.  Righthaven served Denise Nichols with a complaint that fails to mention Nichols.

Righthaven's cookie cutter lawsuits made misrepresentations in this case against multiple co-defendants, arguing two separate Venues for alleged infringements that are simply not credible. In one complaint against co-defendant Medbillz, Righthaven names the United States District Court for the Southern District of California as venue. In another complaint served on [Michael] Leon, Righthaven says the proper venue is the United States District Court, District of Nevada. Righthaven failed to serve defendant Leon within 120 days
In Court on April 20, Shawn Mangano who has threatened me with a slander and defamation suit repeated his threat in open court repeating the essence of his previous charge in an e-mail [perhaps one of many false and misleading statements meant to me to induce me to pay the scum money] that I "disseminated that Mr. Ganim is apparently not a member of the State Bar of Nevada. In doing so, [Leon] has attempted to cast the impression that Mr. Ganim is holding himself out [as] an attorney when he is not licenced to do so." [Note: It was revealed and widely noted that Ganim was not licenced to practice in Nevada at Righthaven Victims on April 18.] In any event, Mangano's take is ludicrous.
Steve Green who was at the hearing in April 20 Las Vegas asked me about this and I laughed. Writes Green:
'I'm not going to tolerate and allow someone to tarnish my professional reputation' – or make libelous claims about Righthaven and Ganim,' Mangano said.'Mr. Mangano's reference to libel indicates a lurid conception of the term,' Leon said in response after the hearing.
Well, attorney Mangano, I have to break this to you: Your professional reputation is tarnished beyond hope. Not only will you tolerate this description, you will like it.
If you feel a defamation and libel suit is warranted, bring it on. To borrow from Tony Montana: I'll bury you cockroachs.
As for you, Attorney Ganim, let me advise you: Run and don't walk to the U.S. Attorney's office and tell them you want full immunity as a cooperating witness against Righthaven LLC and Mangano. I don't think you realize how serious being part of a conspiracy to repeatably lie in federal court is.
ATTENTION READERS
Due to the nature of independent content, VT cannot guarantee content validity.
We ask you to
Read Our Content Policy
so a clear comprehension of VT's independent non-censored media is understood and given its proper place in the world of news, opinion and media.
All content is owned by author exclusively. Expressed opinions are NOT necessarily the views of VT, other authors, affiliates, advertisers, sponsors, partners or technicians. Some content may be satirical in nature. All images within are full responsibility of author and NOT VT.
About VT
-
Read Full Policy Notice
-
Comment Policy