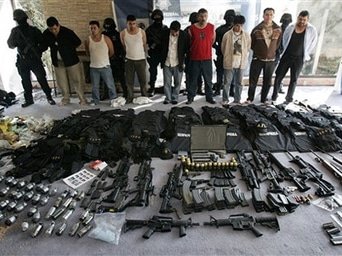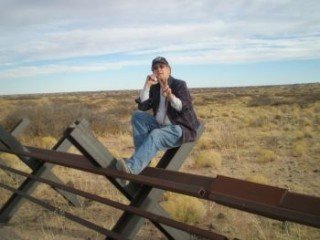 Salem-News Photojournalist with Army Task Force 7 in Mexico threatened with arrest
Salem-News.com
Mr. Plumlee provided "sensitive, detailed" information for this article.
(COLUMBUS, N.M.) – Over 40,000 civilians have been killed in the drug cartel wars in Mexico. There's little likelihood that the killings will stop anytime soon. Despite the intervention of the Mexican Army and Marines, the killings, terror attacks and mutilations of humans continue and human rights groups, world wide, do not seem to care.
The simple truth is that there are lots of military weapons in the hands of the six cartels and two much money to be made selling drugs and guns obtained from the US side of the border. The 2,000 miles of the Mexico-U.S. border is too big to totally prevent the cartels from smuggling guns and drugs into the United States without revamping our total security apparatus.
In January, 2009 a military contact from Ft Bliss, Texas, attached to the Pentagon contacted me in reference to a covert operation they were involved with. I am a former CIA contract pilot and asset (documented). I am currently a photojournalist for Salem-News.com working out of New Mexico on the Border War.
This military contact and friend asked for my help in establishing media coverage of a deteriorating situation, which they were involved with. I, after some hesitation, agreed to become active with them in a civilian capacity and document their movements and activities, while operating in Mexico in conjunction with Mexico's army and Marines.  As a result of this agreement, a complicated three year odyssey was initiated.
The newly formed 2009 task force, who at the time were operating out of Ft. Bliss, Texas, had information they believed should be given to the U.S. media because– in their opinion, their field reports were not being properly acted upon and they felt their information was being tampered with at the highest levels in Washington.
The apparent incompetence and lack of secrecy in Washington was causing them severe hardship and could possible be responsible for lives being lost. Most of the undercover team, felt they were being set up and the cartels were being informed of their activities and locations inside Mexico.
I had previously obtained reports from various "sensitive" sources, which indicate that weapon caches currently being found in Mexico were not the type of weapons sold in mom and pop gun stores here in the U.S.
The reports, from many sources inside Mexico and from gun shops here in the United States, indicated that not only small arms like AK-47's, M-16's, and few old grenades were being found, but also very sophisticated weapons, like Anti Aircraft guns, Law anti-tank weapons, stinger missiles, M-67 grenades, night vision goggles, and tons of, "fake" Mexican uniforms, were being staged at various locations in Mexico for future use.
At this point, I would like to make reference to an article that my friend Bill Conroy of Narco News wrote back in June of 2009. The article titled "U.S. Special Ops has Troops Deployed in Mexico created a firestorm in Mexico and the US State Department. This was hotly contested by the Mexican Embassy and letters were sent to Salem News and Narco News. Another article– more recent, published this year, titled; " Leaked Briefing memo confirmed that US troops were operating in Mexico.
I was one of the sources used by Conroy's  articles.
Conroy reported on a U.S. government briefing, confirming the presence of U.S. forces operating in Mexico. According to Conroy's article, he confirmed statements made by me to the media some months earlier about US government troops being deployed by the Pentagon operating inside Mexico. This operation was reported as being a top secret, classified covert operation working out of Ft Bliss Texas.
The information reported by Conroy and  the revelations found in the briefing material are extremely important because, to date, neither the Pentagon nor the State Department has confirmed that U.S. special forces have been deployed inside Mexico. This has become a politically volatile subject in Mexico and Latin America."
The Task Force's mission was originally designed to be limited in scope. The training and Intel gathering techniques, which the American military had developed, would be shared and employed in their joint field tactics, and too, their Intel gathering programs would be modified. However, over time– and the escalation of the cartel wars in and around Juarez Mexico– the American team was eventuality drawn into occasional direct contact with the cartels and a few limited firefights with various cartel members were interrogated.
The situation in Northern Mexico is very dangerous place. The deployment of Task Force 7, as it is known in some circles, was not coordinated with various elements of the Mexican government and this led to a political firestorm within the Calderon government and the U.S. State Department. It appears the State Department wants to avoid media coverage and a secret-off the record campaign was launched by State to plug all leaks concerning, U.S. Boots on the Ground, operating covertly inside Mexico. Sensitive sources have stated to me this program was initiated by State because of the deteriorating political atmosphere between Mexico and the United States. The information that the task force was obtaining from these operations in Mexico and being forwarded to proper agencies in their field reports, was not being acting on by State and other Federal agencies, according to various unnamed sources.
Pressure was put on the task force by Justice and State, advising them to write reports more in line with official administration policy "so we do not upset Mexico anymore than they are already upset."
According to information I have recently received, from reliable sources in law enforcement , various dispatches from agencies have been sent to key law enforcement departments, which appear to want me out of the picture.   I have been told the Justice Dept. plans to investigate me for allegedly "border jumping", illegal entry into the United States.
The latest news from the Task Force is that the FBI wants to talk to me as soon as possible. A meeting with Federal agencies, including the  FBI has been set for the first week in July……. Stay tuned.
Special thanks to Salem-News.com's Robert O'Dowd for his help with this report.
___________________________________
About the Writer: Robert 'Tosh' Plumlee is a retired commercial pilot who worked for and with the United States Government for many years. His background is extremely diverse and over the years Tosh was involved in many government operations that are both fascinating and historic. His work began with an enlistment in the Army and a subsequent assignment to military specialized operations at Fort Bliss, Texas in April of 1954. Tosh was associated with various Military Intelligence units of the Fourth Army based at Fort Bliss, Texas, and also the Fourth Army Reserve, located at Dallas Love Field, Dallas Texas. This service period was in the early to mid-fifties and into the early sixties.
You can write to Robert 'Tosh' Plumlee at: [email protected]
Robert O'Dowd served in the 1st, 3rd and 4th Marine Aircraft Wings during 52 months of active duty in the 1960s. While at MCAS El Toro for two years, O'Dowd worked and slept in a Radium 226 contaminated work space in Hangar 296 in MWSG-37, the most industrialized and contaminated acreage on the base.
Robert is a two time cancer survivor and disabled veteran. Robert graduated from Temple University in 1973 with a bachelor's of business administration, majoring in accounting, and worked with a number of federal agencies, including the EPA Office of Inspector General and the Defense Logistics Agency.
After retiring from the Department of Defense, he teamed up with Tim King of Salem-News.com to write about the environmental contamination at two Marine Corps bases (MCAS El Toro and MCB Camp Lejeune), the use of El Toro to ship weapons to the Contras and cocaine into the US on CIA proprietary aircraft, and the murder of Marine Colonel James E. Sabow and others who were a threat to blow the whistle on the illegal narcotrafficking activity. O'Dowd and King co-authored BETRAYAL: Toxic Exposure of U.S. Marines, Murder and Government Cover-Up. The book is available as a soft cover copy and eBook from Amazon.com. See: http://www.amazon.com/Betrayal-Exposure-Marines-Government-Cover-Up/dp/1502340003.
ATTENTION READERS
Due to the nature of independent content, VT cannot guarantee content validity.
We ask you to
Read Our Content Policy
so a clear comprehension of VT's independent non-censored media is understood and given its proper place in the world of news, opinion and media.
All content is owned by author exclusively. Expressed opinions are NOT necessarily the views of VT, other authors, affiliates, advertisers, sponsors, partners or technicians. Some content may be satirical in nature. All images within are full responsibility of author and NOT VT.
About VT
-
Read Full Policy Notice
-
Comment Policy