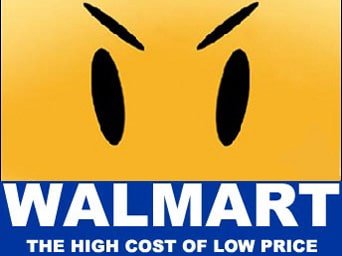 The monopoly between corrupt corporations and corrupt governments is Satan's most insidious trick
And we can see it all in action on a videotape documentary: Wal Mart: The High Cost of Low Price.
I am conflicted as I write. As a believer in the myth of rugged individualism since childhood, it is hard to get behind what is known as Unionism (funny how everything must be converted to anism) However, my beef has never been with the working stiffs who put in the hours—it has always been with the "organizers" taking advantage of laborers, who have little time and less training to deal with all the bullshit between working-for–a-living and the bigger picture.
Corrupt union bosses are identical to corrupt politicians; they need the consent of the governed.
I did go to college, once; on the GI bill in 1958, Long Beach CC. I quit after two weeks in my fourth quarter following a class in "economics" (true). In those days I could not be sure of my objections, I instinctively knew it was bullshit.
As I watched this professionally done documentary made in 2005 by all kinds of union folks, I felt totally sick to my stomach. Just as sick as I felt watching the Israeli apartheid stuff.
In the midst of absorbing this Luciferian story, my mind jumped to the US Supreme Court, who recently and arbitrarily dismissed massive class action lawsuits vs. this subsidized cheap goods monopoly.
Fascism must have total government corruption; all three branches. Even worse, the fourth branch (media) is usually part and parcel of the fascist vice.  One of the reasons I'm so pissed off is that the big whigs at Wal-Mart just like the bleeping Neocons, are posing as Christians while they destroy The Golden Rule.

I cheered at the end of the documentary when the people of Englewood, California defeated the fascist juggernaut and denied the store's subsidized new development plans for their town, and cities all over the US soon followed suit.

Wal Mart claims they have "benefited" so many millions of people that we would create a vast human misery if we shut them down and hanged the billionaires and all the elected prostitutes—Too big to fail! (my ass)!

But that brief misery would soon be swallowed by a resurgence of life, liberty, and pursuit as sleeping idiots woke up. The "consumer" society is a myth, we can prove it by rejecting cheap goods for quality of life—Real people do not shop at huge "discount" stores. A few bucks cheaper isn't worth it. The word cheap has a connotation that should be warning enough.
My intuition says the solution to the overall economy is in wages—pay workers a good wage—the return on investment will amaze us. We dont need government or goons to enforce this, a simple practice of that famous do unto others rule will do. Do you hear that, corporate myrmidons and legislator crooks?
Either that or quit the Christian charade.
I am sounding naive, and I am not. Watch the video and count the hypocrisy moments. Also note the length and breadth of fascist subsidies involved. While you are at it, go to www.conspiracyarchive.com and get valuable background material.
Wal-Mart could not have done it without all the "free trade" bullshit shoved down our throats by the same bloody forces that gave us the Fed, The IRS, World wars, and monopoly media.
Which reminds me; where were all the big unions, that funded a lot of political clout at the time the NAFTAFAscam was in scamming mode? Surely the thinking labor pool could see trouble ahead— where was the concentrated Union effort to warn the populace and force the media to cover the issue?
No, You did not see a typo above, NAFTAFA is the sorry scams real name—North American Free Trade and Finance Agreement a mere extension of the Gawd Awful Trade Treaties (GATT).
Of course the first requirement for all of it was our own collective stupidity and self-centered covetousness. AS soon as a family gets on its feet, they are encouraged to put their money to work in the system. But not to home school the kids.
What this country needs is an army of pissed off pitchfork toting mad-as-hell men and women converging on city halls, and brokerage houses everywhere.
It amuses/disgusts me to see so much Internet pitching for "Ways to make a buck on the coming collapse." Will we never learn?
ATTENTION READERS
Due to the nature of independent content, VT cannot guarantee content validity.
We ask you to
Read Our Content Policy
so a clear comprehension of VT's independent non-censored media is understood and given its proper place in the world of news, opinion and media.
All content is owned by author exclusively. Expressed opinions are NOT necessarily the views of VT, other authors, affiliates, advertisers, sponsors, partners or technicians. Some content may be satirical in nature. All images within are full responsibility of author and NOT VT.
About VT
-
Read Full Policy Notice
-
Comment Policy