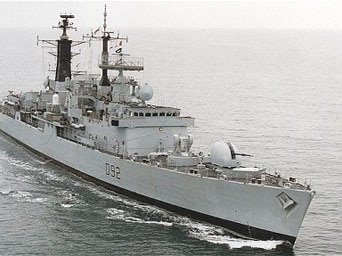 by Thomas Harding, Defence Correspondent UK Telegraph
HMS Liverpool, a Royal Navy warship, came under heavy rocket fire from a shore battery as it patrolled off the Libyan coast, the
Ministry of Defence said.
A missile launcher is said to have sent a number of rockets towards Liverpool that has been stationed off Libya for several weeks.
The Type 42 destroyer returned heavy naval gunfire answering Col Gaddafi's forces with its 4.5in main gun sending several shells arching into the night during the early hours of Wednesday.
The attack came after Liverpool fired a barrage of illumination rounds in support of an air attack on the regime stronghold of Zlitan.
No casualties were suffered by the ship's crew during the exchange and the MoD were unable to confirm if the battery was destroyed during the duel.
The attack came after the helicopter carrier Ocean launched her Apache attack helicopters against a hotel in Zlitan that was being used as a military base.
The Apaches fired Hellfire missiles then coordinated with RAF Tornados which guided several Paveway bombs onto the targets.
---
Libya: Nato 'carried out raid on Gaddafi oil tanker'
Nato commandos were suspected of having carried out a daring raid on an anchored oil tanker owned by the Gaddafi family that was on Wednesday night sailing from Malta to the Libyan rebel-held capital of Benghazi.
A Libya flagged vessel steered by the rebels and assisted by contingent of naval special forces boarded the Cartagena just outside Maltese territorial waters on Wednesday morning.
The Cartagena is owned by the Libyan government's shipping arm, the General National Maritime Transport Company, which is believed to be controlled by Col Muammar Gaddafi's son Hannibal, who is on a sanctions list. It had picked up its cargo in Turkey three months ago.
A Maltese navy ship shadowed the vessel as the boarding took place and followed it until it had left the country's search and rescue area.
A Nato spokesman on Wednesday night admitted that the vessel was being escorted by a naval patrol into the rebel held port of Benghazi. "We are monitoring the ship and the ship has been hailed and signs indicate it is co-operating with Nato forces as it approaches the shores of Libya," Col Roland Lavoie, the Nato spokesman said.
"Nato will follow normal procedures and it will be up to the commander of the Nato ship involved to decide whether to board the ship, weather and sea conditions permitting."
Petroleum Economist, an industry newsletter, first reported that the Cartagena was seized by anti-Gaddafi rebels with the help of special forces from a European state.
The vessel was believed to be carrying more than 250,000 barrels of petrol, a scarce commodity in both parts of divided Libya.
Since a nationwide uprising on February 17, Libya's oil production has ground to a practical halt and its refineries are producing minimal amounts of fuel. The diversion of the vessel from the regime to the rebels amounts to a severe blow.
Italy had been the main overseas exporter of refined fuel to Col Gaddafi's regime. It has reportedly continued to ship crude oil from Libya through an undersea pipeline.
Although there is no fuel embargo on Libya under the terms of UN mandate, the regime has struggled to import fuel to meet its civilian and military demands. Tunisian businessmen recently reported that the regime had swapped five tankers of diesel fuel oil for one tanker of the more highly refined petroleum.
Nato intercepted an oil tanker which it said it had reason to believe was set to deliver fuel to Gaddafi's forces in May.
The newsletter said the tanker had been boarded by Libyan nationals. It said the ship was originally chartered to land the fuel in Tripoli and had been stranded in the Mediterranean since the Nato action against seaborne fuel supplies in May.
Italy's defence ministry said on Wednesday that an Italian naval ship sailing off the North African coast reported that a missile fired from Libyan territory held by the Gaddafi regime hit the Mediterranean about two miles away from its position. The ministry was, however, unable to ascertain if the vessel was targeted.
bellingham high school
carne asada marinade
jim cramer mad money
insanity vs p90x
boulder running company
home decorators coupon
walmart price match
defamation of character
pokemon diamond pokedex
free grant money
ATTENTION READERS
Due to the nature of independent content, VT cannot guarantee content validity.
We ask you to
Read Our Content Policy
so a clear comprehension of VT's independent non-censored media is understood and given its proper place in the world of news, opinion and media.
All content is owned by author exclusively. Expressed opinions are NOT necessarily the views of VT, other authors, affiliates, advertisers, sponsors, partners or technicians. Some content may be satirical in nature. All images within are full responsibility of author and NOT VT.
About VT
-
Read Full Policy Notice
-
Comment Policy