Update: Rebel Forces Advancing on Tripoli.
Will Gaddafi's Green Palace Guard Fight a Dead Enders Battle – Or Pull a Republican Guard Vanishing Act ?
Monday Morning Update 08-21-11: There was no information coming in Sunday night (US time) on fighting in the east. Here is what we have this morning, but still not much yet as to why these non-Tripoli units still want to fight.
Misrata rebels report they supplied the Tripoli landing force last night, 200 fighters and medics with weapons and supplies. RT has shamed themselve for all time with the Al Qaeda/NATO joint sea landing silly story. See the video below…an embarassment to the international journalism profession. Has someone there pressed a PRAVDA button somehow?      Jim W. Dean, editor
_________
2.42pm: Chris Stephen in Misrata reports on fierce fighting taking place today in Zlitan, 80 miles (128km) east of Tripoli, with government forces continuing to offer resistance as rebel forces push towards the Libyan capital. Chris writes:
Government forces dug in along a line of hills south of Zlitan are bombarding the town, one shell killing a six-year-old-child and wounding his three-year-old brother.

The wounded three-year-old, Mohammed Halifa, was this morning lying in a cot in Misrata's Mujamma Aledat hospital with both arms and hands bandaged, and a dressing on a wound caused by a shell splinter in the abdomen. He was sedated but appeared confused, trying to move his heavily bandaged arms and mouthing words.

"He was in the house when the [mortar] came in," said surgeon Mohammed Ahmed. "I don't know why he [Muammar Gaddafi] is still killing. Gaddafi is lost, but these people are still killing, I don't know why." Dr Ahmed said the boy's injuries did not appear life threatening.

Sources in Misrata, the base of the rebel force fighting in Zlitan, said they had hoped to send a truce unit across the lines to meet with government forces to discuss a possible surrender.

Such plans appear to be on hold as rebel reinforcements in black-painted jeeps mounting machine guns and recoil-less rifles drove at speed up the main highway to Zlitan today.

Misrata, along with Benghazi, saw a night of wild celebrations with fireworks and machine-gun fire into the air starting late yesterday on news that rebel forces had entered Tripoli. Hospital officials said nine people were treated for minor burns from fireworks some of which exploded amid the crowds.

Misrata military council confirmed that a unit of 200 rebel fighters landed by sea at Tripoli over the weekend, bringing weapons and ammunition for rebel fighters and including a team of medics.
______
Sunday:Flash Update: Rebels are taking Tripoli with minimal fighting. Army is surrendering and being treated well. Gaddafi sons captured along with government officials
Cross your fingers folks. It may almost be over !!!
*********************************************************
Continuing updates: BBC
205: Rana, a Tripoli resident, tells the BBC that many city residents poured into the streets to greet the rebels. She adds: "We didn't expect it to be this way, we thought they were going to be attacking us, I thought there would be dead bodies all over the country but it was easy, thanks to Allah."
0151: Al-Jazeera reports that its interview with Col Gaddafi's son, Mohammed, was abruptly cut off after he said there were gunmen surrounding his house.
0139: Via Twitter LibyaNewMedia tweets: Two issues in Tripoli: There are still pockets of Gaddafi thugs thirsty for blood and killing people and Gaddafi channels are still broadcasting.
0136: Hussain al-Zwaik, a rebel fighter from Zawiya who took part in Sunday's advance on Tripoli, tells the BBC: "We saw Gaddafi forces running and running from us. We thought it would be a big fight – but there was no resistance. We're all surprised! It's a great moment for us! All the people in Tripoli joined us to celebrate!"
0115: The rebels are now in control of Tripoli's airport and the highway to Tunisia, the NTC is being quoted as saying by al-Jazeera.
0113: A spokesman for the US defence department says: "We continue watch carefully the events that are being reported; we continue to support Nato as required."
0045: A BBC correspondent in Tripoli, who cannot be named for safety reasons, says that "chants are being heard from the mosques across the city 'God is great!' and 'We're free!' There is a sense of jubilation among the people here, in the eastern part of the city. The people believe this is the end of the regime."
0042: Guma el-Gamaty, the NTC spokesman in Britain, tells the BBC: "I think the freedom fighters are dealing with some remnants of Gaddafi's forces – some of the forces and some of the tanks and multi-rocket launchers and artillery are still positioned in certain places and are not willing to surrender yet. They are being surrounded by the freedom fighters and they are given a chance to surrender peacefully rather than take them on in a bloody battle."
0028: Nato spokeswoman Oana Lungescu tells the BBC that the alliance is "not directly assisting the rebels", as claimed by Col Gaddafi's government. She adds: "We are trying to strike legitimate military targets".
0023: The BBC's Matthew Price in the Tripoli hotel used by the Libyan government for its news conferences says the rebels appear to be trying to take control of the building.
*****
We will try to keep you posted on these fast moving events…too fast for us to verify but posting reports as we are finding them.  There is very little news from the eastern side. It appears significant rebel forces had infiltrated into Tripoli to wait for the right moment to lead the opposition there.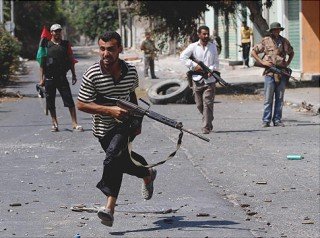 The western advance is providing a pincer movement from that direction. If Gaddafi's forces crack in the East, then those rebel forces will quickly advance to to eastern edges of Tripoli
Here is the last BBC report: 00:19 ET …Libyan analyst Hafed al-Ghwell has told the BBC that there are reports of the flag of independence flying all over Tripoli, and that Gaddafi's long time #2 man has gone on Al Jazeera asking the army to put down their weapons and not continue the bloodshed for the Gaddafi family.
The claimed 65,000 professional army soldiers in Tripoli have not seemed credible with their inability to crush the rebel uprising within the city.
These tens of thousands of soldiers were also not present in the Zawiya or Zlitan battles…with throw-a-way troops being used there… more African mercenaries captured. What have they been waiting for…to trap the rebels inside Tripoli??
Terrible street fighting could ensue but the chances of that get slimmer every hour that it does not begin. It may be that the Palace Guard was only a match for unarmed civilians, and midnight house raids. The fence sitters will be having to choose sides quickly. The press secretary (can we say Baghdad Bob) seems to be the functioning chief of state now. His brother died in the Zawiya fighting. NATO bombing may have effectively deteriorated command and control to the point of ineffectiveness.
Historically the army breaks when they change out of their uniforms and head home to protect/be with their families.  All the secret police and repression people, they know the rebels know where they live. Will they fight on the city perimeter when their families might be taken hostage? Due they have fake ID's all prepared to join refugees leaving the city?
But have many of the 'professionals' already changed out of their uniforms? Is that why the rebels were able to push half way from Zawiya to Tripoli today, and capture a major Gaddafi army base? The Gaddafi defense seems to be having the heavy weapons fire off all of their ammunition and then retreating to Tripoli to get more…and do what?? We should know soon.
 Update: 17:19 ET …  BBC Report. Will Gaddafi's Palace Guard fight if they feel the rebels are going to kill them anyway.
Visit msnbc.com for breaking news, world news, and news about the economy
[youtube B5C5jm5l6OE]
[youtube s5E9jCtVCEA]
Gordon Duff posted articles on VT from 2008 to 2022. He is a Marine combat veteran of the Vietnam War. A disabled veteran, he worked on veterans and POW issues for decades.
Gordon is an accredited diplomat and is generally accepted as one of the top global intelligence specialists. He manages the world's largest private intelligence organization and regularly consults with governments challenged by security issues.
Duff has traveled extensively, is published around the world, and is a regular guest on TV and radio in more than "several" countries. He is also a trained chef, wine enthusiast, avid motorcyclist, and gunsmith specializing in historical weapons and restoration. Business experience and interests are in energy and defense technology.
ATTENTION READERS
We See The World From All Sides and Want YOU To Be Fully Informed
In fact, intentional disinformation is a disgraceful scourge in media today. So to assuage any possible errant incorrect information posted herein, we strongly encourage you to seek corroboration from other non-VT sources before forming an educated opinion.
About VT
-
Policies & Disclosures
-
Comment Policy
Due to the nature of uncensored content posted by VT's fully independent international writers, VT cannot guarantee absolute validity. All content is owned by the author exclusively. Expressed opinions are NOT necessarily the views of VT, other authors, affiliates, advertisers, sponsors, partners, or technicians. Some content may be satirical in nature. All images are the full responsibility of the article author and NOT VT.