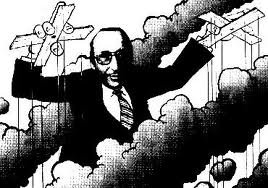 "Psychological operations are planned operations to convey selected information and indicators to foreign audiences to influence their emotions, motives, objective reasoning, and ultimately the behavior of foreign governments, organizations, groups, and individuals."
The above definition of psychological operations is exactly what is found the the Hebrew Bible/Old Testament. The ancient Hebrews/Jews wrote such things about themselves as God choosing them "above all people that are upon the face of the earth" (Deuteronomy 7:6), that any nation that will not serve their nation of Israel "shall be utterly wasted" (Isaiah 60:12), etc., etc., etc. These ideas are still infecting the minds of millions of people to the detriment of humanity.
Add to this the fact that Christians who believe Jesus is the son of God and their personal savior believe that since Jesus was a Jew they owe a very special allegiance to Israel. As you are reading this, the showman and charlatan Glenn Beck is in Israel in the middle of a three day mass rally called Restoring Courage. The purpose of this event, besides saving Beck's career which he almost destroyed by making comments that did not sit well with powerful Jewish organizations like the anti-free speech Anti-Defamation League and got him fired from the Fox Network, is to endorse the Bible myth that God gave the "holy" land to the Hebrews/Jews. Christians who sincerely believe the Bible is the word of God are taught by charlatans like Beck, who reinforce the ancient Hebrew/Jewish psychological operations, that it is God's will revealed in the Hebrew and Christian scriptures that they blindly support Israel's expansion and ethnic cleansing of Palestine. One of Beck's close friends and ally, John Hagee, even promotes the Bible myth/psychological operation that God will bless those who bless Israel and he'll curse those who curse Israel! They want Jewish superiority at all costs.
United States Congresswoman and presidential candidate Michele Bachmann believes this Biblical nonsense so strongly that she said, "I am a Christian, but I consider my heritage Jewish, because it is the foundation, the roots of my faith as a Christia
n." Add to this both Texas Governor and presidential candidate Rick Perry who said, "My faith requires me to support Israel.", and recently elected U.S. Senator Marco Rubio who flew to Israel within days of being elected to meet with the string-pullers of Congress and the White House.
The Democrats aren't about to be outdone in sacrificing America and Americans for their political careers and Israel. Congressman Steny Hoyer was in Israel recently and promised the Israelis that no matter how bad things get financially in the U.S., American politicians will continue to blindly support Israel with weapons and cash taken from American tax payers!
When we stop and reflect on the fact that not only do U.S. politicians give well over $3 BILLION U.S. tax dollars every year to the Jewish state of Israel, but that the war in Iraq was started for Israel's security, it becomes very obvious that embracing ancient Biblical psychological operations is bad for us as individuals and bad for the world at large. To date the war in Iraq has taken the lives of 4,474 American troops and over 100,000 Iraqis and cost the U.S. tax payer over $792 BILLION. Here is a list of the names of Americans killed in this unnecessary war.
Deism can help stop this Bible based insanity. By promoting Deism we are promoting God-given reason and common sense. Once Deism hits critical mass, there will be enough people who actively engage their God-given reason to keep unreasonable acts and the wars they lead to a thing of the past.
ATTENTION READERS
Due to the nature of independent content, VT cannot guarantee content validity.
We ask you to
Read Our Content Policy
so a clear comprehension of VT's independent non-censored media is understood and given its proper place in the world of news, opinion and media.
All content is owned by author exclusively. Expressed opinions are NOT necessarily the views of VT, other authors, affiliates, advertisers, sponsors, partners or technicians. Some content may be satirical in nature. All images within are full responsibility of author and NOT VT.
About VT
-
Read Full Policy Notice
-
Comment Policy