Religious zealot and religious/political con-man Glenn Beck will hold a rally to support Israel's illegal occupation of the entire city of Jerusalem on August 24, 2011. Beck was "born again" after being fired from Fox News for offending Jews by making "inappropriate" references to "the Holocaust." The Jewish community was so upset 400 rabbis signed an open letter to Beck's bosses at Fox and placed it as a full page ad in The Wall Street Journal attacking Beck.
Included in the letter were signatures from Abe Foxman the leader of the anti-free speech Jewish organization the Anti-Defamation League as well as from a Christian clergyman Welton Gaddy of the Interfaith Alliance.
He was also attacked by organized Jewry in February when he said Reform Rabbis are similar to radicalized Islam. Based on his upcoming Jerusalem rally it appears Beck learned his lesson on who really runs the show and he's doing all he can to please them.
To demonstrate that he is truly a sycophant for Israel and Judaism and hopefully redeem himself, Beck is organizing and holding the rally which is in support of Israel's ethnic cleansing of Jerusalem as they make it a Jews only city.
Of course Beck will profit financially from this show of support for a Greater Israel. Already 600 prime seating spots have been sold out for $5,000.00 each! Beck also told his followers that travel packages are being put together. In all probability Beck will be getting a percentage of the sold travel packages, too.
Beck talked about decency and goodness as reasons for people to attend the rally. It's hard to see how Israel's attacks on the Palestinians who don't possess a tenth of the weapons Israel has and whose weapons don't come close to the high-tech and very deadly American weapons the U.S. politicians pay for with the money from American tax payers which they take and then ship to the Jewish state.
The below and featured picture is of a Palestinian toddler who was murdered by the terrorist state of Israel using their U.S. weapons.
Judaism is based on military violence. The Old Testament is loaded with atrocities the ancient Hebrews/Jews committed against their neighbors and anyone who was a threat to the power of the Jewish clergy.
For example Hanukkah. Hanukkah is a celebration of the victory of the superstition and ignorance based Jewish clergy and their followers over their fellow Jews who wanted to break free of the "revealed" religion of Judaism and embrace the Greek way of valuing wisdom more than fear. The neoconservatives are equal to the Jewish clergy who killed their fellow Jews who wanted progress more than superstition.
Instead of backing the democracy movement in the Middle East known as the Arab Spring, Beck has decided whose side he is really on. He learned his lesson well and will do his very best to never offend the Jewish power structure. He sees the neoconservatives and Israel are not very happy with the Arab Spring so neither is he.
The most likely way to end the violence and unnecessary wars in the Middle East is for both sides to promote God-given reason. For example the Islamic side teaches children to hate Jews. This often gets a lot of attention from the Israel-firsters in the media. However, the media NEVER mentions Jewish teachings against all Gentiles such as is found at Leviticus 25:44-46 which teaches, "Both thy bondmen, and thy bondmaids, which thou shalt have, shall be of the heathen that are round about you; of them shall ye buy bondmen and bondmaids.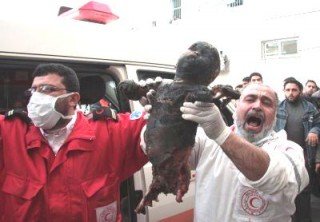 Moreover of the children of the strangers that do sojourn among you, of them shall ye buy, and of their families that are with you, which they begat in your land: and they shall be your possession.
And ye shall take them as an inheritance for your children after you, to inherit them for a possession; they shall be your bondmen for ever: but over your brethren the children of Israel, ye shall not rule one over another with rigour."
Here is an Old Testament/Hebrew Bible teaching the Jews it OK for them to own heathens/Gentiles and their children as slaves. 
This is revolting and very ungodly. But it does help us understand the mindset and sense of false superiority Israel and too many Jews exhibit. Hopefully God-given reason through Deism will help eradicate twisted "revealed" religious ideas and beliefs such as these.
ATTENTION READERS
We See The World From All Sides and Want YOU To Be Fully Informed
In fact, intentional disinformation is a disgraceful scourge in media today. So to assuage any possible errant incorrect information posted herein, we strongly encourage you to seek corroboration from other non-VT sources before forming an educated opinion.
About VT
-
Policies & Disclosures
-
Comment Policy
Due to the nature of uncensored content posted by VT's fully independent international writers, VT cannot guarantee absolute validity. All content is owned by the author exclusively. Expressed opinions are NOT necessarily the views of VT, other authors, affiliates, advertisers, sponsors, partners, or technicians. Some content may be satirical in nature. All images are the full responsibility of the article author and NOT VT.