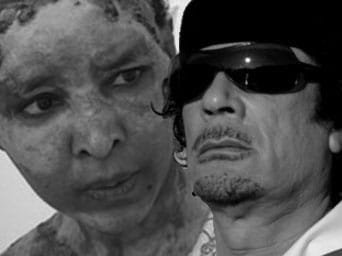 "Wingnut Monsters" Claim Injuries Faked By "Rebels"
When Shwygar Mullah, nanny to the children of Hannibal and Aline Gaddafi, was found, burned over 70% of her body, bloggers claimed she was faking her injuries, part of a conspiracy to discredit the Gaddafi family hatched by NATO, Israel and Al Qaeda working together, a new, all encompassing "axis of evil."
Dozens of bloggers on conspiracy websites across the internet said Schygar was faking her injuries and had been coerced to lie to the press.  Today, doctors in Libya tell of her history, medical care withheld at the orders of Gaddafi, part of her torture, servants confirming all of it as do hospital records and testimony from medical staff.
What was her crime?  She was unable to force a child to stop crying.
Why would the child of a family of monsters cry?
While the Gaddafi family has fled to Algeria and others are in hiding, some bloggers claiming to be "press," attack anyone exposing Gaddafi crimes.  The prime subject of recent attacks is the former nanny to the children of Hannibal Gaddafi and his wife.  Video released yesterday showed her being freed, burned over much of her body, her statements to the press that she had been systematically tortured by Hannibal Gaddafi and his wife Aline.
Gaddafi defenders claimed she had faked injuries and was induced to make false statements to the press.  In fact, though nearly 50,000 Libyan civilians arrested by Gaddafi secret police are now "missing," many presumed among the burned bodies and mass graves being uncovered hourly, still bloggers write of these reports, these videos as being wild fabrications, part of "Zionist plots."
The Huffington Post and CNN report the following:
Though it's likely to be a long recovery process, the badly burned nanny of Muammar Gaddafi's grandchildren has just begun receiving treatment in a Tripoli hospital this week.

As CNN is reporting, Shwygar Mullah is finally beginning to get the antibiotics and medical attention she needs after allegedly being brutally abused at the hands Hannibal Gaddafi's wife, Aline. According to Mullah, Aline repeatedly scalded her with boiling water when she refused to beat one of the children.

After she was discovered at a ransacked Gaddafi family residence Sunday, the 30-year-old Mullah said she had never been paid for her work.

Doctors who spoke to CNN with surprising candor said actually began treating Mullah back in June, but say they were ordered to stop treatments after being bullied by the Gaddafi family. "There's no humanity," Dr. Rowida Zawiya said.

"…Maybe they're insane."
Doctors treating Shwygar Mullah are seen removing her "imagary bandages" over her "imaginary wounds."  The history of her "imaginary torture" is supported by "imaginary medical records."
Watch this "imaginary video" and cry a tear for Gaddafi and his family and wonder where the bodies of the endless thousands they ordered murdered may be tonite.
Every news agency in the world with the exception of Russia Today is reporting this story, clear evidence of a worldwide Zionist conspiracy to invade Libya and install an Al Qaeda government controlled by the CIA and oil companies that will set up a central bank run by the Rothschilds.
These are the tales repeated ever day, the "talking points" meant to rehabilitate "Gaddafi the victim," though too late to save him now.  Despite mounting evidence of Gaddafi's ruthlessness and cruelty, a cult of acolytes has sprung up, America haters, closet communists and "tin foil hat" conspiracy nuts, seething with anger at a world turned against Libya's Gaddafi, someone only weeks before few of them had ever heard of.
Gaddafi and his insane family aren't the only monsters among us.
Gordon Duff posted articles on VT from 2008 to 2022. He is a Marine combat veteran of the Vietnam War. A disabled veteran, he worked on veterans and POW issues for decades.
Gordon is an accredited diplomat and is generally accepted as one of the top global intelligence specialists. He manages the world's largest private intelligence organization and regularly consults with governments challenged by security issues.
Duff has traveled extensively, is published around the world, and is a regular guest on TV and radio in more than "several" countries. He is also a trained chef, wine enthusiast, avid motorcyclist, and gunsmith specializing in historical weapons and restoration. Business experience and interests are in energy and defense technology.
ATTENTION READERS
We See The World From All Sides and Want YOU To Be Fully Informed
In fact, intentional disinformation is a disgraceful scourge in media today. So to assuage any possible errant incorrect information posted herein, we strongly encourage you to seek corroboration from other non-VT sources before forming an educated opinion.
About VT
-
Policies & Disclosures
-
Comment Policy
Due to the nature of uncensored content posted by VT's fully independent international writers, VT cannot guarantee absolute validity. All content is owned by the author exclusively. Expressed opinions are NOT necessarily the views of VT, other authors, affiliates, advertisers, sponsors, partners, or technicians. Some content may be satirical in nature. All images are the full responsibility of the article author and NOT VT.