Fellow Veterans and Friends of Veterans
Yesterday, the Old Veterans Guard held our Veterans Press Conference for "Claiming Ownership to Our Land." We appreciate the loyal support of those who attended and the support this noble cause.
The Los Angeles Daily News was there and covered the event.
Vets demand L.A. land back – Daily News
We began the press conference by playing "Taps" as we closed out the many years of misappropriation of Veterans land and the maltreatment of disabled and disadvantaged Veterans at the Los Angeles National Veterans Home.
We then played "Reveille" as a wake-up call to a new dawn as we staunchly vowed that "Never again will an American Military Veteran be denied shelter and care at the Los Angeles National Veterans Home."
These crimes against disabled, disadvantaged and homeless Veterans by our government and politicians will cease forthwith! Neither Congress Waxman or Senator Feinstein's offices offered help for this homeless Female Veteran, not to mention many other local politicians who were notified and remained silent, and the same for so-called homeless non-profit organizations.
Accordingly, we passed out parchment copies of the "Declaration of Ownership" (attached) on behalf of all Veterans, particularly our disabled and disadvantaged Veterans, declaring Veterans rightful ownership to this sacred land and the construction of a new Veterans Home.
We also passed out a "Notice to Vacate" along with the VA's list of 21 specially privileged occupants on our Veterans land (attached) .
We are calling for President Barack Obama to issue and Executive Order revoking all non-Veteran occupants on our land.
We are calling for a Congressional Investigation through Speaker of the House John Boehner to find out who is behind the biggest land-fraud scam in American history and crimes against disabled and disadvantaged Veterans.
We are filing a Complaint with the FBI Headquarters demanding an Investigation into exposing this "organized crime" machine, and a Complaint with the United Nations over Human Rights Violations.
As mentioned, Reveille has sounded and the days of crime and corruption are over with our land and against our fellow Veterans. This tragedy of Biblical proportion will now work its way to the forefront of the upcoming elections and every politician who has aided and abetted in facilitating, and/or covering up these egregious crimes, will be exposed.
Keynote speaker Ron Kovic, a disabled Marine combat Veteran of the Vietnam War, delivered a powerful and moving speech declaring that Veterans will peacefully take this land back and that our government will begin building a new, state-of-the-art Veterans Home for disabled Veterans including shelter and care for homeless Veterans. In the background is Ted Hayes, legendary activist for all homeless individuals and a major supporter in our cause to help disabled and disadvantaged Veterans.
Note the word "park" on Veterans wall behind Ron. The Old Veterans Guard has respectfully requested to VA Secretary Eric Shineki that the public park agreement be rescinded and the word park be removed and replaced with HOME. He has ignored our plea for nearly three years. Now, we demand that the public park agreement be revoked in its entirety and the word park remove, posthaste.
The days of respectfully requesting ended with the original play of Taps yesterday, and was replaced with "immediate demands" after Reveille was played.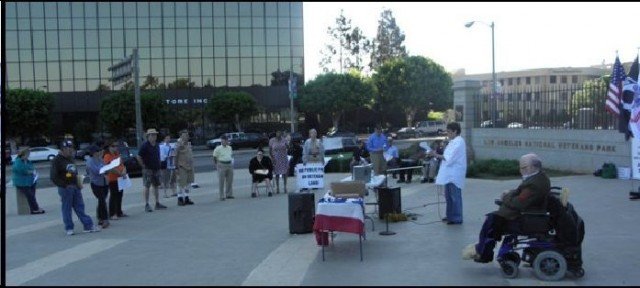 Dorothy Reik of the Progressive Democrats of Santa Monica Mountains reads the Resolution of the Los Angeles County Democratic Party that reinforces our own Declaration of Ownership and the Notice to Vacate. This LACDP Resolution (attached) is a powerful message to the elected officials of their Party to take immediate action to maintain this sacred land as it was legally deeded in 1888 as a permanent Home for disabled Veterans.
Fellow Veteran Joe Halper introduced Dorothy and proclaimed that the LACDP Resolution was "An important step as LA County has over 20% of the voters in the State and carries a lot of weight in shaping the CA. State convention platform."
Make no mistake, the Democratic politicians who have neglected their fiduciary responsibility to protect the land and facilities at the National Veterans Home will either answer to this Resolution, or will be in direct opposition with the LACDP.
Sunday, September 18th, was an historic day for America's disabled, disadvantaged and homeless Veterans.
"Business as usual" is over and we will henceforth demand the eviction of all unlawful occupants and that a new "Grand Home and Gardens" be built. This will become a model for new Veterans Homes all across America and we will finally honor President Lincoln's promise 146 years ago "To care for him who shall have borne the battle, and for his widow and his orphan."
God Bless America and the Veterans Revolution!
The Old Veterans Guard
ATTENTION READERS
Due to the nature of independent content, VT cannot guarantee content validity.
We ask you to
Read Our Content Policy
so a clear comprehension of VT's independent non-censored media is understood and given its proper place in the world of news, opinion and media.
All content is owned by author exclusively. Expressed opinions are NOT necessarily the views of VT, other authors, affiliates, advertisers, sponsors, partners or technicians. Some content may be satirical in nature. All images within are full responsibility of author and NOT VT.
About VT
-
Read Full Policy Notice
-
Comment Policy