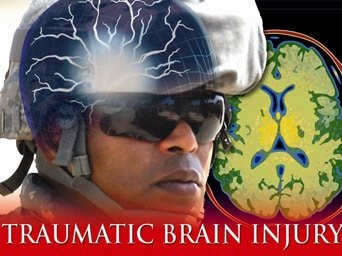 Successfully treating dead and dying brain cells, whether caused by a Stroke or by roadside bomb concussion, or any trauma has proven difficult and not very efficient.
New research has delivered great news for treatments of brain cell destruction, and it comes from a vitamin with no side effects
"This is one of the first studies to provide evidence that a safe nutrient—a vitamin—can alter brain damage biology to produce a favorable disease outcome," said study leader Dr. Chandra Sen of Ohio State University. (Stroke(doi:10.1161/strokeaha.110.608547).

"Here, a natural nutritional product is simultaneously acting on multiple targets to help counter stroke-induced brain damage. This is a gifted molecule."
Whenever brain or nerve cells are traumatized the body's complex biochemistry swings into action, this invariably leads to "glutamate toxicity, " which enhances cell death.
Glutamate is a form of the amino acid glutathione, a molecule pervasive throughout the body as a protection for cells, especially nerve and brain cells. But, oxidized glutamate, GSSG, can become destructive and obstructive.
The biochemical pathways are complex, and chemistry must remove toxic debris as well as provide nourishment and oxygen. Drugs are designed and synthesized to cope with all the complexity, and despite impressive technology, it is known that most drugs cause as many unwanted (side) effects as they do benefits.
This "gifted molecule" is a fraction of the vitamin E family of compounds—alpha tocotrienol. I try, when writing these kinds of stories, to not get too complex for the lay public, but in the marvelous micro-systems of our living bodies, there are literally trillions of very fast-moving variables.
A patient with damaged and dying brain cells, regardless of cause, wants relief and healing, in which he or she can have confidence This is why so much testing is required before claims can be made. In spite of testing, and myriad regulations it is now known that more than 100 people die every day due to prescribed medications. This fact adds to the appeal for using a safe nutrient.

For more than a dozen years the Ohio State researchers have been testing the apparent benefit of the specific vitamin E fraction called alpha tocotrienol as a safe and efficient therapy for brain damages mostly those caused by stroke. I have kept abreast of this unheralded research due to my newsletter writing for my nutritional supplement business. (Carotec. com)
This form of vitamin E taken orally can trigger production of a protein in the brain that clears toxins from nerve cells, preventing those cells from dying, giving them a chance to return function.
While the research team knew of the health-restoring benefit of this vitamin for years, including MRI pictures showing the changes in"white matter"in the brains of patients, they did not know how this occurred. What mechanism in biochemistry was responsible?
In the report published in the Oil Chemist journal Inform, Sept. 2011, they said: These researchers previously demonstrated the tocotrienol form of vitamin E protected the brain by blocking an enzyme that prevented the release of toxic fatty acids, and by inhibiting a gene that can lead to cell death.
Dubbing the subject nutrient TCT, the scientists have now determined the complex route of this "gifted" molecule: They first clarified the role TCT has in the genetic production of a protein (MRP1) that regulates biochemistry following brain damage. They then determined how TCT influenced microRNA production of the protein.
I repeat; Dr. Sen reported: " This is one of the first studies to provide evidence that a safe nutrient — a vitamin—can alter microRNA biology to produce a favorable outcome.

Dr. Sen has led numerous studies on how this TCT form of vitamin E protects brain cells from stroke damage, and he intends to extend study into stroke repair and prevention in humans.
Stroke afflicts 15 million people worldwide, with 5 million deaths and another 5 million disabled permanently. The FDA recently certified TCT as GRAS (generally regarded as safe) and this propelled the NIH funded studies.

Gordon Duff reminded me that we should mention the 26,000 veterans who have been discharged after service, dishonorable and undesirable discharges, many related to TBIs that are undiagnosed and the 500,000, TBI patients, awaiting disability compensation.

Mouse studies determined the role of MRP1.
Two groups of mice, one group genetically modified to be deficient in MRP1, were compared after induced stroke. Both groups had the same decreased blood flow in the area of the stroke, but the MRP1-deficient animals displayed a larger volume of tissue death than the normal mice.
The deficient mice also had nearly double the amount of GSSG the oxidation (free radical) product that is cleared out by the protein MRP1.
Finally the team compared mice, which were treated with TCT, against controls fed corn oil for 13 weeks before stroke was induced. The amount of damaged brain tissue was smaller in the TCT supplemented animals than in the controls. Additionally, the vitamin supplementation was associated with a lower level of the candidate microRNA in the damaged brain tissue as well as an increase in the abundance of the cleansing protein.
My independent company has more experience with the substance material used in these studies than any other American company. The Ohio State studies have always used the exact same special brand of alpha tocotrienol we carry. The patent-protected and trademarked form is called Tocomin®Supra/Bio®.
It is tocotrienol distilled from Palm oil, in special preservative processes, and enhanced for positive bioavailability, which means that it has been tested in humans to prove it survives the gastric acids and enters metabolism in good shape.
Next, What the hell is vitamin E
Tom Valentine (born August 20, 1935, same day as Ron Paul) is a businessman, writer, commentator and radio host with an anti-establishment perspective. He worked with Radio Free America from 1988 to 2004. He tends to align with issues from left and right ends of the political spectrum, as well as libertarianism. His main journalistic interests have been unorthodox health care methods and conspiracy theories. He is a believer in many alternatives as cancer cures, and believes that soy products are unhealthy for human consumption. All of his views are at odds with the mainstream medical community.
ATTENTION READERS
Due to the nature of independent content, VT cannot guarantee content validity.
We ask you to
Read Our Content Policy
so a clear comprehension of VT's independent non-censored media is understood and given its proper place in the world of news, opinion and media.
All content is owned by author exclusively. Expressed opinions are NOT necessarily the views of VT, other authors, affiliates, advertisers, sponsors, partners or technicians. Some content may be satirical in nature. All images within are full responsibility of author and NOT VT.
About VT
-
Read Full Policy Notice
-
Comment Policy