Blowhard Mayor Defends Banksters as "Job Makers"
Today, New York's mayor Bloomberg, whose rampaging police force has brought combat veterans and union members to New York to defend the constitution, has totally flipped his lid.
This is what he has said today:  "Everyone's got a thing they want to protest, some of which is not realistic," Bloomberg said during his weekly radio show on Friday, according to The Village Voice.
"And if you focus for example on driving the banks out of New York City, you know those are our jobs … You can't have it both ways: If you want jobs you have to assist companies and give them confidence to go and hire people."
The only jobs New York's  financial community has created is work for bailiffs throwing people out of their homes or collection agencies.  New York, "ground zero" for a generation of financial hucksters that have destroyed the American economy through an endless series of criminal scams, is finally beginning to see where things are going.
In today's presidential press conference, especially from "minute 21 onward," President Obama makes it clear that the "Occupy Wall Street" protestors are "speaking for the frustrations of the American people."  It seems like the president and the mayor have different ideas who and what "people" actually are.  Major Bloomberg's definition is a frightening one.
[youtube YpXAegWM3Ew]
Now there are only protests, stifled by uniformed thugs.  In a nation with 100 million living in near poverty, tens of millions facing homelessness, all because of friends of Michael Bloomberg, yes, I mean literally this mans good friends, it is only the Bush era police state that is keeping the lid on things.
Otherwise, yes, things would get worse.  America would be in total revolt against a government that chose to pay off its criminals rather than jail them.
The reason Bloomberg loosed his thugs quickly is because he knew it was close to citizens arrests and real trials in real courts, not the ones bought and sold on Wall Street, the ones run by the cabal Bloomberg is fronting for.
The 9/11 cover-up, ten years of war, tens of thousands of veteran suicides, a government trying to dismantle social security, why is all this going on?
The answer is simple.  We know who to blame.  The money that Americans are supposed to earn, the jobs they are supposed to have, the retirement funds put away for decades, the taxes paid by the many, those who can least afford it, all of this has been done to guarantee the privileged life for the few, the Michael Bloombergs, the parasites of the world.
He doesn't like protests.
This is more of Bloomberg's drivel from Politico:
"The protests that are trying to destroy the jobs of working people in this city aren't productive," Bloomberg said.

"What they're trying to do is take away the jobs of people working in the city, take away the tax base that we have," Bloomberg added. "We're not going to have money to pay our municipal employees or anything else."

Bloomberg also attacked the labor unions who joined the fray this week, saying that "their salaries come from — are paid by — some of the people they're trying to vilify."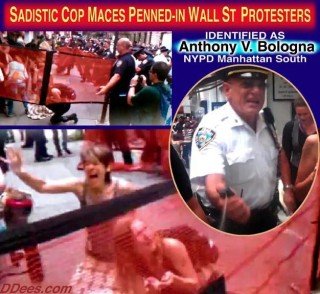 A nation of 350 million people faces blanket poverty, has lived through a decade of war, has seen its financial future disappear and there is no question whatsoever about who is responsible and where they are.
Finally, after years of silence, Americans are showing some backbone and all Michael Bloomberg can do is come up with this?
Can't he afford better writers?  A child could make up a better story than this one.
When is Bloomberg going to start spouting threats about demonstrators being "Al Qaeda terrorists?"  I expect it any time now.
Americans are asking for simple justice.  All we want is the banks put out of business and those running them to rot in prison for the rest of their lives?  Is that so unreasonable?
There have never been so many criminals gathered in one area like this before.  New Yorkers must be proud.
Think of the disaster if they are all hauled off to prison.  Think of the jobs lost.  No more cleaning their toilets, ironing their shirts, driving their limousines.  These are the jobs that Bloombergs criminal friends create.  What jobs have they cost?
Do you think America turned into a nation of "burger flippers" by accident?  Did you borrow the $15 trillion dollars that the American people have to pay, that "national debt" we hear so much about?
Ah, Bloomberg's magical banks, their endless schemes, mortgage fraud, derivitive fraud, junk bonds, it goes on decade after decade, the endless "pump and dump."
"They" manage to lose money "they" never had and the rest of us have to reimburse them somehow or the world will stop spinning.
I am willing to risk it.
Close them down, all of them, no more "free lunch," no more "get of out jail free" cards.
Hunt them down, every single on of them, jail the lot of them and throw away the key.
Turn Manhattan into a ghost town if necessary.
We recognize our enemy and it is you.
ATTENTION READERS
Due to the nature of independent content, VT cannot guarantee content validity.
We ask you to
Read Our Content Policy
so a clear comprehension of VT's independent non-censored media is understood and given its proper place in the world of news, opinion and media.
All content is owned by author exclusively. Expressed opinions are NOT necessarily the views of VT, other authors, affiliates, advertisers, sponsors, partners or technicians. Some content may be satirical in nature. All images within are full responsibility of author and NOT VT.
About VT
-
Read Full Policy Notice
-
Comment Policy