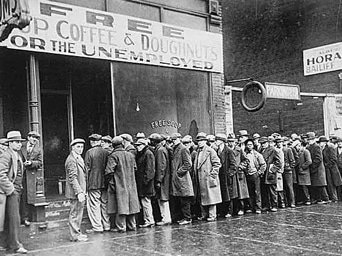 No matter which side of the political fence you're on, just about everyone agrees that the employment situation in America is lousy. Sure, the millionaires are doing okay, and if you're poor you're not going to starve. But if you're in what used to be called the middle class you're getting screwed. And if you're a veteran, forget it – according to the Bureau of Labor Statistics, the unemployment rate for vets is 11.7 percent, well above the national average of 9.1 percent. That's a crummy thank-you for proudly serving your country.
As US National Jobs Czar, I would start day one of my new job with an online national town meeting of the unemployed. Of course all 15-18 million unemployed people couldn't attend at once, but I am sure that many could and would attend. This town meeting would use GoToMeeting, WebEx, or any one of the other nifty online meeting software solutions that are out there today.
I would use a series of such town meetings to let those who attended know that they mattered to me personally, that I cared for each of them, and that my mission as Jobs Czar was to help each of them find ways to get back to work. I would have meetings like this scheduled three times a week and I would make the recordings of these meetings available for anyone. To pay for them, I would have these meetings sponsored by Fortune 100 companies.
I would instruct my staff to data mine for folks who are natural leaders (especially veterans), and recruit those natural leaders to help organize the unemployed into subsets. I would also use these meetings to solicit ideas from folks of different subsets who just happen to be out of a job.
I would encourage attendees to these meetings to look at online training programs, provided for free by the office of the Jobs Czar in a series of hosted virtual classes, paid for by the budget of the Jobs Czar. We'd teach attendees remotely from home on how to gain a foothold back to employment in some very specific verticals. The courses offered would train in information, sales, and service related fields. Here they are:
Cyber security: This training would require an entrance exam, and would start someone on a path to full-time employment as a "Cyber Security Agent." I can imagine American-trained cyber sentinels not guarding Fort Knox or the Pentagon, but guarding the infrastructure of our nation including electric power plants, transportation hubs, communications hubs, and other national assets that are vulnerable to attack. These cyber security agents would work from home, and act almost like the Marine Shore Patrol who guard military bases and stop cars at the front gate. At the same time, other cyber agents would be trained on how to walk the virtual perimeter of the client's network to ensure that nobody is attempting to intrude or disable a national asset.  These trained cyber security agents would be awarded certification as Network Cyber Security Agents, using the largest certifier out there today to test and validate the training. This training would accomplish two things. It would help to strengthen our national infrastructure and it would provide work, real work, and virtual work, in a series of regional online security centers that would help to monitor our national grid, our transportation and communications systems, or any of a host of "tagged" national assets to be protected, for Americans, by Americans.
Sales training: Not everyone can sell. But those who can sell and those who can be taught to sell will always have a market for that skill. If you can sell, you are an asset to any company. While most companies are driven by what they produce, I have seen plenty of good companies fail because nobody could sell what they produced. A good sales person is critical to the long life of a company. I think that teaching those who wish to be taught how to sell, and getting them to sell something online, while not a sexy-sounding position, is one that could get tons of jobs fast. Just like for cyber security agents,  a Sales Agent Training certificate to those who complete an online course would assure any company that the person whom they are hiring to sell their products has completed a vigorous national sales training course.
Technical support: We all have computers or cell phones, and many of us have both. If someone could be taught how to provide technical support, remotely, and if this training assured anyone that the person who is doing the support has a certification from the Help Desk Institute (HDI) as a help desk analyst, that remote help desk agent could either work remotely or go so someone's home to fix the issues that we all get from time to time with our computers and our phones.
National Veterans Hotline: What if there were one phone number that any United States veteran could call, one toll-free national hotline number, not run by the government, not staffed by doctors or nurses, or social workers, but by other caring Americans? What if anyone who was unemployed could earn something extra just by volunteering for this service, like certificates for dinner for a family night out or movie passes for a family? And what if someone had a purpose to get up each morning, as they knew that they were going to be getting calls from veterans, family members of veterans, and friends of veterans, and the calls ranged from "How do I apply for benefits?" to "Who do I call about getting my son some help for his PTSD?"   What if there were a huge national database of services that each American veteran was entitled to, and what if someone answering the phone had access to that database, and could answer the questions, or virtually raise their hand to get a trained supervisor who could answer the question? What if there were ongoing "phone conference calls" where similar veterans could assemble and allow the magic of "Veteran helping Veteran" to work?   What if we allowed older retired veterans to pass on the knowledge that they had gained.  What if we could harness the horsepower of those looking for work to help with a social problem that is plaguing us right now?  Now, imagine that this was a service offered to those who are unemployed to allow for networking, get the idea?
Electronic Health Record Agent: The Centers for Medicare & Medicaid Services (CMS) is giving incentive payments to eligible professionals, hospitals, and critical access hospitals right now that demonstrate meaningful use of certified electronic health record (EHR) technology.
Incentive payments will include:
Up to $44,000 for eligible professionals in the Medicare HER Incentive Program
Up to $63,750 for eligible professionals in the Medicaid HER Incentive Program
A base payment of $2 million for eligible hospitals and critical access hospitals, depending on certain factors.
So, since we are moving to an Electronic Medical Records system in this country, why don't we train the unemployed American Veteran to work from home doing this type of work?
To lay out all of the various trainings and offerings to those who are unemployed will be a multi-posting issue for me. Look for a future posting about this issue where I will lay out how we can retool America and prepare for the next 25 years.
Before you swamp me with emails, I will leave you with why a company would hire one of the graduates of the Jobs Czar's vetearns training program. What if the government gave each company that hired the unemployed American veteran a $10,000 tax credit in year one, a $7,500 tax credit in year two, a $5,000 tax credit in year three, and in year four another $10,000 tax credit for a total $32,500 in tax credits over a four year period? That would be a powerful incentive for businesses large and small to step up and do the right thing for our unemployed veterans.
ATTENTION READERS
Due to the nature of independent content, VT cannot guarantee content validity.
We ask you to
Read Our Content Policy
so a clear comprehension of VT's independent non-censored media is understood and given its proper place in the world of news, opinion and media.
All content is owned by author exclusively. Expressed opinions are NOT necessarily the views of VT, other authors, affiliates, advertisers, sponsors, partners or technicians. Some content may be satirical in nature. All images within are full responsibility of author and NOT VT.
About VT
-
Read Full Policy Notice
-
Comment Policy