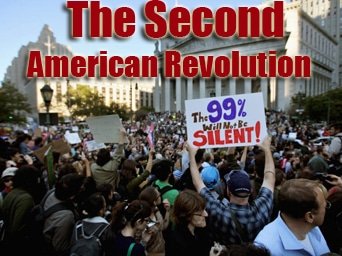 Something is happening here But you don't know what it is Do you, Mister Jones?  And you know something is happening  But you don't know what it is Do you, Mister Jones? –Bob Dylan
On September 17th the people-powered Occupy Wall Street/OWS movement began in Liberty Square in Manhattan's Financial District, and has spread to over 100 cities in the United States with actions in over 1,500 cities globally.
Inspired by the people powered uprisings in Egypt and Tunisia, the OWS movement has exposed how the richest 1% of people write the rules and control the global economy.
All the Mr. Jones's such as Wall Street execs and Congressional reps should be worried sick over the People-Powered Occupation, which shines the light on the culprits behind America's economic disaster because it is utilizing the revolutionary Arab Spring tactics to redefine democracy in America.
Chris Hedges: "This one could take them all down." Hedges on OWS w/ Occupy
On October 19th a 90 minute online interactive Tele-Forum conversation with two of the organizers of OWS was held. What I heard from "a few thoughtful, committed citizens [who will] change the world [for]: Indeed, it is the only thing that ever has" is that they are building a movement grounded in personal responsibility that is understood as a duty and privilege.
OWS organizer, Sandra Nurse said, "The people went to sleep, but we woke up and we can no longer be complacent. OWS is the catalyst to a shift in consciousness and evolution. It's about our oneness. 99% are together and we want the 1% to join us."
A caller-in mentioned the 2001-2010 UN initiative to create an International Decade for a Culture of Peace and Non-violence for the Children of the World.
In December 2005, I attended Holy Land Trusts first Celebrating Nonviolent Resistance Conference in Bethlehem. Members of Hamas attended but Ghandian activists from India and many other internationals activists were denied visas by Israel.
It was in a workshop sponsored by the United Network of Young Peacebuilders [UNOY] and the Netherlands Expertise Centre Alternatives to Violence, that I became aware of the International Decade of Creating a Culture of Peace and Nonviolence for the Children of the World.
I also learned that America abstained from voting YES on the initiative and is on the UN Record stating "We cannot support this initiative as it will make it harder for us to wage war."
On that same morning during a plenary session, Jeff Halper, American-Israeli, Co-Founder and Coordinator of Israeli committee Against House Demolitions remarked: "It is not enough to speak TRUTH to power because power is deaf and doesn't care…We must see ourselves as 'actors' in this drama and when enough of us take a part for justice, things will change, because throughout history civil society has stood up to those in power in solidarity and caused change to occur."
Another caller in on the OWS Tele-forum spoke about the divisions between the left and right that has isolated them and she wondered if the 99% would evolve into a Third Party of citizens of conscience!
In January 2011, I announced my run for US House of Representatives and the founding of the Citizens of Conscience Party on YouTube:
To Jon and Colbert: From Activist Reporter Looking for a District to Serve
Among the list of demands from the OWS Movement is to "ELIMINATE 'PERSONHOOD' LEGAL STATUS FOR CORPORATIONS" and Martin Luther King, Jr.'s Letter from the Birmingham Jail was sited.
In his manifesto from Birmingham Jail, Reverend King, Jr. directly challenged his "fellow clergymen."
I have taken a few liberties with King's masterpiece and offer it as seeds for: Citizens of Conscience Manifesto
I am on the internet because injustice can be expressed here. I am cognizant of the interrelatedness of all communities and states. I cannot sit idly by in comfort and not be concerned about what happens in Israel Gaza Palestine.

Injustice anywhere is a threat to justice everywhere. We are caught in an inescapable network of mutuality, tied in a single garment of destiny. Whatever affects one directly, affects all indirectly. Never again can we afford to live with the narrow, provincial "outside agitator" idea. Anyone who lives in the world can never be considered an outsider anywhere within its bounds.

In any nonviolent campaign there are four basic steps: collection of the facts to determine whether injustices exist; negotiation; examining one's motives and acting on conscience with direct action.

Nonviolent direct action seeks to create such a crisis and foster such a tension that a community which has constantly refused to negotiate is forced to confront the issue. It seeks so to dramatize the issue that it can no longer be ignored I am not afraid of the word "tension." I have earnestly opposed violent tension, but there is a type of constructive, nonviolent tension which is necessary for growth.

Too long has The Peace Process been bogged down in a tragic effort to live in monologue rather than dialogue.

Lamentably, it is an historical fact that privileged groups seldom give up their privileges voluntarily. We know through painful experience that freedom is never voluntarily given by the oppressor; it must be demanded by the oppressed. We must come to see that "justice too long delayed is justice denied."

There are two types of laws: just and unjust. I would be the first to advocate obeying just laws. One has not only a legal but a moral responsibility to obey just laws. Conversely, one has a moral responsibility to disobey unjust laws. I would agree with St. Augustine that "an unjust law is no law at all."

A just law is a man made code that squares with the moral law or the law of God. An unjust law is a code that is out of harmony with the moral law. To put it in the terms of St. Thomas Aquinas: An unjust law is a human law that is not rooted in eternal law and natural law. Any law that uplifts human personality is just. Any law that degrades human personality is unjust.

Segregation [Translates to Apartheid in Afrikaner] distorts the soul and damages the personality. It gives the segregator a false sense of superiority and the segregated a false sense of inferiority. Segregation, to use the terminology of the Jewish philosopher Martin Buber, substitutes an "I it" relationship for an "I thou" relationship and ends up relegating persons to the status of things.

Hence segregation; apartheid, conscription and military occupation is not only politically, economically and sociologically unsound; it is morally wrong and sinful. Paul Tillich has said that sin is separation. Is not segregation an existential expression of man's tragic separation, his awful estrangement, his terrible sinfulness?

An unjust law is a code that a numerical or power majority group compels a minority group to obey but does not make binding on itself. This is difference made legal. By the same token, a just law is a code that a majority compels a minority to follow and that it is willing to follow itself. This is sameness made legal.

One who breaks an unjust law must do so openly, lovingly, and with a willingness to accept the penalty. I submit that an individual who breaks a law that conscience tells him is unjust, and who willingly accepts the penalty of imprisonment in order to arouse the conscience of the community over its injustice, is in reality expressing the highest respect for law.

Everything Adolf Hitler did in Germany was "legal" and it was "illegal" to aid and comfort a Jew in Hitler's Germany.

Shallow understanding from people of good will is more frustrating than absolute misunderstanding from people of ill will. Lukewarm acceptance is much more bewildering than outright rejection.

Oppressed people cannot remain oppressed forever and if repressed emotions are not released in nonviolent ways, they will seek expression through violence; this is not a threat but a fact of history.
And because I do, "hold these truths to be self-evident: That all [people] are created equal; that they are endowed by their creator with certain unalienable rights…that, to secure these rights, governments are instituted among [people] deriving their just powers from the consent of the governed; and, whenever any form of government becomes destructive of these ends, it is the RIGHT of the people to ALTER or to ABOLISH it" I believe YES WE CAN "begin the world again."
Eileen Fleming founded WeAreWideAwake.org. She produced videos "30 Minutes with Vanunu" and "13 Minutes with Vanunu".  She has authored many books including; A USS Liberty Remembrance of 50 years USA Government Cover-Up of Israel's 8 June 1967 Attack on USA Spy-Ship, Wabi Sabi Body ETERNAL SPIRIT, and Heroes, Muses and the Saga of Mordechai Vanunu. Click here to see her latest books. Visit Eileen's YouTube Channel
ATTENTION READERS
We See The World From All Sides and Want YOU To Be Fully Informed
In fact, intentional disinformation is a disgraceful scourge in media today. So to assuage any possible errant incorrect information posted herein, we strongly encourage you to seek corroboration from other non-VT sources before forming educated opinion. In addition, to get a clear comprehension of VT's independent non-censored media, please read our
Policies and Disclosures
.
Due to the nature of uncensored content posted by VT's fully independent international writers, VT cannot guarantee absolute validity. All content is owned by the author exclusively. Expressed opinions are NOT necessarily the views of VT, other authors, affiliates, advertisers, sponsors, partners, or technicians. Some content may be satirical in nature. All images are the full responsibility of the article author and NOT VT.
About VT
-
Comment Policy