Editor, Redress Information & Analysis
Editorial Note:  How to tell you are reading lies and propaganda?  This is from someone with a strong personal stake in Libya and the recent conflict.  This is someone we know.  The things you read that come from some "other place" are shameless propaganda and the writers have been generously compensated for creating it.

Nureddin Sabir puts the killing of Libyan crime boss Muammar Gaddafi and his son Mutasim in context and assesses the challenges facing the Libyan people as they embark on an ambitious transition to democracy and normal life.
The tyrant Muammar Gaddafi is dead and for the overwhelming majority of Libyans it is good riddance to him, his rotten family and his murderous regime.
Gaddafi betrayed his people, squandered his country's wealth, sullied the honour and dignity of every Libyan and turned Libya into the world's first joke state – at times a pariah shunned by the entire universe, including all Arabs, and at others a willing collaborator with Israel, the CIA and the British Foreign Intelligence Service MI6.
But the joke state was amusing only to foreign observers who knew or cared little about Libya, from Gaddafi's erstwhile friends in Washington, London and Tel Aviv, to the ignorant buffoons and hirelings comprising a segment of the so-called "left" and "anti-imperialist" camp in the West.
Killing Gaddafi and his son
To Libyans who lived in Libya and had to endure the long, dark era of his dynasty, Gaddafi was a synonym for repression, corruption, nepotism, cronysim, arbitrariness, complete absence of the rule of law and utter disregard for the most basic human rights which every year stooped to levels that one could barely imagine the year before.
"Given his [Gaddafi's] legacy of murder, pain, torture and ruined lives, it is hardly surprising that most Libyans are simply glad he is dead and do not care how he died."
Although the manner in which Gaddafi and his son Mutasim were killed should be a cause for concern if it is used as a precedent for dealing with the defunct tyrant's remaining thugs, mercenaries and others suspected of collaborating with his murderous regime, you will not find many Libyans who feel sorry for Gaddafi or wish he was kept alive in order to face trial for his countless crimes.
Given his legacy of murder, torture, pain and ruined lives, it is hardly surprising that most Libyans are simply glad he is dead and do not care how he died.
Besides, the abrupt death of Gaddafi, worrying as it is for his former allies and friends in the West, has freed up Libyans so they can focus on solving the problems that lie ahead, without having to consume themselves with arguments about his crimes, his trial and his punishment.
And it has avoided the fear that his existence, and his first public and no doubt theatrical appearance in court, would be a focus for his henchmen, who are now keeping a low profile.
But what of the future of Libya?
Emerging pluralism
Over the coming days and months many voices from Libya will be heard across the world, from liberals, human rights campaigners and feminists unhappy with the emerging Islamist trend, to Islamists insisting on a role in the future of the country.
After 42 years where only the voices of Gaddafi, his odious offspring and his cohorts were ever heard from Libya, it would be easy to interpret the emerging pluralism as a sign of chaos or even imminent collapse.
Libyans "will have to get used to the art of persuasion. They will have to learn that theirs is not the only opinion worth listening to and that nobody, whether Islamist or liberal, holds a monopoly over the truth."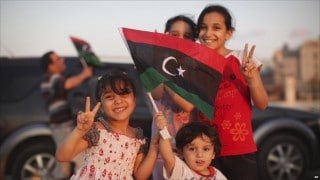 That would be a gross misreading of reality in Libya. The people of Libya are about to start living the normal life that is taken so for granted in the West.
They are coming out of the deep freeze. For the first time in their lives they can – and will – say whatever they like, wherever they like and to whoever they like.
Libyans are becoming normal, and in this new-found normality differences of opinion will be expressed and different social and political trends will emerge.
People not used to arguing their case will turn to emotion and, regrettably, sometimes even to violence. Others will be frightened and upset by the very fact that an opinion different to theirs is being expressed and given airtime on television and radio and space in newspapers.
Becoming normal
In Gaddafi's time, the reflex response to a different viewpoint would have been to report the matter to the thugs of the Internal Security Organization or the "Revolutionary" Committees, who would snatch, incarcerate, torture or kill the opinion holder on the grounds that his or her views undermined the "revolution".
But now people will have to get used to the art of persuasion. They will have to learn that theirs is not the only opinion worth listening to and that nobody, whether Islamist or liberal, holds a monopoly over the truth.
This will take time and in Libya, where there is a total absence of civil society institutions and no political sophistication, and where a primitive education system and the defunct Gaddafi regime discouraged people from using their critical faculties, it will not be easy.
As matters currently stand, the timetable for Libya's transition to a state with democratic institutions spans just 20 months. Next month, the National Transitional Council will be replaced by an interim government.
By July 2012 elections will take place for a constituent assembly that will write a new constitution and decide on a system of government, and a year later, in July 2013, elections will be held for a legislature and a head of state.
In the meantime, Libyans will have to build institutions through which they can express their opinions in an organized, civilized and respectful way.
They have just 20 months to do this – a monumental challenge in a country with no history of tolerance or freedom of expression and without a political culture or a tradition of political parties.
---
ABOUT THE AUTHOR: *Nureddin Sabir is Libyan and the editor of Redress Information & Analysis (www.redress.cc), a website dedicated to exposing injustice, disinformation and bigotry.
Related post:
ATTENTION READERS
We See The World From All Sides and Want YOU To Be Fully Informed
In fact, intentional disinformation is a disgraceful scourge in media today. So to assuage any possible errant incorrect information posted herein, we strongly encourage you to seek corroboration from other non-VT sources before forming an educated opinion.
About VT
-
Policies & Disclosures
-
Comment Policy
Due to the nature of uncensored content posted by VT's fully independent international writers, VT cannot guarantee absolute validity. All content is owned by the author exclusively. Expressed opinions are NOT necessarily the views of VT, other authors, affiliates, advertisers, sponsors, partners, or technicians. Some content may be satirical in nature. All images are the full responsibility of the article author and NOT VT.