For the entire week I have been writing about what Tom Brokaw calls The Greatest Generation and the vast difference between Hollywood-America of the 1940's and 1950's and today.
From Amazon, the following review tells it all, "In this superb book, Tom Brokaw goes out into America, to tell through the stories of individual men and women the story of a generation, America's citizen heroes and heroines who came of age during the Great Depression and the Second World War and went on to build modern America. This generation was united not only by a common purpose, but also by common values–duty, honor, economy, courage, service, love of family and country, and, above all, responsibility for oneself. In this book, you will meet people whose everyday lives reveal how a generation persevered through war, and were trained by it, and then went on to create interesting and useful lives and the America we have today".
Any view of history will draw reaction from those who view life differently from our own view. The replies I have received from just reporting about Mr. Brokaw's observation is proof positive that history is viewed in 20-20 hindsight and that the generations that have followed the last sixty years have seemingly lost America's moral compass. I will address this in my last article on the subject on Monday.
Perhaps those who have served in the military, to whatever degree, might be a better judge of the greatness of the greatest generation than those who have only reaped the fruits of their efforts. How else could anyone profess that we were wrong to have stood up against tyranny? How else can anyone say that the threat to global freedom and the goal of ethnic cleansing were not worthy of American blood? The interesting point here is that Hollywood, nearly in its entirety, reflects the loss of America's greatness more than any other example one could find.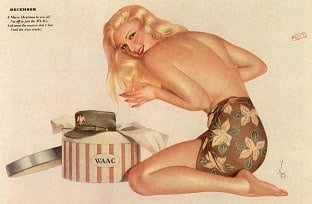 The famous Varga Girl pinups, which graced many of the warplanes,  the factory workers (many of them women like Norman Rockwell's Rosie the Riveter), rich and poor, old and young, the nation came together in its time of need, and provided the strength and resources required to lead the Allies to victory. Everyone sacrificed and everyone did their part.
In New York's theater world, playwright Rachel Crothers, with more than 30 plays to her credit and arguably one of the first feminist leaders, founded the Stage Women's Relief during World War I, and in 1940 took the lead in organizing the American Theatre Wing that ran the Stage Door Canteen for service people during World War II. She along with others, from Tallulah Bankhead, Bette Davis, Lynn Fontaine, Helen Hayes, Katharine Hepburn, Hedy Lamarr, Gypsy Rose Lee, Ethel Merman, and the Andrews sisters, raised money for the war effort. In spite of this pedigree, it is ironic that in the Sixties and Seventies, the same American Theater Wing gave rise to many of stars of the entertainment world that have grown-up to become diametrically opposed to that spirit of national unity and American greatness, including self-proclaimed socialist Edward Asner.
Of the many of the entertainers and celebrities that that went off to fight the war some really did become heroes, though in my eyes, anyone who joined the cause was a hero.
Douglas Fairbanks, Jr. – U.S. Navy … In 1941, President Franklin Delano Roosevelt appointed him a special envoy to South America but he was later commissioned a Reserve Officer in the U.S. Navy and assigned to Lord Mountbatten's Commando staff in England. Additionally, he served on a battleship and as a commando raider and helped to organize the forerunners of today's Navy SEAL's. For his planning the diversion-deception operations and his part in the amphibious assault on Southern France, Lieutenant Commander Fairbanks was awarded the U.S. Navy's Legion of Merit with bronze V (for valor), the Italian War Cross for Military Valor, the French Legion d'Honneur and the Croix de Guerre with Palm, and the British Distinguished Service Cross. He was also made an Honorary Knight Commander of the British Empire (KBE) in 1949.
Henry Fonda – U.S. Navy … Served aboard the destroyer USS Saterlee as a Quartermaster 3rd Class. He was commissioned as a Lieutenant Junior Grade (O-2) in Air Combat Intelligence and for his service in the Central Pacific, he won the Bronze Star, the fourth highest award for bravery or meritorious service in conflict with the enemy. The Bronze Star was awarded for "meritorious service as Assistant Operations Officer and Air Combat Intelligence Officer… during operations against enemy Japanese forces from May 12, 1944 to August 12, 1945. Displaying professional ability and untiring energy, Lieutenant Fonda rendered valuable assistance in planning and executing air operations which effectively… neutralized hostile installations on nearby enemy-held islands and atolls". Tell me please…did the apples fall very far from the tree in the Fonda family?

Glenn Ford – US Coast Guard; U.S. Marine Corps USMC; and US Naval Reserve (Captain) … In the Marine Corps those who enlist, work their way through the enlistment ranks, and then become commissioned offices are referred to as "Mustangs", a prestigious title of accomplishment. Following the war Ford went into the Navel Reserve program, and little known to the Hollywood crowd or to the public for that matter, went off to Vietnam in 1967, though at that point the war was still relatively popular.
He did two tours and became a scout for combat scenes in a training film entitled Global Marine. He traveled with a combat camera crew from the demilitarized zone south to the Mekong Delta. For his service in Vietnam, the Navy awarded him a Navy Commendation Medal.
Receiving recognition was something Mr. Ford never bragged about, they just came with the territory. His World War II decorations are as follows: American Campaign Medal, Asiatic-Pacific Campaign Medal, World War II Victory Medal. He also earned his Rifle Marksman Badge, and the U.S. Marine Corps Reserve Medal. He retired from the Naval Reserve in the 1970's at the rank of captain.
Later in life he received unexpected recognition and was the only actor to have served with both the Green Berets and the French Foreign Legion. For that service he was awarded commendations from governments overseas including the Chevalier of the Legion of Honor, a decoration rarely given to Americans by French President Mitterand, and a special recognition by The French Counsel General citing him for courageous service to the French people during World War II.
Clark Gable – U.S. Army Air Corps … Enlisted in 1942 at age 41. Volunteered for combat duty and flew missions over Germany. Earned the Distinguished Flying Cross and the Air Medal. That might be a byline for many military men, but the film star of Gone with the Wind, like in real life, was something special. A hero, yes, but more than that to his flight crew.
He volunteered for the Army Air Forces, went to the 13-week Officer Candidate School, and was trained as a photographer and aerial gunner. Because of his Hollywood connection, he was made a part of the First Motion Picture Unit (FMPU) which was commanded by movie executive and producer Jack Warner, who was recruited as a major and rose to the rank of colonel. Flight operations were commanded by "Hollywood Pilot" Major Paul Mantz, famous for his stunt flying in films. Other FMPU stalwarts included Alan Ladd, Ronald Reagan and Van Heflin.
Few of those in FMPU went overseas, but Gable was assigned to go to Britain to film Combat America, a propaganda movie about air gunners, but once is the seat of the action, Gable jumped at the chance to become a real part of the war and fly bombing missions. Many said it was a death wish over his break-up with Lombard, but heroics just seemed to run in his blood. Gable and a cameramen and sound engineer followed the crew of a B-17, named "Ain't It Gruesome," through 24 missions, including one where the aircraft was shot up by German fighters and lost an engine, with Clark and the crew eventually bailing over a field in England.
Chrystopher J. Spicer, an Australian scholar who has scrutinized Gable's career, is quoted as saying, "They were very real missions in which he could have been wounded or killed. His film Combat America makes a valuable contribution to our historical knowledge of the war from the flyer's perspective these days." By the fall of 1943 Gable's crew had exposed 50,000 feet of film and rumor has it, Germany's Hermann Goering offered a sizeable cash reward to his Luftwaffe pilots if they could shoot down Gable's B-17,
The list of Hollywood's greatest actors who served and survived the war effort would be tabloid headlines in today's media, but they were just doing their duty for the love of country…Nothing more and nothing less. The bravery and heroism displayed were taken in stride by these and many Americans and goes to show how much we have changed as a country. Many blame it on the poisoning of politics, others on the degradation of society, but like all true Americans, we are hoping and yes, even praying, the torch can be passed from the "Greatest Generation" to the current generation. It can only happen if the entire political quagmire in Washington and destructive course on which we as a country are traveling, can be turned around. Then they will have earned the title of The Greatest Generation.
Following his service in the Marine Corps Ed Mattson built a diverse career in business in both sales/marketing and management. He is a medical research specialist and published author. His latest book is Down on Main Street: Searching for American Exceptionalism
Ed is currently Development Director of the National Guard Bureau of International Affairs-State Partnership Program, Fundraising Coordinator for the Warrior2Citizen Project, and Managing Partner of Center-Point Consultants in North Carolina.
Mr. Mattson is a noted speaker and has addressed more than 3000 audiences in 42 states and 5 foreign countries. He has been awarded the Order of the Sword by American Cancer Society, is a Rotarian Paul Harris Fellow and appeared on more than 15 radio and television talk-shows.
ATTENTION READERS
Due to the nature of independent content, VT cannot guarantee content validity.
We ask you to
Read Our Content Policy
so a clear comprehension of VT's independent non-censored media is understood and given its proper place in the world of news, opinion and media.
All content is owned by author exclusively. Expressed opinions are NOT necessarily the views of VT, other authors, affiliates, advertisers, sponsors, partners or technicians. Some content may be satirical in nature. All images within are full responsibility of author and NOT VT.
About VT
-
Read Full Policy Notice
-
Comment Policy