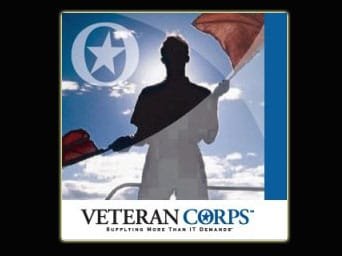 "Veteran Corps Named to Inc. 500 for Second Year!"
This is an incredible story of "David versus Goliath" .  I know a disabled American Veteran named Bill Wheeler, a service connected disabled Veteran of the Air Force and I think, with Veterans Day right around the corner, an example of an "Against all Odds" inspirational story is prudent.   Bill Wheeler along with his brother John operate Veteran Corps of America.  This "SDVOB" or Service Disabled Veteran Owned Business" is an example that other Service Disabled Veteran Business Owners should follow.

On their website they have this posted
There are over twenty five million American veterans, nearly two and one half million of which are service disabled. A key foundational commitment of Veteran Corps of America is to support military service and service disabled veterans whether in the workplace or at home. We do this by actively seeking out and contributing to veteran-related organizations through our commitment to donate 10% of our proceeds to veteran support organizations, and by seeking to employ veterans whenever possible in our own business.  We support, and we encourage others to support, organizations that value the ongoing service of military veterans and their families.
As I read the story in Inc. Magazine about Bill, it brushed away all the negative stereotypes that are out there about veterans and it focused on how this one Veteran, against all odds, changed  that stereotype and did something that each of us should be proud of this Friday. Here is Bill in his own words:
I was in the Air Force for 10 years. On my first solo flight away from the base, my jet malfunctioned, and I had to punch out. The jet ended up in a million pieces in the desert, and I ended up broken and bent a mile and a half away. I spent about two years in personnel while I healed up, and then I went into logistics.
As you get older, all the little things that they do to put you back together start to catch up with you. I actually got hurt a second time, in a fluke accident while I was on leave. Now they call it a traumatic brain injury, but back then they called it a closed head injury. Everything added together, and the Air Force said, We've put too much mileage on this guy; it's time to trade him in. I spent a number of years where I was considered 100 percent disabled. I was getting a disability check every month, and that was about it.
I'm one of the lucky few who regained a little more functionality. As I began to recover, I started a little computer repair business out of the house. It wasn't big money, but it was something. I got to a point where I really got serious about trying to get back to work. I did all the things you try to do right: going to workshops on interviewing, having your resume reviewed by a professional. But I ran into a lot of folks who were scared off by the fact that I was medically retired.
Eventually, I got frustrated and called the VA about entering vocational rehabilitation. I also started looking for jobs in the government sector, where there wasn't the phobia about veterans. After about 18 months in the program, I took a job with the VA, working for the National Cemetery Administration in a director's training program.
I worked there until 2005, when my brother, John, contacted me about starting a company. John and I had been raised separately, and we weren't really close, but he was around enough to see how hard it was for me to get back into the job market. And we come from a very long line of military—my grandfather was Chairman of the Joint Chiefs of Staff under Johnson and Nixon—so he also had a strong sense of obligation to veterans. It was hard to walk away from my job with the VA. But once we sat down and plotted it all out on paper, I said, "I think we can make a difference."
Our business has been all over the map. We go after any area that allows us to employ veterans. We started out selling IT products. We've since gotten into services. One of our projects was linking all of the VA hospitals' communication by satellite, so that if they have a Katrina-style disaster, they can still keep track of their patients.
More companies are starting to come around to hiring veterans, but there are plenty of companies that still don't get it. They see someone with a wheelchair or prosthesis, and they get freaked out. That's wrong. We're trying to set a benchmark for doing things right.
Kudos to you my Friend this Veterans Day for a job well done !!
For more than twenty-five years Ken Smith has been a leading advocate for veterans. A combat Vietnam veteran, Ken served during 1971-72 as a paramedic and an infantry squad leader with Delta Company, 2nd Battalion, 1st Infantry, in the 196th Light Infantry Brigade, Americal Division. After his discharge, Ken continued his work as a paramedic in New England. On the streets of Boston he encountered growing numbers of homeless Vietnam veterans, and he became determined to both assist them and draw attention to their plight.
In 1989, Ken founded the New England Shelter for Homeless Veterans, located in a former VA hospital at 17 Court Street in downtown Boston. One of the first facilities designed for homeless veterans and now a national model, the shelter has served over 35,000 of America's veterans who, for whatever reason, find themselves living on the streets.
In 1992 Ken was awarded Point of Light #142 by President George H. W. Bush, and later that same year received the AMVETS Silver Helmet Award, considered the "Oscar" for American veterans. As one of America's foremost veterans service organizations, AMVETS (or American Veterans) has a proud history of assisting veterans and sponsoring numerous programs that serve our country and its citizens. Ken was awarded this honor along with Peter Coors, with whom he still maintains a personal friendship.
Over the years Ken has appeared on many national media programs including Good Morning America, Prime Time Live, ABC News, CBS News, Larry King Live, CNN, 60 Minutes, and The Geraldo Show. He has been quoted in The New York Times, The Washington Post, The Boston Globe, The Los Angeles Times, The Chicago Tribune, The Miami Herald, and numerous international newspapers, magazines, and websites. In 1992, Ken had the distinction of addressing both the Republican and Democratic National Conventions as a keynote speaker on the subject of veterans.
Ken recently left his last assignment with the Military Order of the Purple Heart Service Foundation, where he was the chief technology architect of the Veteran's Vocational Technical Institute, Purple Heart Car Donation program, Purple Heart Call Center, Purple Heart Radio, Purple Heart Tech Support, Purple Heart Services, and over thirty new Purple Heart websites. Ken Smith provided the vision and has overseen the implementation of innovative, virtual, work-at-home training programs for veterans with combat disabilities. Ken has designed, upgraded, and supervised the integration and installation of Purple Heart Service Foundations computer and telephony systems, upgrading features from legacy POTS phones to SIP-trunked communications systems including establishing new VPN networks for teams of remote virtual employees.
An adventure sports enthusiast, Ken enjoys extreme skiing, competitive sailing, flying, and travel. He has traveled extensively worldwide, delivering his positive message to the veterans of other countries that a paraplegic veteran of the United States suffers the same as a paraplegic veteran of India; that an amputee veteran of Nepal suffers as much as an amputee veteran of France. Ken's mentor was Harold Russell, the two-time Academy Award winner who starred in the 1946 film Best Years of Our Lives. A World War II veteran, on D-Day, June 6th, 1944, Harold lost both of his hands. This ghastly misfortune did not stop him, and he went on to become the chairman of the President's Committee for People with Disabilities. For over fifty years he served US presidents from Truman to Clinton. Ken was humbled and grateful when Harold agreed to serve as the best man at Ken's wedding.
Ken has been instrumental in the planning stages for the Veterans Workshop, a new nationwide veterans' advocacy group building a new "Veterans Hotline, and the development of special programs for those who have lost their sight or their hearing, or who have suffered spinal cord injury, as a result of their military experience. The Veterans Workshop provides a forum where new technology and advancements in the fields of prosthetic and orthotic solutions, many designed by Ken, are shared along with virtual training and employment programs.
A 1970 graduate of De La Salle Academy in Newport, Rhode Island, for the past twenty-five years Ken has continued his education with extensive college courses in computer technology and related social service fields. He resides in his native state of Rhode Island with his wife and children.
ATTENTION READERS
We See The World From All Sides and Want YOU To Be Fully Informed
In fact, intentional disinformation is a disgraceful scourge in media today. So to assuage any possible errant incorrect information posted herein, we strongly encourage you to seek corroboration from other non-VT sources before forming educated opinion. In addition, to get a clear comprehension of VT's independent non-censored media, please read our
Policies and Disclosures
.
Due to the nature of uncensored content posted by VT's fully independent international writers, VT cannot guarantee absolute validity. All content is owned by the author exclusively. Expressed opinions are NOT necessarily the views of VT, other authors, affiliates, advertisers, sponsors, partners, or technicians. Some content may be satirical in nature. All images are the full responsibility of the article author and NOT VT.
About VT
-
Comment Policy