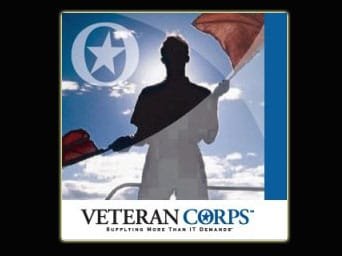 "Veteran Corps Named to Inc. 500 for Second Year!"
This is an incredible story of "David versus Goliath" .  I know a disabled American Veteran named Bill Wheeler, a service connected disabled Veteran of the Air Force and I think, with Veterans Day right around the corner, an example of an "Against all Odds" inspirational story is prudent.   Bill Wheeler along with his brother John operate Veteran Corps of America.  This "SDVOB" or Service Disabled Veteran Owned Business" is an example that other Service Disabled Veteran Business Owners should follow.

On their website they have this posted
There are over twenty five million American veterans, nearly two and one half million of which are service disabled. A key foundational commitment of Veteran Corps of America is to support military service and service disabled veterans whether in the workplace or at home. We do this by actively seeking out and contributing to veteran-related organizations through our commitment to donate 10% of our proceeds to veteran support organizations, and by seeking to employ veterans whenever possible in our own business.  We support, and we encourage others to support, organizations that value the ongoing service of military veterans and their families.
As I read the story in Inc. Magazine about Bill, it brushed away all the negative stereotypes that are out there about veterans and it focused on how this one Veteran, against all odds, changed  that stereotype and did something that each of us should be proud of this Friday. Here is Bill in his own words:
I was in the Air Force for 10 years. On my first solo flight away from the base, my jet malfunctioned, and I had to punch out. The jet ended up in a million pieces in the desert, and I ended up broken and bent a mile and a half away. I spent about two years in personnel while I healed up, and then I went into logistics.
As you get older, all the little things that they do to put you back together start to catch up with you. I actually got hurt a second time, in a fluke accident while I was on leave. Now they call it a traumatic brain injury, but back then they called it a closed head injury. Everything added together, and the Air Force said, We've put too much mileage on this guy; it's time to trade him in. I spent a number of years where I was considered 100 percent disabled. I was getting a disability check every month, and that was about it.
I'm one of the lucky few who regained a little more functionality. As I began to recover, I started a little computer repair business out of the house. It wasn't big money, but it was something. I got to a point where I really got serious about trying to get back to work. I did all the things you try to do right: going to workshops on interviewing, having your resume reviewed by a professional. But I ran into a lot of folks who were scared off by the fact that I was medically retired.
Eventually, I got frustrated and called the VA about entering vocational rehabilitation. I also started looking for jobs in the government sector, where there wasn't the phobia about veterans. After about 18 months in the program, I took a job with the VA, working for the National Cemetery Administration in a director's training program.
I worked there until 2005, when my brother, John, contacted me about starting a company. John and I had been raised separately, and we weren't really close, but he was around enough to see how hard it was for me to get back into the job market. And we come from a very long line of military—my grandfather was Chairman of the Joint Chiefs of Staff under Johnson and Nixon—so he also had a strong sense of obligation to veterans. It was hard to walk away from my job with the VA. But once we sat down and plotted it all out on paper, I said, "I think we can make a difference."
Our business has been all over the map. We go after any area that allows us to employ veterans. We started out selling IT products. We've since gotten into services. One of our projects was linking all of the VA hospitals' communication by satellite, so that if they have a Katrina-style disaster, they can still keep track of their patients.
More companies are starting to come around to hiring veterans, but there are plenty of companies that still don't get it. They see someone with a wheelchair or prosthesis, and they get freaked out. That's wrong. We're trying to set a benchmark for doing things right.
Kudos to you my Friend this Veterans Day for a job well done !!
ATTENTION READERS
Due to the nature of independent content, VT cannot guarantee content validity.
We ask you to
Read Our Content Policy
so a clear comprehension of VT's independent non-censored media is understood and given its proper place in the world of news, opinion and media.
All content is owned by author exclusively. Expressed opinions are NOT necessarily the views of VT, other authors, affiliates, advertisers, sponsors, partners or technicians. Some content may be satirical in nature. All images within are full responsibility of author and NOT VT.
About VT
-
Read Full Policy Notice
-
Comment Policy