The place wasn't always called Richards. As a matter of fact, the original Richards was actually call Pat's…Pat's Gourmet Coffee Shop to be exact, which started out just about a block away. It's not that Richard Warren was confused about his name, it's that the place was named in honor of his wife, Pat, who thought it would be a neat gesture to create a "Living Military Museum" displaying military mementos from the veterans who just happen to be regular customers of Pat's.
Stay with me here. This was only the beginning. Richard was an Army combat pilot who flew Hueys in Vietnam . His call sign was "Mustang 53". Many veterans know the dangers in that MOS (Military Occupation Specialty)…a job only those with a death wish would really want. Approximately 12,000 helicopters saw service in Vietnam (all kinds included), and 4865 were shot down or crashed…more than 1/3. More than 1074 Huey pilots were killed. This my friends qualifies Richard as a hero in anyone's book, but is probably why he became "the official greeter" of all US veterans through the coffee shop business. When you walk in the door, the first cup of coffee is free along with a handshake and the words, "Welcome Home Veteran".
The Military Museum idea came along and "just sort-a-happened" as was told to me by one of the many veterans I spoke with on Saturday. More than 10,000 have come through the door and many have brought along some piece of memorabilia to hang on the wall. Over time it has become the recipient of newspaper and magazine articles, awards, uniforms, and such a repository of artifacts, it really is a military museum by any stretch of the imagination.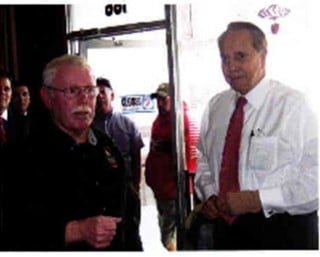 Richard spent the last 14 years of his life in providing that "welcome home", much in fact do the lack of a warm welcome by the citizens of the US following the return of the Vietnam Veteran, many of whom were called "baby killer", spat upon, and totally disrespected by the Sixties crowd of hippies, ne'er-do-wells, and other miscreants. Most of those sat out the war on college campuses, and today, I believe, are the problem causers that make-up much of the "inside-the-beltway" crowd, that simply haven't come to grips with the importance of our great military and generally the ones standing in the way of providing the benefits veterans earned.
When Richard moved on to his final reward, those who were the recipients of his care and support, just knew they could not let a great tradition depart with him. On July 4th, 2009, after forming their own 501-c-3, non-profit organization titled "Welcome Home Veterans, Inc", the foundation opened –up the new Richard's Coffee shop just down the street from where Pat's was originally located. With their commitment, Richard's dream would live on, and live on it has.
Besides the many local veterans who frequent Richard's Coffee Shop, many well known supporters of the military have stopped in for a cup-o- 'Joe, including, the honorable Vice President of the United States, and war hero himself, Bob Dole. When representatives of the Tuskegee Airman came-a-calling, they presented the "Beetle Bailey", signed by the airmen themselves, for if there was ever a place of honor and those deserving of recognition, though a long time coming (much like the Vietnam veterans themselves), it is the Tuskegee Airmen. Many of today's youth have no idea about The Airman and the color barrier they broke through in World War II, as our schools have pretty much disregarded such important historical events in favor of sex education and teaching how to put condoms on bananas. The state of North Carolina too, has awarded Richard's with its highest recognition, the "Order of the Long Leaf Pines".
I'm sure you will hear much about "Welcome Home Veterans" in the years to come, and a lot more about Richard's Coffee Shop' Military Museum. Over the many years this gang has been around, they have not forgotten their duty to "defend and protect America" in ways other than taking the fight to the enemy. For as much as defense of the nation is an important task that each veteran holds dear, so too is the defense of those in our own country who have needs far greater than our own. Richards has been spearheading community service and working with other organizations that do justice to the heroes they all are:
• Toys for Tots (sponsored by the Marine Corps Reserve and Marine Corps League)
• Blue and Gold Star Families
• The Marine Corp League
• Veterans of Foreign Wars
• Daughters of the American Revolution
• Purple Heart Homes for Disabled Veterans
• Flag Honor Guard for the Traveling Vietnam Wall at Lowes Motor Speedway
• "The Ride of Pride" co-sponsored with Freightliner
• Freedom Honor Flights for World War II Veterans
• Annual 4th of July Parades
• Combat Veterans Motorcycle Association
• …and hundreds of visits to nursing homes, children's field trips, and other noteworthy causes.
I hope to report about the progress made in coming months as Welcome Home Veterans moves into unchartered waters with expansion of the museum, bigger and more community work projects, and their goal to establish honor, duty, service, and pride in America…Semper Fi!

Following his service in the Marine Corps Ed Mattson built a diverse career in business in both sales/marketing and management. He is a medical research specialist and published author. His latest book is Down on Main Street: Searching for American Exceptionalism
Ed is currently Development Director of the National Guard Bureau of International Affairs-State Partnership Program, Fundraising Coordinator for the Warrior2Citizen Project, and Managing Partner of Center-Point Consultants in North Carolina.
Mr. Mattson is a noted speaker and has addressed more than 3000 audiences in 42 states and 5 foreign countries. He has been awarded the Order of the Sword by American Cancer Society, is a Rotarian Paul Harris Fellow and appeared on more than 15 radio and television talk-shows.
ATTENTION READERS
Due to the nature of independent content, VT cannot guarantee content validity.
We ask you to
Read Our Content Policy
so a clear comprehension of VT's independent non-censored media is understood and given its proper place in the world of news, opinion and media.
All content is owned by author exclusively. Expressed opinions are NOT necessarily the views of VT, other authors, affiliates, advertisers, sponsors, partners or technicians. Some content may be satirical in nature. All images within are full responsibility of author and NOT VT.
About VT
-
Read Full Policy Notice
-
Comment Policy