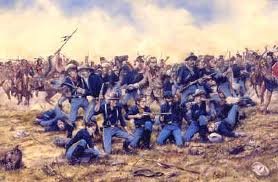 If you have been following along, I trust you are as impressed as I am with how ordinary citizens can perform so heroically under pressure as those Medal of Honor recipients I have written about. Being awarded Congressional Medal of Honor is one thing, but being twice honored is a whole new ballgame.
Most everyone over the age of forty has heard the name "Custer". The kids, well that's a different story ever since our schools have stopped teaching history in favor of "political correct revisionist history". The name "Custer" is remembered for General George Armstrong Custer who is most often thought of as having his whole army wiped out at the Battle of the Little Bighorn by the Lakota and Cheyenne Indians. The entire battle was unnecessary and in fact became a complete fiasco, in which Custer and his entire unit was killed, but it plays into the hands of those who believe the United States stole America from the Indians.
George Armstrong Custer is one of the most misunderstood characters to have worn a military uniform for the United States. He didn't consider the Native Americans to be "bloodthirsty, cruel, and uncivilized", rather going back to his days at West Point, he had written in admiration of Native Americans. In 1876, just before his death, he had put his Army career in serious jeopardy for testifying before Congress of corruption …including that by the Secretary of War and President Grant's brother, in the treatment and corruption in dealing with the Indians.
Whatever you study and come to believe, the focus on George A. Custer and his career in the military is open to interpretation. It is also mis-focused as the real hero in the family was Thomas W. Custer, recipient of two Congressional Medals of Honor. Thomas Custer was commissioned Second Lieutenant in the Army at age 18, and rose quickly to the rank of Lt. Colonel in two short years. Thomas was the first man to be awarded two Medals of Honor, both for capturing Confederate regimental flags.
The capture of a regimental battle flag may sound insignificant but such battle flags "denoted individual persons, or units, on the field of battle. The flag symbolized the honor of the regiment…In combat, with the field full of noise and smoke, the soldiers watched their regimental flag and if it advanced or retreated they followed. The names of the battles that the regiment participated in were sometimes stitched onto the flag. The loss of a regimental flag was a disgrace to the command. The citations read as follows:
Citation 1: "Capture of flag on 10 May 1863″…hardly worth the effort to write such a citation. Citation 2: "2d Lt. Custer leaped his horse over the enemy's works and captured 2 stands of colors, having his horse shot from under him and receiving a severe wound".
For his actions he was awarded the Medal of Honor twice for similar but separate acts of bravery and the citations accompanying the honor do not do his deeds justice, but to understand the courage required to cross into enemy fire to rest a regimental battle flag from an enemy combatant, all you need to know is in his second MOH feat, his was severally wounded in the face and was so determined to continue fighting that his division commander had him put under arrest just to get him to a field hospital.
For years the Congressional Medal of Honor was the only real way for the government to recognize exemplary bravery. There were no other medals and perhaps one day history will look back on some early recipients and conclude that the recognition really didn't rise to the level of "exemplary bravery" and deserve the Medal of Honor. It is what it is, and certainly the acts that received the medal were above and beyond the normal call of duty and at risk to the life of the recipient.
In peacetime we have seen the Medal of Honor awarded for acts that today would most probably warrant a recognition along the lines of a Bronze Star not the nation's highest award. This is not to belittle the act of the recipient, but to weigh it in context to action facing an enemy combatant. This is probably why the person receiving the medal faded quickly into history and most difficult to document the actions leading to the award.
The double peacetime awards to Norwegian born Ludwig Andreas Olsen who served under the name Louis Williams were for saving the lives of men who had gone overboard and were at risk of drowning. Anyone who can swim will know that a drowning man can easily overpower a rescuer so both end up drowning. Olsen was serving as Captain of the Hold aboard the USS Lackawanna, in Honolulu, Territory of Hawaii. Seaman Thomas Moran fell overboard and Williams went to the rescue. His citation reads, "For jumping overboard from the U.S.S Lackawanna, 16 March 1883, at Honolulu, T.H., and rescuing from drowning Thomas Moran, landsman".
Olsen's second award was for saving another seaman who went overboard, this time serving aboard the USS Lackawanna, at Callao Peru. The scenes must have been dejevous for Olsen, except this time the overboard seaman was William Cruise. The second citation reads, "Serving on board the U.S.S. Lackawanna, Williams rescued from drowning William Cruise, who had fallen overboard at Callao Peru, 13 June 1884". Both medals were presented at the same time on October 18, 1884. That both award were presented at the same time is worthy of note. It was the first time two awards were made the same time to the same recipient.
In the long line of Medal of Honor recipients numbering more than 3400 over the course of American History, it's been the Irish at the top of the "nationality list" with more than 235 recipients. That probably tells you more about the fighting spirit of those from Ireland than some genetic superiority. Some of my Irish friends might even suggest it's the make-up of the Irish heritage…"They are utterly impractical, never predictable, sometimes irascible, quite inexplicably Irish. They are a strange blend of shyness, pride and conceit, and stubbornly refuse to bow in defeat." (author unknown). Only an Irishman can tell a man to go to hell in a way that he looks forward to making the trip.
Patrick Mullen is another in the list of Irish heroes. Mullen was born May 6, 1844 in Baltimore, Maryland and joined the United States Navy. He became a Boatswain's Mate and as such, would normally follow a path of advancement to Chief Warrant Officer and Limited Duty Officer. Boatswain's Mates often stand watch on ship's bridges, passing information relating to routine and special activities to the crew with the distinctive boatswain's call or boatswain's pipe which because its shrill tune could be heard above most of the activity on board. It is used to signal various happenings such as a call to attention and the boarding of officials.
Not to be confused with "The world's oldest profession", the Boatswain's Mate is said to be one of the three oldest professions in the U.S Navy, along with Quartermasters (responsible for safe navigation, shiphandling, and chart/record maintenance), and Masters-at-Arms (responsible for maintaining order and enforcing regulations among a ship's crew or the complement of a shore installation). Nowhere in any research did I find where the title of "Hero" was part of the job.
While stationed aboard the USS Wyandank he received the Medal of Honor for his actions during a boat expedition up Mattox Creek in 1865. His Citation reads, "Served as boatswain's mate on board the U.S.S. Wyandank during a boat expedition up Mattox Creek, 17 March 1865. Rendering gallant assistance to his commanding officer, Mullen, lying on his back, loaded the howitzer and then fired so carefully as to kill and wound many rebels, causing their retreat.
His second citation came in peacetime and read as follows, "Served as boatswain's mate on board the U.S.S. Don, 1 May 1865. Engaged in picking-up the crew of picket launch No. 6, which had swamped. Mullen, seeing an officer who was at that time no longer able to keep up and was below the surface of the water, jumped overboard and brought the officer to the boat, thereby rescuing him from drowning, which brave action entitled him to wear a bar on the medal he had already received at Mattox Creek, 17 March 1865″.
Perhaps the valor of the Irish is best portrayed in a quote by soccer star, George Best…"I spent 90% of my money on women and drink. The rest I wasted!" The Irish…Gotta' love them.
Following his service in the Marine Corps Ed Mattson built a diverse career in business in both sales/marketing and management. He is a medical research specialist and published author. His latest book is Down on Main Street: Searching for American Exceptionalism
Ed is currently Development Director of the National Guard Bureau of International Affairs-State Partnership Program, Fundraising Coordinator for the Warrior2Citizen Project, and Managing Partner of Center-Point Consultants in North Carolina.
Mr. Mattson is a noted speaker and has addressed more than 3000 audiences in 42 states and 5 foreign countries. He has been awarded the Order of the Sword by American Cancer Society, is a Rotarian Paul Harris Fellow and appeared on more than 15 radio and television talk-shows.
ATTENTION READERS
We See The World From All Sides and Want YOU To Be Fully Informed
In fact, intentional disinformation is a disgraceful scourge in media today. So to assuage any possible errant incorrect information posted herein, we strongly encourage you to seek corroboration from other non-VT sources before forming an educated opinion.
About VT
-
Policies & Disclosures
-
Comment Policy
Due to the nature of uncensored content posted by VT's fully independent international writers, VT cannot guarantee absolute validity. All content is owned by the author exclusively. Expressed opinions are NOT necessarily the views of VT, other authors, affiliates, advertisers, sponsors, partners, or technicians. Some content may be satirical in nature. All images are the full responsibility of the article author and NOT VT.