Israeli Rabbi who teaches that "the sole purpose of non-Jews is to serve Jews" plans to tap support of Sephardic Jews in US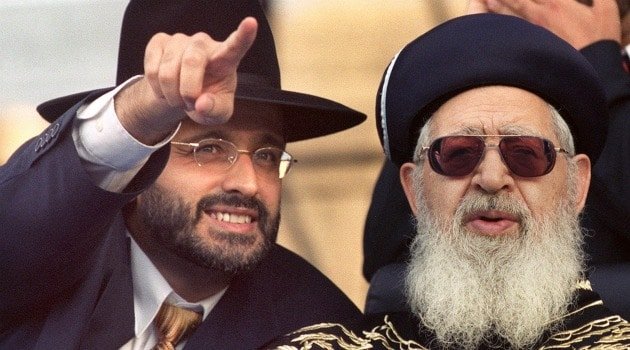 Washington — In its 30 years of existence, Shas has evolved from a marginal ethnic political group to Israel's fourth largest party in the Knesset and is today the unchallenged kingmaker of Israeli politics.
Its leader, Rabbi Ovadia Yossef, as quoted in Israel's Jerusalem Post, teaches:
The sole purpose of non-Jews is to serve Jews, according to Rabbi Ovadia Yosef, the head of Shas's Council of Torah Sages and a senior Sephardi adjudicator.

"Goyim were born only to serve us. Without that, they have no place in the world – only to serve the People of Israel," he said in his weekly Saturday night sermon on the laws regarding the actions non-Jews are permitted to perform on Shabbat.
Now, Shas — or in its full name, the Sephardic Torah Guardians Movement — is attempting to establish a beachhead among American Sephardic Jews and, it hopes, replicate its success in Israel. On December 4, the group launched its United States affiliate, American Friends of Shas, based in Brooklyn.
The new organization's goals are still in flux and, while activists agree its main mission should be raising the profile of Shas in America, some are also calling for active fundraising to support the party's operations in Israel.
Beyond these goals, the affiliate's founders also hope to unite Sephardic American Jews under the leadership of Rabbi Ovadia Yossef, Shas's founder and spiritual leader, who is revered as the most important rabbinic authority in the Sephardic world.
American Friends of Shas activists believe that such a consolidation of leadership could help elevate the standing of Orthodox Sephardic Jews, who often feel left out of the Ashkenazi-dominated American Jewish organizational world.
"Associating with a very powerful leader and a very powerful organization can give us a sense of pride," said Rabbi David Algaze, who chaired the founding meeting of American Friends of Shas.
Rabbi Algaze added that while he did not believe there is prejudice against Sephardic Jews in the U.S., there is a "subconscious bias" that has made members of the community almost entirely absent from the Jewish communal leadership.
Calls to join the new organization were posted in recent weeks on billboards in Orthodox neighborhoods in Brooklyn and New Jersey.
The official launch took place, as first reported by the Jewish Star, a Long Island-based newspaper, with Rabbi Ovadia Yossef's personal aide, Zvi Hakak, greeting participants on behalf of the 91-year-old sage.
"The dream," Hakak said in the meeting, "is to raise the image of Sephardic Jews."
[Editors Note: Before the end of WWII, other Jewish Supremacists, the Irgun, were actually running coast to coast fundraising tours to fund their killing of British soldiers in Palestine.

The British Embassy complained bitterly at the time that while Tommies were dying to free Europe and save those left in the camps, that we allowed this terrorist organization to raise money here. But U. S. Politicians gave the poor Brits the bad news, "We are sorry, but as a political reality there is nothing we can do."


Hear some Hebrew Klan gospel straight from the horses mouth, a horse with a suit…  Jim W. Dean]
[youtube Ukyu1ewVOXo] – Rabbi Algaze
 The group plans to incorporate as a tax-exempt charitable organization.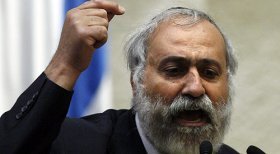 The driving force behind the initiative, Israeli Knesset member Nissim Zeev, was among the original founders of the Shas party in Israel.
"Our main goal was to have a channel in which Shas's political views could be expressed in America," Zeev told the Forward in a December 13 phone interview. "It is also very important for us to unite Sephardic communities in the U.S. around the party and around our rabbi, Ovadia Yossef."
Shas started off in Israel as a social-issue party, focused on the needs of its key constituency — Sephardic Orthodox Israelis, many of whom were from the struggling classes in Israeli society.
Shas established its own government-funded school network, which gained marked popularity in poor Sephardic towns. This, in turn, increased the party's popular support.
[Editors Note: So what these hustlers are going to do, of course, is launder tax deductible funding from here into the Israeli political process. Don't hold your breath for a Justice Dept. investigation. They won't do it. But we will at least get them on the record by officially asking them to…Jim W. Dean]
The party initially held centrist views on the Israeli–Palestinian conflict and supported the Oslo Accords. But Shas has since moved to the right. As a member of the ruling government coalition led by Prime Minister Benjamin Netanyahu's Likud Party, the party has opposed any freeze in Israeli settlement activity in the occupied West Bank.
ATTENTION READERS
Due to the nature of independent content, VT cannot guarantee content validity.
We ask you to
Read Our Content Policy
so a clear comprehension of VT's independent non-censored media is understood and given its proper place in the world of news, opinion and media.
All content is owned by author exclusively. Expressed opinions are NOT necessarily the views of VT, other authors, affiliates, advertisers, sponsors, partners or technicians. Some content may be satirical in nature. All images within are full responsibility of author and NOT VT.
About VT
-
Read Full Policy Notice
-
Comment Policy