Ride a Helmet Camera in the Motorcycle Race that Holds the World Record for KIA Riders  –  237                 …by  Jim W. Dean, VT Editor
It is not often we can experience what a moment before death is like, nor would we want to.
But the evolution of smaller and higher quality video cameras has launched a fast growing 'point of view' media genre where you basically get to see what the participant does.
Racing is the ultimate experience for PoV (point of view) video, and as I just learned, super bike motorcycle racing is in a class by itself. 
Take a motion sickness pill if needed, sit back and get ready for an experience I have never had before.
At first your senses will tell you an editor has mistakenly hit the fast forward button until you realize…oh no, they really are going this fast.
The audio from the screaming engine and the gear changes add a lot.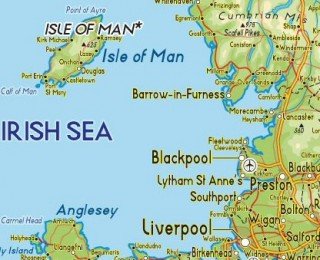 The scene of the action is the Isle of Mann's infamous TT motorcycle race, where between 1907 and 2009…237 riders have died pitting their human skills against those of Mother Nature on the Snaefell Mountain Course.
As often happens, one of my many editor friends spotted this footage and passed it on to curious me, always looking for new and unusual material for our readers.
The term 'blown away' seems appropriate to describe  my reaction.
I will lead with the main HD edited piece which includes not only PoV shots but course cameras and fabulous aerial ones, and then follow up with some others that I sifted out from YouTube.
Video quality varies so be sure to check your selection button for the best.
You could never get me on one of these bikes, say as a passenger…to go out for joy ride. If you were holding a gun on me I would just go ahead and say shoot me, and then you can strap my dead body onto the bike if you want.
The average 130 mph speed I first saw in some stats, I did not grasp that that included top speeds in the 180 to 200 range. The helmet cam shots through the easy curves at high speed literally seem to give virtually no time to react.
The race requires an intimate memorization of the course where your brain has to be a 100 to 200 yards of what you can view. And as you will see, mistakes at these speeds…well, they aren't pretty, but it is over quickly, most of the time.
I included a full run narrated piece by racing announcers so you have that professional delivery.
And then I have a top rider, Guy Martin giving a full course narration, which in his Cockney accent and talking almost as fast as the bike is going to stay up with the action, is a bit hard to understand with one pass.
I put Martin in as he has earned some air time. And there follows an interview with him about surviving crashes, including flaming ones.
It's an intimate peak into the casual attitude they have which I thought was a perfect example of  how different these race riders were from the rest of us.
They have what the race circuit folks call 'Steel Balls'. I am sure the UFO people love these guys the most and have taken all the best videos home to show their friends are how cool earthlings are for the promise they show pushing the boundaries back.  Enjoy. Jim.
Insane Motor Race – Isle of Man TT
First up is a 720 trailer HD. Be sure you click to play in the middle of the video window so you can get to YouTube and watch full screen. The music is a bit grating, but it is a hell of a warmer upper on the speeds, which are a blur with the side cameras.
[youtube TN3MFLwlsEg] – Opening HD Music Vid
 Next…hitting the wall at 160mph. Injuries?…"Oh, they're coming along nicely… I'm still in one piece."  360p
[youtube -Nzq2GorVH4] – 160 mph crash
An early morning practice run takes you all round the course. Remember to peak at the speedometer during the straightaways. Neil the Fish hits 187mph on mountain mile section during practice week. Riding a ZX10R followed by Crofty on a GSXR1000. The camera had a fault that was later sorted out so had to edit out one small section. 480p here.
[youtube 5FmC-beG12Q] -187 Neal
 Now for the sportscasters to add their professional observations as the racing begins. The helicopter cameras to a great job, in addition to the editing mix up helmet cams and tripod cameras along the course. This is also 720 HD.
[youtube k9HaWvdUEwo] – 2011- narrated race – HD
 Bad Crash here. Driver lays down but still goes into an unpadded wall had high speed.
[youtube v25j_JdUx1c] – Crashes
On-board with the TT's quickest ever recorded lap in the Senior TT 2007 race in the TT's 100th Anniversary Year with British rider, GUY MARTIN (who provides the lap commentary), wired up with Greenlight Television's mini-bullet-cams. Learn how to ride the Island – FAST! 480p here…a unique course run with the champion racer describing the tricks of the trade.
[youtube QVXc29ZgutI] -Guy Martin narrating a circuit…if you can understand it all
 Guy Martin hits the wall…a heavily padded one. Shaken up a bit but walks away. 480p here.
[youtube gTbcV8PWjoM] – Guy Martin hits the wall
 We will wrap it up with an interview with Guy Martin on his fiery crash that is the featured image. From his description he seems to have bailed out of the bike before it hit the wall and blew up…a good move on his part. He did have to slide through the flames but the suits they wear protect from that. 360p
Catch the doll he is holding in his hands. If you did not know this was really him, would you ever believe in a million years that this was a death defying super bike racer? I wouldn't. It's a great lesson in how you cannot judge a book by it's cover…and to not pre-judge people from just their appearance. Amen. Preaching over 🙂
[youtube EhA_U6LStQA]
ATTENTION READERS
Due to the nature of independent content, VT cannot guarantee content validity.
We ask you to
Read Our Content Policy
so a clear comprehension of VT's independent non-censored media is understood and given its proper place in the world of news, opinion and media.
All content is owned by author exclusively. Expressed opinions are NOT necessarily the views of VT, other authors, affiliates, advertisers, sponsors, partners or technicians. Some content may be satirical in nature. All images within are full responsibility of author and NOT VT.
About VT
-
Read Full Policy Notice
-
Comment Policy