Tune in, Turn Off and Definitely Drop Out
It's Sunday morning and I am listening to Aretha Franklin.  I might as well be on the friggin' moon.  20 local stations have preachers talking about rapture, the morning DJ's just finished their usual several hours of soft smut and commercials for financial rip-offs. 
I only "do" internet news, with everything around the world picked out by "stringers," the army of folks who make sure I miss nothing. 
Defining news?  News is what people who control media are told you should be thinking about so you won't ask any real questions.
[youtube STKkWj2WpWM]
To my stringers, some who risk their lives and freedom, thanks.
I have some questions.  I am not sure where to start.  This is an election year and I have an obligation to trash Newt and Romney simply because they are criminal sociopaths.  Both are utter morons as well.
One of my good friends, a former congressman and UN ambassador is being sent to Federal Prison soon. 
I am sworn to silence on this but when that silence is over,  some of our Bush era national secrets are hitting print.  Try shutting me up.  We are sending a hero to jail, not the first time. 
At least he wasn't murdered and thrown on a public garbage dump like John Wheeler III.
My real fear is "who do you trust?"  The news is absolutely criminal.   I am pretty sure half the broadcasters in America may well belong in prison, as I understand criminal law and I understand criminal law.
This leaves what I can write and what VT does.   A cursory check of search engine counts shows I turn the top numbers in the US of any news or opinion commentator. 
But I am no better than my own sanity, what is left of my common sense and my sources of information.
We work on no money whatsoever.
While Billy Paul is doing "Me and Mrs. Jones," I will talk a bit about journalism.  Every day is an education.  The "me" today is quite unrelated to the "me" from 5 years ago.  Where I once read others, I now sit on phone or Skype with political leaders and "others" I can never admit to.
[youtube mWOTdt9Bovk]
 We sometimes laugh, knowing everything is recorded.  There isn't a courtroom in the world where many of the conversations could be played. 
There are real issues we all share.  We all want a place "at the table."  We want our views heard, we want things to work, our kids, everyone's kids, to have a future other than hopelessness, drugs, dead end jobs of endless deployments to the flavor of the month corporate war.
I know a number of national leaders, some of good sized countries, on a first name basis.  I would like to say it is because I am charming but I also spent years representing large financial institutions, the kind nations borrow from. 
A few centuries ago, I would have been a eunuch.  We have gotten past that.  Instead, to stay near the "seat of power" all you need to do is either get a lobotomy or demonstrate a psychopathic personality.
The staff at VT is now basking in power, seeing their writings repeated everywhere, out of the mouths of babes as it were. 
I see things from me or Jim Fetzer or Jim Dean, Allan Rolland, Allan Hart and so many others showing up in speeches, threats, articles.  It is though we are the only source of the really "hip" bumpersticker phrases of the day.
I, myself, bask in that accomplishment.  I now think as a "bumpersticker."
About a week ago, Nigeria cut its national subsidy on gasoline.  Much of the money was being stolen but it was also subsidizing the pitiful salaries of teachers and nurses who sometimes drive hundreds of miles a week.  Now their income is less than the gasoline required to go to work.
It nearly started a revolution overnight.  The nation is already facing civil war, I worry about the president, Goodluck Jonathan, a man of character who sits overwhelmed by the most brutally corrupt bureaucracy outside Washington. 
I expect to be invited for a stay soon.  I haven't been back that long.
The fate of America, more than we know, sits in Pakistan.  There a good friend, Imran Khan, is frontrunner for head of state.  If justice and the will of a nation prevails, he will assume office and it will be something to watch. 
If only he were running here and not there, America would have a chance.  He is like "Ron Paul on steroids."
[youtube GF00BtlBqMI]
Now to find a leader like this for Egypt and Syria and, especially Israel.  I am so ashamed of Netanyahu.  He is really quite an evil person.   Every word he has ever spoken has long been proven false yet he still maintains a partial stranglehold, not just on Israel but America as well. 
Egypt.  VT is the only reliable source for reporting on Egypt the west gets.  I read the output of our "think tanks." 
When you actually do this stuff for a living, you realize that the "white papers" that are used to formulate policy are written by half-baked grad students who are clueless and should be working waiting tables at Starbucks.
The real issue is leadership, the absolute lack of it that the world seems to have.  It makes me miss Bill Clinton and, heaven forbid, Ronald Reagan.
Jimmie Carter.  Want to know why "they," meaning organized crime, has told you that Jimmie Carter was a "bad president?" 
By the standards of truth and courage, he has been our only president since John Kennedy and you know what happened to him.
[youtube uvtC_qzHVM4]
Obama has run from leadership.  He is not without talent or intellect but I know what he is told, what he believes and he is one of the most misinformed and under informed presidents. 
I have to stop there as his predecessor was a severely learning disabled sociopath with an IQ of 60.  Consider the next video a gift.
[youtube zfwRb_XKFvA]
I am not kidding about the IQ.   He left office with an 8% approval rating. Better still, he supposedly won the presidency with a 33% approval rating and won it again with one even lower.
That, of course, is impossible except in a police state.
Of late, I have been harping on food and fuel prices.  This is a huge scam, more of a tax really, a consortium of master criminals rigging world markets to push the standard of living everywhere to, well, let's talk about that.
When beef prices go up, I don't care.  I can't eat the stuff anyway.  That I can't find is unbroken long grain rice, I notice that. 
For years, the rice market, the biggest food staple in the world, has been strangled and manipulated for profit, and causing world starvation the press loves ignoring.
I ran the commodity, oil and gas finance department of one of the world's largest banks.  I know the game.  I can teach it. 
The basic footstuffs of the world, beans, rice along with fertilizers and heating oil are being made unaffordable to those to whom these commodities represent life and death.  This isn't an accident.
Johnny Mathis is doing "Chances Are."  I remember seeing him on Dick Clark, I think it was 1957 maybe.
[youtube NEH3uqbpsm8]
For Americans, rigged prices were planned long ago, a "run-up" of food and fuel prices, as long as flat screen TVs go down, nobody is supposed to notice. 
For those of you who don't know, America's unwillingness to declare a national strike based on rigged prices is based on a carefully orchestrated psychological operation that has required the full control of the media.
Note that no candidate or news show talks about the 20% increase in food prices we have seen over the last 30 days.
I can describe each market, how they interrelate, who controls them, what the game is and the damage it does and can do it in great detail.  I was the one who wrote the contracts, worded the letters of credit, negotiated the deals for years. 
And it will get worse.  In other parts of the world, starvation and malnutrition have been a reality, more than usual, since the game began several years ago.
Try going to Italy and buying a pound (1/2 kg.) of ground beef.  Cash in a CD first.
Go to Britain and fill your gas tank.  For the average worker it is a weeks wages.
Some, the deluded, feel we are reestablishing "social classes," the "haves" and "have-nots."  They think they will be immune.  What they will get is a bullet in the back of the head in the parking lot of their local mall while shopping for an $80 dollar pair of jeans. 
Did you know "jeans" got their name because the cloth we know of came from the French city of Nimes.  In French this is "De Nimes" or "denim" shipped from Genes or Genova or Genoa.  More fun still, is corduroy.  In French it actually translates as "cloth of the king." 
North of there is the city of Lyon where the silk industry had been located for some time.  The French resistance flourished there during the war because of the inability to keep track of anyone, drying silk everywhere.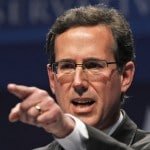 Some news.  The world is multinational and currently under the control of a series of criminal gangs who dictate to governments. 
These gangs own the media, international banking, oil and defense and maintain enough "talking heads" with Harvard degrees to seem like something other than the Mafia.
There are no governments.  If you want to see the saddest one in the world, look to Britain. 
There isn't a single GOP candidate, including Santorum, who isn't an easy match for Britain's David Cameron. 
Santorum is a Bush clone, perhaps a real one. He is not only a sociopath but regularly demonstrates an intelligence quotient of a marsupial. He is dumb as a rock.
Expectations.  I have spent some time trolling our military, intelligence and other areas of government for signs of intelligent life.  I have had some success.  Insiders are almost all Ron Paul fans. 
I , however, know that the military must be cleaned out, our intelligence services restructured, Homeland Security eliminated and, oddly, Tim Geithner to stay on at Treasury. He is not an idiot.  He gets it all.
This, of course, brings up the question.  Why is Obama such a "tool?" 
He is seeing his second term guaranteed, though I would make this a horse race with Ron Paul. 
The rest of the GOP are Israeli "hasbara."
If you don't know what this is, it isn't that they like Jews, quite the opposite, they simply are being controlled by organized crime under the guise of "supporting Israel."
Israel has nothing to do with it.  This is "game theory warfare."  Learn about it, learn what we mean when we say "peeling the onion."
China.  They have an aircraft carrier now, bought years ago from Russia and now successfully floating.  We should keep ships near it in case it tips over and we have to help. 
I do love Obama talking about China as our potential threat.  It is actually a brilliant ploy by Obama, picking an enemy that could care less about ruling anyone.  The Chinese seem insulted, they shouldn't.  Obama was kidding.
We aren't going to be able to keep Iran as an enemy for long.  Iran is politically unstable, inherently pro-American and an excellent market for the hundreds of American companies violating sanctions through their offshore branches, half headquartered in Zog, Switzerland.
You didn't know?  Sorry.
Rather than continue on, let's take our primary point.  Food.  America is being slated for decapitalization by the Bush family and a company called ADM.  Learn about them.  They are bad.
Boycott. Buy less gas, boycott beef and continually keep the buzz going about rigged food prices.
Write every editor, call  every show, show up at every town meeting, accept no more lies.
Organize and bring this place to a stop.  "Occupy" taught us how. Boycott TV news, boycott Fox and CNN, and refuse to use "left" and "right" terminology.  This is the talk of slaves.
Hey, we can just buy shackles for all of you, I can get a deal on these from China.  We can use American scrap iron.  I can see it now, shackles, tin foil hats and an army of morons like we have had for 25 years, blithering about abortion, gun control and "family values" while a police state took over America.
Remember the movie "Soylent Green" with Charleton Heston?  Perhaps Americans can be walked into giant chippers and made into little green crackers.
[youtube 9IKVj4l5GU4]
A prediction?  If you had asked me 20 years ago I would have laughed. I laugh no more.
Editing:  Jim W. Dean
Gordon Duff posted articles on VT from 2008 to 2022. He is a Marine combat veteran of the Vietnam War. A disabled veteran, he worked on veterans and POW issues for decades.
Gordon is an accredited diplomat and is generally accepted as one of the top global intelligence specialists. He manages the world's largest private intelligence organization and regularly consults with governments challenged by security issues.
Duff has traveled extensively, is published around the world, and is a regular guest on TV and radio in more than "several" countries. He is also a trained chef, wine enthusiast, avid motorcyclist, and gunsmith specializing in historical weapons and restoration. Business experience and interests are in energy and defense technology.
ATTENTION READERS
We See The World From All Sides and Want YOU To Be Fully Informed
In fact, intentional disinformation is a disgraceful scourge in media today. So to assuage any possible errant incorrect information posted herein, we strongly encourage you to seek corroboration from other non-VT sources before forming an educated opinion.
About VT
-
Policies & Disclosures
-
Comment Policy
Due to the nature of uncensored content posted by VT's fully independent international writers, VT cannot guarantee absolute validity. All content is owned by the author exclusively. Expressed opinions are NOT necessarily the views of VT, other authors, affiliates, advertisers, sponsors, partners, or technicians. Some content may be satirical in nature. All images are the full responsibility of the article author and NOT VT.