Government 'hit team' involved in homicide; fraudulent photo and pathologist's affidavit support murder.    

 
(IRVINE, CA) – This is the second part of a news series covering the murder and government cover-up of Colonel James E. Sabow, a senior Marine Corps officer at MCAS El Toro, CA.  Here is a link to Part 1.
Colonel Sabow was found dead in his quarters at MCAS El Toro on January 22, 1991, after he requested a court martial for alleged charges due to personal misuse of government aircraft. Colonel Sabow at the time of his death was still was not certified to fly the aircraft in question, the Kingair and Saberliner. [1]   During the first week of January 1991, he  was in St. Louis studying the aircraft and taking tests in the flight simulator. Prior to his death he could not be the first officer in these aircraft. Any flight that he took on these aircraft were training f
lights and they included approaches to a variety of airfields and to accumulate flight hours. These flights usually were on weekends because the planes were being used for other purposes during the week and piloted by those officers who were already qualified.  Every flight log including the destination and the personnel on board had to be filed and approved by the first officer. And any items to be transported by anyone on the flight had to be approved by the first officer. Consequently, any allegations against Colonel Sabow were completely false and probably this was part of the reason that the IG left MCAS El Toro with no instructions for any further investigation of Colonel Sabow.
Colonel Sabow was described by his wife as relaxed.  After breakfast, he watched the latest TV coverage of Desert Storm.  At 0830 on January 22,1991, Sally Sabow, upset by the many phone calls that morning to and from the Marine attorney assigned to her husband,  decided to attend morning Mass at a nearby Catholic Church.  She was late but if she hurried, she could make communion. On the way out the door, she heard her husband answer the phone three times in quick succession.  The other party never replied.  This was the last time she heard his voice before finding him dead on their patio after returning from church and a quick errant.
If Colonel Sabow didn't commit suicide, then who killed him?  The DOD crime scene reconstruction by Bryan Burnett supports the hypothesis that Colonel  Sabow was killed by a government assassination team.
PUTTING THE PIECES TOGETHER 
Somebody wanted Colonel Sabow dead and they were going to a lot of trouble to make it happen.  Bill Taylor, a former Marine Corps CID and private investigator working for Dan Sheehan,  received information from a Pentagon contact. A meeting was arranged with a source at Camp Pendleton. Taylor was given access to computer records, which indicated that on January 22, 1991, the helicopter that made the routine daily rounds of Marine and Naval bases carried four men from Pendleton to El Toro. These were members of an IRT team (International Response Team).
The assassination team were flown by Marine helicopter from Camp Pendleton to MCAS El Toro during the early morning hours of January 22, 1991, landing in a vacant field several hundred yards from Colonel Sabow's backyard. [2]
The helicopter normally landed next to the control tower at El Toro, but on January 22nd the chopper landed across the airfield at a point that was nearest to Colonel Sabow's quarters.  Four men got out, headed for the Sabow residence on Fifth Street.  This all took place around 0800.[3]
The helicopter then immediately took off, went right across the airfield, and landed where it usually does, at the tower. The pilot got out, said he was having some trouble, but was checking it out and that's why he had landed across the field.  He then went on to say that he  wasn't sure and he may do the same thing again, and he did, according to Dr. David Sabow.
And shortly after 0900, the pilot landed there again.  Dr. Sabow said he was told the pilot picked them up from the records. However, he  feels the records are false and the pilot picked up only one man, "accounting for the three that remained behind at the scene of the crime."
The government denies homicide but the mounting forensic evidence including the breaking news of the discovery of a fraudulent autopsy photo submitted as part of the DOD investigation report of the death of Colonel Sabow to the House Armed Services Committee in November 2004 supports a violent hit to the hit and then suicide staged by the killers with a shotgun. The fraudulent photo and a 2010 sworn affidavit from an internationally known pathologist reporting homicide and crime scene tampering raise serious doubts about the official DOD report of suicide.
ATTORNEY CONFIRMS GOVERNMENT ASSASSINATION TEAM
In a telephone interview on January 17th, Dan Sheehan, Dr. Sabow's attorney, confirmed that two NIS agents, who were part of the original crime scene investigation, witnessed crime scene tampering by three men who may be the murderers.  Sheehan said that one NIS agent told him that three men entered the crime scene, flashed some sort of government credentials, got into an argument with the NIS Special Agent in charge of the crime scene, ordered everyone to leave the Sabow backyard and wait across the street.  One NIS agent, described as 'Mr. X' by Sheehan stayed behind, out of sight from observation, witnessed three men searching the grass in Sabow's backyard.  One man picked-up a 2×6 board that was used to prop open a gate in the back of the yard to a vacant field and then left with the board. This gate was seldom used by the Sabow's.  This 2×6 board fits the description of a blunt object that could have been used to murder Colonel Sabow.  Another NIS agent got into a heated argument with the Special Agent in charge of the crime scene, refusing to sign a report that failed to mention the sudden appearance of the three men and the ordering of the NIS team away from the crime scene.  Sheen said that his efforts to have 'Mr. X' tell his story to the U.S. Attorney and seek protection under the Witness Protection Program failed when the story broke on a national radio show.
The fraudulent photo and nongovernment findings of homicide lend support to allegations that Colonel Sabow was murdered by a DOD assassination team to prevent him from talking about the use of MCAS El Toro as a transit point for weapon shipments to the Central and South America and cocaine into the U.S.
NCIS INVESTIGATION
The Naval Criminal Investigative Service (formerly the Naval Investigative Service or NIS) agreed to conduct a cold case investigation into the death of Colonel Sabow in late 2010.
Dr. Sabow said he was suspicions of another whitewash by DOD and contacted Dr. Werner Spitz, Professor of Pathology at Wayne State University School of Medicine and Adjunct Professor of Pathology at the University of Windsor in Canada, probably the most well known forensic pathologist in the world and the editor of the "Bible" of forensic pathology.
Dr. Spitz listened to his story after which Dr. Sabow said he told Julie Haney, the NCIS Cold Case Special Agent at Camp Pendleton of his contact with him. Together they provided the critical material of the death to Dr. Spitz.
THE PATHOLOGIST'S AFFIDAVIT [4] 
In a sworn affidavit to the NCI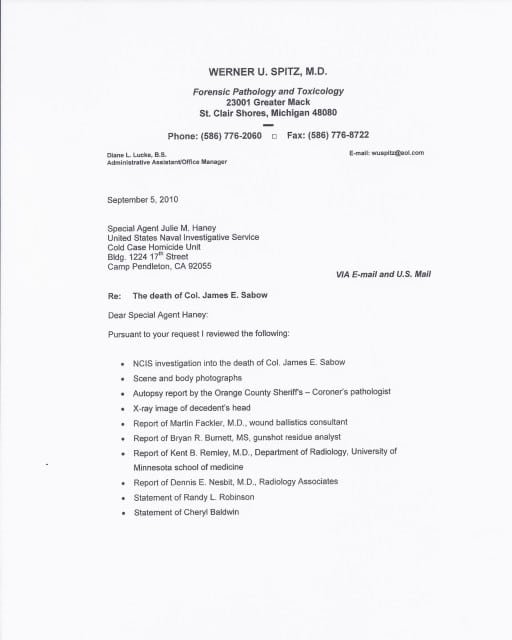 S, dated September 5, 2010, Dr. Werner Spitz concluded that Colonel Sabow was murdered and there was evidence of crime scene tampering.
Dr. Sabow said he was thrilled by Dr.Spitz's findings but it turned out to be short-lived.
When Special Agent Haney arrived at the Orange County coroner's office on September 9, 2010, for the meeting with Dr. Singhania, Bryan Burnett, a court-certified gunshot residue analyst and crime scene reconstructist, had to sit outside in a waiting room. Within an hour, the meeting was over.  Special Agent Haney provided no indications to Burnett of what happened at the meeting. Commenting  on this later, Burnett wrote that, "I thought at the time that Dr. Singhania would approach the issue honestly, but my exclusion indicates to me that it was a 'don't confuse me with the facts, my mind is made up.' I also suspect by that time Haney was told by her superior to lay off."
Two days later Special Agent Haney called Dr. Sabow informing him that Dr. Spitz had changed his mind and that after further review he had determined that Colonel Sabow committed suicide. Dr. Sabow said he perceived Haney's attitude about this unprecedented abrupt 180 reversal of an expert's written opinion to be highly suspicious.
Dr. Sabow called Dr. Spitz who told him he received new information but refused to tell him what it was until he blurted out that he reviewed new x-rays.  Dr. Sabow said he had copies of every skull x-ray and he sent him the copy of the depressed skull fracture himself.  Dr. Sabow said he questioned Dr. Spitz about many aspects of the autopsy and crime scene photos that included the blood evidence.  Dr. Spitz refused to provide a new written statement of opinion on the basis that he was both too busy.  According to Dr. Sabow, Dr. Spitz said he was a  fraud trying to invent fraudulent reasons for his brother's suicide.
Dr. Sabow gave this information to Special Agent Haney and she responded that "she would get another forensic pathologist, Dr. Glenn Wagner, the Chief Medical Examiner for San Diego to give his opinion."
Dr. Sabow was suspicious of this tactic because we already had a signed affidavit attesting murder from  Dr. Spitz. From the very first time he talked to Julie Haney, she stated that all she needed to take this case to the US Attorney was a change in the opinion regarding the manner of death and since Dr. Singhania readily admits and the certificate prove, she never conducted any investigation beyond the autopsy, then the investigation conducted by Julie Haney and bolstered by the Spitz affidavit was certainly enough to proceed to the US Attorney. However she was adamant about meeting with Dr. Wagner.  Haney refused to have Bryan Burnett attend the meeting but allowed Bob Romaine, a close friend, retired Marine Corps Sergeant Major and law enforcement officer, to attend.
Following the meeting, Bob Romaine told Dr. Sabow that he did not understand any of the forensic-autopsy discussion so he wondered why he was asked to attend in the first place.
Dr. Sabow said his research confirmed suspicions of a cover-up.  Dr. Glenn Wagner was an osteopathic physician who did his residency at the Armed Forces Institute of Pathology (AFIP). Subsequent to that he became a Medical Examiner for the Department of the Navy and remained in that position until 1993. So much for an independent opinion! A short time later Bryan Burnett who is well regarded in the forensic community in San Diego requested a "brown bag luncheon conference" where the topic would be a discussion of the forensics of the case. Dr. Wagner categorically refused to allow any such meeting to take place.
NCIS DROPS INVESTIGATION 
Special Agent Julie Haney notified Dr. Sabow of her decision not to pursue the investigation of the death of Colonel Sabow in early November 2010. Haney wrote that she could not pursue a homicide in Federal District court since there was no proof of externally caused damage to scalp and skull; no proof that Colonel Sabow was incapacitated "before he was shot from behind the head, or strangled from behind or poisoned;" high levels of GSR on his left hand was evidence that he fired the weapon; there's strong evidence he was despondent over loss of his honor and career; and that he was "caught taking 10 military flights for personal use and was pending at least career ending nonjudicial punishment.
Like referees with a home team bias, there's no way that a NCIS cold case investigation from Camp Pendleton was going to reverse prior decisions made by the NIS and DOD.
The truth is that the NCIS findings were predicable since both the NIS and a formal DOD investigation had found suicide as the cause of death. Given the prior positions taken by DOD and their support for suicide as the cause of death, it's inconceivable that an NCIS cold case investigation would even suggest that homicide as the possible cause of death.
The NCIS decision to drop the cold case investigation was typical of the pattern followed by the Navy and DOD over the past 20 years, according to Dr. Sabow.
Regardless of the merits of the scientific evidence, just deny murder and cast false and unsupported allegations of misconduct on his dead brother, painting a false picture of a depressed officer who took his life in a fit of depression.
As in the past, the facts don't support the NCIS decision to drop the cold case investigation. The Orange County corner's death certificate of suicide allegedly prevents this case from referral to the U.S. Attorney and a Federal grand jury. A fare and impartial review of the forensic evidence can only result in a change of the death certificate to homicide. There is no law or directive that states that the civilian medical examiner's findings in the manner of death trump the NCIS's investigation especially when the death occurred on an installation under exclusive Federal jurisdiction. Dr. Singhania herself has admitted that she did nothing at all in determining the manner of death except to perform an autopsy.
Dr. Sabow said that any text in Forensic Pathology asserts that an autopsy alone is totally inadequate in determining the manner of death as opposed to the cause of death and must be accompanied by a thorough evaluation of all the evidence collected at the crime scene as well as interviews with family and neighbors, if available. The Orange County Sheriff/Coroner and Dr. Singhania are guilty at best, of a mistaken rush to judgment or may be participants in the cover-up of the murder of Colonel Sabow, according to Dr. Sabow.
See Part 3 for the final segment in the murder of Colonel Sabow and the use of MCAS El Toro to fly drugs into the U.S.
---
[1] Colonel Sabow at the time of his death was still was not certified to fly the aircraft in question, the Kingair and Saberliner:  Dr. David Sabow's email response to Julie Haney, NCIS Cold Case Special Agent, dated November 4, 2010.   
[2] Flown by Marine helicopter from Camp Pendleton:  Helicopter is shown on the MCAS JAGMAN (Judge Advocate) investigation report landing near Fifth Street, several hundred yards from Colonel Sabow's quarters. There is no commentary in the JAGMAN report on the helicopter landing. 
[4] THE PATHOLOGIST'S AFFIDAVIT:  A copy of Dr. Sptiz's affidavit was obtained from Dr. David Sabow.  
Robert O'Dowd served in the 1st, 3rd and 4th Marine Aircraft Wings during 52 months of active duty in the 1960s. While at MCAS El Toro for two years, O'Dowd worked and slept in a Radium 226 contaminated work space in Hangar 296 in MWSG-37, the most industrialized and contaminated acreage on the base.
Robert is a two time cancer survivor and disabled veteran. Robert graduated from Temple University in 1973 with a bachelor's of business administration, majoring in accounting, and worked with a number of federal agencies, including the EPA Office of Inspector General and the Defense Logistics Agency.
After retiring from the Department of Defense, he teamed up with Tim King of Salem-News.com to write about the environmental contamination at two Marine Corps bases (MCAS El Toro and MCB Camp Lejeune), the use of El Toro to ship weapons to the Contras and cocaine into the US on CIA proprietary aircraft, and the murder of Marine Colonel James E. Sabow and others who were a threat to blow the whistle on the illegal narcotrafficking activity. O'Dowd and King co-authored BETRAYAL: Toxic Exposure of U.S. Marines, Murder and Government Cover-Up. The book is available as a soft cover copy and eBook from Amazon.com. See: http://www.amazon.com/Betrayal-Exposure-Marines-Government-Cover-Up/dp/1502340003.
ATTENTION READERS
We See The World From All Sides and Want YOU To Be Fully Informed
In fact, intentional disinformation is a disgraceful scourge in media today. So to assuage any possible errant incorrect information posted herein, we strongly encourage you to seek corroboration from other non-VT sources before forming an educated opinion.
About VT
-
Policies & Disclosures
-
Comment Policy
Due to the nature of uncensored content posted by VT's fully independent international writers, VT cannot guarantee absolute validity. All content is owned by the author exclusively. Expressed opinions are NOT necessarily the views of VT, other authors, affiliates, advertisers, sponsors, partners, or technicians. Some content may be satirical in nature. All images are the full responsibility of the article author and NOT VT.