"A phone call from the American embassy in Cairo used to be the sure thing to straighten up such a wretched mess. But this time it wasn't enough."
Egypt's ruling military council has rejected US threats to end aid payments to the country.
US-Egypt tensions have risen considerably following the decision to ban 43 pro-democracy staffers- including 19 Americans- from travel and refer them to a Cairo court on charges of violating laws regulating the operation of non-governmental organizations (NGOs).
Among those hit by travel bans is a son of U.S. Transportation Secretary Ray LaHood, as well as other foreign staffers of the International Republican Institute and National Democratic Institute.
A statement released on the council's official Facebook page stressed that Egypt is a country with a rich heritage that cannot be pressured or blackmailed into doing someone else's bidding.
The council also added that Egypt's international relations with the US and other countries were governed by the common interests of both parties, and that "Egypt does not bow to the domination of anyone."
… Now, such a statement, coming out from a military that has been indulging in an obscenely large American aid (US$1.3 billion annually) for the past 30 years, is quite perplexing and calls for some contemplation.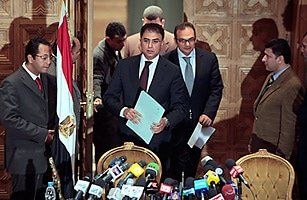 To begin with, and to put the reader into perspective, the whole "crackdown on foreign NGOs Cairo offices" with the decision to prosecute 43 staffers is but a cheap political stunt we Egyptians have seen it so many times before but with slight variations.
The catch goes like this. …  In dealing with any foreign investment, be it in the field of industry, publishing, tourism, etc, Egyptian authorities would grant the applicant for investment, or in our case, the NGOs, a temporary permit to operate in the country until all the required paper work is completed, but of course the paper work is never completed and the final authorization is never granted for security reasons.
If things went smoothly and convenient for the authorities, nobody would bring up this final authorization issue, if not, the targeted venture/business would be suspended and its workers/staff legally convicted of breaking the regulation rules and also of illegal foreign funding.
It's a dirty old trick, but works fine and even looks good before any court of law.
A phone call from the American embassy in Cairo used to be the sure thing to straighten up such a wretched mess. But this time it wasn't enough.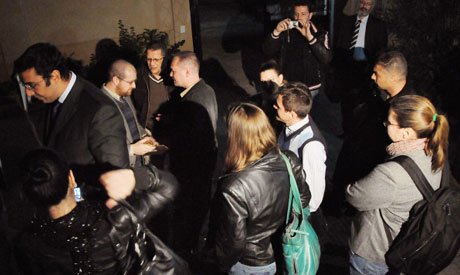 The American embassy aggressively intervened; Leon Panetta, the US defense secretary, telephoned Egypt's military ruler, Field Marshal Hussein Tantawi, and asked him to lift the travel ban on the American citizens, even a delegation from the supreme council of armed forces (SCAF) flew to Washington for negotiations over the issue.
The awfully weird thing is that SCAF grew more hostile and adamant about legally pursuing this NGOs case after the generals had cut short the visit to the U.S and returned to Cairo.
Something unusual happened back there in the Pentagon behind closed doors.  "Egypt military generals play risky game with U.S" The associated press reported … Watch the video here.
Were the Egyptian generals so naïve and stupid as to jeopardize 30 years of US alliance and support over this small NGOs' issue … or is this a whole new deal aimed at helping the military to censor freedom of expression and silence the growing tide of dissent in Egypt?
But on the other hand, SCAF may also fear it has much more than US aid to lose if it fully embraces a democratic transition that could bring civilian oversight of its considerable financial assets and curb its long-standing domination of power.
In the meantime, Egypt's ruling generals have deployed additional soldiers and tanks across the country in preparation for the anniversary of former president Hosni Mubarak's ouster from power on 11 February.
The move is seen as a warning to activists planning to mark the day with a national strike and civil disobedience campaign to demand a swifter transition to civilian rule.
Prime Minister Kamal Al-Ganzouri told a press conference that calls for civil disobedience were part of a plan to "overthrow the state" and all Egyptians should unite to get through the crises and dangers the country was facing.
Al-Azhar, a prestigious seat of Sunni Muslim learning, also criticized the calls for civil disobedience, the state-owned Al-Ahram news portal reported.
Pope Shenouda, head of the Orthodox Coptic church, said the civil disobedience was against Christian religion, according to the MENA news agency
Egypt's de facto ruler Mohamed Hussein Tantawi, called earlier this week for plans for the first post-Mubarak presidential election, currently scheduled for June, to be completed quickly.
As Saturday will mark one year since the ouster of President Mubarak, Egyptians remain deeply divided and confused, amid increasing political fog, over how they perceive post-Mubarak Egypt.
For more articles by Dr. Ashraf Ezzat visit his website.
Are the Freedom Fighers in Cairo's Tahrir Square in the Vanguard of a Global Revolution?
ATTENTION READERS
Due to the nature of independent content, VT cannot guarantee content validity.
We ask you to
Read Our Content Policy
so a clear comprehension of VT's independent non-censored media is understood and given its proper place in the world of news, opinion and media.
All content is owned by author exclusively. Expressed opinions are NOT necessarily the views of VT, other authors, affiliates, advertisers, sponsors, partners or technicians. Some content may be satirical in nature. All images within are full responsibility of author and NOT VT.
About VT
-
Read Full Policy Notice
-
Comment Policy