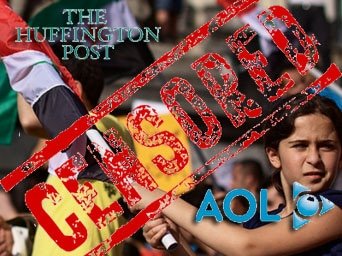 EDITOR'S NOTE : This is an article about corporate media – in action – censoring what you and I get to read. This is the same censorship that ensured we did not know what we were getting into with the War on Terror, the same media meekness that didn't ask probing questions about WMDs in Iraq, the same folks who are not demanding answers about the buildup to war with Iran, Israel's settlements, etc.

Well, AOL owns Huffpo…so we had seen this coming after the merger, no surprise here!  But this is NOT ultimately about one media company. This is a story about how corporate media decides what we do and don't know, and that goes to the heart of what we folks do at VT.
---
Syria Censorship at AOL-Huffington Post?
The battle for narratives is the frontline of this war, and it is a dirty one.
Let me be clear that this blogpost is not about sour grapes.
But the media cacophony on Syria has just become too shrill – reporters, too reluctant to raise obvious questions – to just sit back and let this one slide.
Especially when it is taking place under my nose at the place I have blogged for two and a half years. There's no other way to look at this: by refusing to publish all but one of my seven Syria articles, AOL-Huffington Post is censoring a viewpoint that challenges the dominant narratives on Syria in the mainstream media.
As all my articles were published without controversy in the period prior to AOL's purchase of the Huffington Post in early 2011, I can only surmise that AOL has established a new "editorial policy." In lieu of feedback from my editors as to why these articles remain unpublished, it isn't hard to conclude that the new company has altered course, and is more comfortable only nipping at the edges of the more irreverent blogosphere.
I have been blogging for the Huffington Post since September 2009, shortly after returning from a summer research tour through the Levant. Hanna Ingber, who recruited me as a blogger, was the founding World Editor of the Huffington Post. Hanna, who has since left the company, was particularly keen to have me write about my meetings and interviews with resistance groups Hezbollah and Hamas. I thought that was pretty ballsy for a US publication, online or not, and happily committed myself to bringing a fresh perspective on Mideast affairs to the pages of the Huffington Post.
At the time, the Palestinian-Israeli peace process had become a running joke, the "War on Terror" was an open-ended disaster, US-Iran tensions were front and center…it seemed a good time to question the premises of our assumptions.
I wrote hard stories about these issues. Face it, none of our political or economic problems are going to be solved with some gentle tweaks – we need to take an industrial-strength sledgehammer to our policies and rebuild many from scratch. My HuffPost blogging was not meek – I sought to unearth perspectives that were widespread in the Middle East, but consciously avoided by Washington decision makers…and by extension, the mainstream media.
My articles sometimes enraged, but I also gained fans who often thanked me for highlighting issues that were unavailable elsewhere. While I mostly covered Mideast geopolitics – my area of study – I discovered quickly that my niche at the HuffPost was providing counter-narratives to Washington's narratives on the region.
The Huffington Post, to their credit, published each and every piece. Even ones with titles like Israel's Human Shields and Live Bait;Netanyahu's Shame and the Fiction He Weaves; "Kill" The Peace Game– and a favorite – Thomas Friedman: Hasbara Grandmaster or Elitist Dupe?
That is, until I posted an article entitled Rupert Murdoch and Hezbollah's Scuds in July 2011, a few months following the announcement of AOL's purchase. After several efforts on my part to find out why it hadn't yet been published online, the weak suggestion came back that perhaps I could shorten it.
Now, I write long pieces – this is true. It is hard, after all, to challenge narratives that have been pounded into our heads without providing important background, context and nuance. I have always exceeded the HuffPost recommendation of 500-800 word posts – to be fair, many of their bloggers do. And I should note that there is no cut-off – simply a reminder in the blogger guidelines backstage that "If your post is especially long, it may take us longer than 24 hours to get to it."
I shortened the article, but to no avail. It went unpublished and only appears on Mideast Shuffle, where it still holds the distinction of being the second most widely read article on my blog.
The next article the Huffington Post refused to publish was The Iran-Saudi Assassination Hoax written in October last year. This time I received an explanation from an editor: "Hi Sharmine — Thanks for your latest post, but I'm afraid we're going to have pass on this one, as it gets too far into the realm of conspiracy theory proscribed in our blogger guidelines."
The irony is thick. The article, after all, was about Washington's own unlikely conspiracy theory that a middle-aged, Texas-based, Iranian, ex-car salesman who may or may not have been a cousin of someone in an elite unit of Iran's Revolutionary Guards, conspired with elements of a Mexican drug cartel to assassinate a Saudi diplomat in the American capital. These allegations were solid enough to appear as headlines in every newspaper in the country. But my pointing out that the US needed the Saudis to look like "victims" of an aggressive Iran so that they could push through $60 billion in approved weapons sales… apparently "gets too far into the realm of conspiracy theory."
Two short months later, the Huffington Post published a newswire article announcing the sale of $30 billion worth of F-15 fighter jets to Saudi Arabia, citing Iranian "threats" to the US ally.
Noticeable Censorship on Syria
Then, on December 5, I submitted the first of my Syria articles to the Huffington Post. The article, entitled Dubious Dealings: Syria and the Arab League, contained exclusive information – the list of Syrian amendments to the Arab League's protocol to green-light an investigative mission into Syria. They did not publish it and did not respond to any emails.
The HuffPost published my subsequent article Stratfor Challenges Narratives on Syria which quotes extensively from US intelligence analyst Stratfor's report that the Syrian opposition has been fabricating claims and events.
Since then, I have posted five further articles on Syria backstage at the Huffington Post. None have been published, and after many attempts to email editors there, I have still not received any explanation as to why. I list them here:
Syrian Snapshot: A View From The Capital is based on my own visit to Syria in January 2012 to interview opposition figures and gain some insights into the crisis in the country. Huffpost had one of their own bloggers inside the country and chose not to publish this first-hand account.
Foolishly Ignoring the Arab League Report on Syria unearthed the Arab League mission report that challenges the one-sided reporting on Syria by the mainstream media.
Veteran US Diplomat Questions Syria Storyline gives voice to the concerns of a former senior US diplomat who served at the embassy in Syria, and delivers some critical blows to current policy.
High-Tech Trickery in Homs places recent CNN satellite photos of Homs under a microscope, and shows how the photos tell an entirely different story than the network purports.
Questioning the Syrian "Casualty List" investigates the daily death toll in Syria and the inaccurate assumptions behind these casualty lists.
Every one of my Syria articles that the Huffington Post refused to publish provides exclusive information of some kind. Its World News section, instead, is filled with wire articles written outside Syria – usually from Amman or Beirut – often citing unverifiable information and claims from "activists" inside the country.
It is worth noting, these past few months, Syria has dominated Huffington Post world news headlines more than any other country or issue – it is clearly a story of great interest to the editors.
I have posted a screenshot below of my publishing history at the Huffington Post. It has been edited slightly to remove a recurring article, and another that was never completed. Importantly, it provides a clear visual contrast of the Huffington Post's comfort in publishing "counter-narratives" in the period before AOL purchased the company, and in the aftermath of the deal.
Imperfect as it may be, I have a great deal of affection for the Huffington Post – I don't just blog there, I have been an avid reader and participant on the comments sections of its Mideast postings. So much so, that I have earned the right to moderate reader comments, based on my record of fairness with flagging inappropriate ones.
Why not publish articles that have an edge on the competition? Who would refuse exclusive information? The Huffington Post censoring viewpoints? How did the world's biggest blog suddenly become the champion of conventional wisdom and mainstream narratives?
While I hope the company will realize the intrinsic value of a blog read around the world, with contributors and opinions from all corners – I actually expect this AOL-Huffington Post hybrid to just shut down my blog.
I will coyly remind them, however, that they didn't give David Harris, executive director of the American Jewish Committee, the boot when he went public after they refused to publish his Gaza flotilla article.
But the turmoil in the Middle East this past year has morphed into a battleground for much larger interests – economic, political, financial – and the players see this as an existential fight; the final showdown, so to speak. The battle for narratives is the frontline of this war, and it is a dirty one. Where once we thought fabrications of WMDs in Iraq and yellowcake uranium in Niger would never, ever pass through our vigilant scrutiny again – today, those stories barely compare to the barrage of unverified propaganda that filters through both social and mainstream media sites every, single day.
It matters then, if AOL-Huffington Post stops publishing a point of view. That is taking sides in what may come to pass in the Middle East. That is snuffing out information, analysis and opinion from a part of the world where viewpoints differ markedly from those in Washington. That, in plain English, is determining what the American people can and cannot know. And, that, is decidedly not what we expect from our media.
Original source: Al Akhbar English al-akhbar.com
Editing:  Debbie Menon
---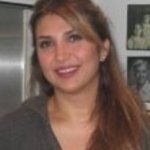 Sharmine Narwani is a writer and political analyst covering the Middle East. She has a Master of International Affairs degree from Columbia University's School of International and Public Affairs in both journalism and Mideast studies.You can follow her on twitter @snarwani.and Room for Debate
ATTENTION READERS
We See The World From All Sides and Want YOU To Be Fully Informed
In fact, intentional disinformation is a disgraceful scourge in media today. So to assuage any possible errant incorrect information posted herein, we strongly encourage you to seek corroboration from other non-VT sources before forming an educated opinion.
About VT
-
Policies & Disclosures
-
Comment Policy
Due to the nature of uncensored content posted by VT's fully independent international writers, VT cannot guarantee absolute validity. All content is owned by the author exclusively. Expressed opinions are NOT necessarily the views of VT, other authors, affiliates, advertisers, sponsors, partners, or technicians. Some content may be satirical in nature. All images are the full responsibility of the article author and NOT VT.