Vietnam Veteran, Marine Medal of Honor Recipient Needs Your Help and Your Support.  Can you Give?
"Veteran Service Organizations like NCOA and others are donating resources to erect a new memorial headstone for this Combat Marine hero, can you help too?"
by Ken Smith
On 6 September 1967, Sergeant Rodney M. Davis, USMC, gallantly gave his life to save several of his fellow Bravo Company, 1/5 Marines.  Sergeant Davis was nominated for the Medal of Honor, which he received posthumously.
Sergeant Davis, a young African/American from Macon, Georgia, had already served as a Marine Security Guard at the American Embassy in London, England.  He could have avoided combat in Vietnam because his enlistment was nearly at an end, but he had several friends serving in Vietnam, and he felt a "calling" to join the  fight. He volunteered for combat duty.
Upon arrival in the Republic of South Vietnam, Rodney was assigned to the 1st Battalion, 5th Marines, who had been fighting the guerilla forces called the "Viet Cong" as well as major elements of the North Vietnamese Army (NVA) in and around the Que Son Valley (dubbed by the Marines "VC Valley") for many months.  In early September, 1967, Rodney and his fellow Marines found themselves in the middle of a deadly combat operation.
Dubbed Operation SWIFT by the battalion commander, this operation included some of the worst fighting of the Vietnam War, resulting in the largest number of American casualties suffered by this battalion in any combat operation throughout the entire war. In the midst of hellacious fi ghting all around them, the Bravo Company Marines were outnumbered and nearly surrounded.  Suddenly, an enemy hand grenade was thrown into the Marines' position, and Sergeant Davis, without hesitation and with no thought of his own self-preservation, leaped forward and covered the grenade with his body, saving many lives but losing his own as a result of his heroic action.
Although Sergeant Davis was qualified for burial with full military honors in Arlington National Cemetery, his family's wishes were that he be returned home to Macon.  When his body was returned to his family in Macon, Georgia, he was buried in his family's plot in Linwood Cemetery.
Linwood Cemetery and the Rodney M. Davis Gravesite where he resides
Linwood Cemetery, a 13-acre historic Cemetery, was established in 1894. It is the final resting place of many ofPleasant Hill and Macon's prominent African/Americancitizens, included in its over 4,000 gravesites.  One gravesite commemorates the life of a Buffalo Soldier; another is the final resting place of Jefferson Long, a former slave who, in1870, became the first African-American from Georgia elected to the U.S. House of Representatives. He was buried in Linwood Cemetery in 1901. This sacred ground is truly a historic treasure for the entire Macon community.
Unfortunately, over the ensuing years Linwood Cemetery became overgrown and fell into disrepair.
For several years now, members and volunteers of the Macon Cemetery Preservation Corp (MCPC)., under the capable leadership of Alice Jackson, President of MCPC, have worked to remove heavy vegetation growth from the 19thand 20th century graves at Linwood Cemetery. "Our mission is to preserve, protect and restore," Jackson said.  "Linwood Cemetery fell into disrepair because its funds were not being used for perpetual care, so volunteers formed the nonprofit group," she said.
One of  Sergeant Davis's buddies, Marine Randy Leedom, visited Macon a few years ago. When he saw the overgrown cemetery and the sad state of the Davis family plot, he alerted the 1/5 Vietnam Veterans.  They agreed to do everything in their power to work with MCPC and right this terrible wrong. Since learning of the overall condition of the cemetery through Randy, one of those who is alive today because of Sergeant Davis's selfless act, volunteers from the 1/5 Vietnam Veterans and many other veterans groups, active duty military groups and civic organizations in the Macon area have regularly attended work parties to clean up the Davis Family plot and the surrounding area.  Those groups include:
The 1/5 Vietnam Veterans Unit Chapter of the 1st Marine Division Association;
The Montford Point Marine Association
Bravo Company, 4th Marine Recon Battalion
Marine Aircraft Group 49 (Detachment A)
Middle Georgia Detachment #970, Marine Corps League
Westside High School Junior ROTC
Students from Mercer University and Wesleyan College
Members of First Presbyterian Church and Ingleside Baptist Church, and
The family and friends of Sergeant Rodney M. Davis
Over the past several years, residents of Macon and others have attended work parties, twice a month, to help restore Linwood Cemetery.  Because our membership is spread out across the country and thus traveling to Macon is somewhatof a challenge, members of the 1/5 Vietnam Veterans have committed to leading two work parties a year, typically scheduled for April and October.
Much progress has been made, but there is much more to be done. 
An Idea is Born!
During a work party in April, 2011, volunteers gathered once again in Linwood Cemetery to continue this work.  As usual, the representatives of the 1/5 Vietnam Veterans showed up early and started clearing weeds from the Davis Family plot, a job becoming easier with each visit. Happily, this time there were few weeds to worry about, and they were immediately dispatched.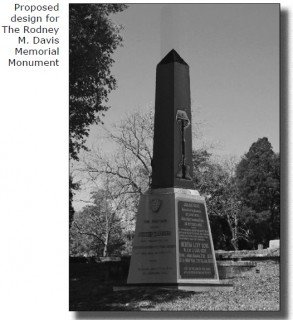 After ensuring that Sergeant Davis's grave was neat and clean, we turned our attention to the big wooden sign that stands at the top of a bluff overlooking the I-75 freeway.  This big sign, painted in the scarlet and gold of the Marine Corps, has seen better days.  The two 6" x 6" posts that the sign is mounted on are still sturdy, but the painted plywood sign (4' x 6') itself has badly deteriorated over the years.
As always, Alice Jackson and her people gathered all the volunteers together and gave us an overview of the progress they have made since our last work party, and pointed out a few of their priority areas.  Each group then scattered and focused in a particular part of the cemetery.  Our group and the recon Marines focused on the Sgt. Davis gravesite, the flag pole and the sign/ lighting, and the surrounding area.  Today, this small plot of ground looks about as good as it can with just a monthly clean-up; it looks okay, but we all know that it could and should be much, much better.  As we worked, we considered that assessment and the challenge of maintaining the wooden sign, which requires a complete renovation every year.
Thus was born the idea to build the "Sergeant Rodney M. Davis Medal of Honor Memorial Monument."
Rather than renovating the wooden sign each year, the sign will be torn down and replaced with a permanent granite memorial monument commemorating Sergeant Davis's heroism.  The monument itself will require no significant upkeep and will provide a memorial worthy of the U.S. Marine whose memory we honor.
How to Build a Monument
This project's goal is to raise the necessary funds to  commission a suitable and permanent memorial monument for Sergeant Rodney M. Davis, USMC – Medal of Honor, a true American hero.
This project will be planned, organized and completed in "phases," as follows:
Phase 1: Design, build and install the memorial monument.
Pha se 2: Dedicate and Memorialize Sergeant Davis – Memorial Service and Banquet.  We plan to host the     U. S. Marines whose lives Rodney saved at this event – target date is 6 September 2012.
Pha se 3: Initiate and administer a Scholarship Program with funds raised in excess of what is necessary to complete phases 1 and 2, to benefit high school students in Macon.
The 1/5 Vietnam Veterans Unit Chapter of the 1st Marine Division Association is "taking point" on this project, by providing project planning, fund raising and marketing support capabilities, along with volunteer and professional labor.  We intend to support this project by making individual and organizational donations, by leading the work task efforts under the guidance and approval of the Macon Cemetery Preservation Corporation, and utilizing our "national network of members" to reach out to other individuals and businesses and organizations in communities across the country.  All "Stakeholders" mentioned in this Project Plan include all those who have contributed in this effort to date as well as others who decide to join our cause.
A Challenge to Help Us Right this Wrong!
Project  Funds Required:
Phase 1: Preliminary estimates indicate that the creation and installation of the memorial monument, based on Design Concept we have selected, will cost approximately $50,000.00. In addition, the costs of installing the foundation and installing new lighting will be approximately $ 5,000.00. Finally, we have promised the MCPC to set up a fund, in the amount of $2,000.00 which will cover ongoing maintenance costs.  Total cost of  Phase 1 is estimated not to exceed $60,000.00.
Phase 2: Preliminary estimates indicate that hosting the U.S. Marines who "survived" the enemy grenade attack that Sergeant Davis defied, and their families, as well as the Davis Family and the MCPC volunteers at the memorial dedication ceremony and banquet will cost approximately $10,000.00.  All other members of the 1/5 Vietnam Veterans, members of the supporting organizations, and friends and family of Sergeant Davis will be invited to attend the memorial dedication and the commemoration banquet to honor Sergeant Davis. Local citizens, businesses and organizations will be invited to attend the banquet at their own cost.  All proceeds from the banquet will go to any unpaid costs of the memorial monument, and then into the Sergeant Rodney M. Davis,USMC (MOH) Scholarship Program.  The total cost of Phase 2 is estimated not to exceed $10,000.00.
Rodney M. Davis Scholarship Program
Phase 3: Students attending Rodney's high school in Macon,GA., will compete for this $1,000 per year scholarship by writing a 500-word essay on "Leadership & Courage." All funds received for this project in excess of that required to build and install the memorial monument and conduct the dedication and commemoration event will be placed in a savings account for the scholarship fund. A committee comprised of several 1/5 Vietnam Veterans and several teachers and leaders at the Macon high school, will manage the fund and select the recipients of the scholarship award each year.
Project Fund-Raising Goal: $ 75,000.00
We are seeking donations from individuals, businesses and organizations to help us fund this project.  We would appreciate any size donation, but we are also offering special opportunities for recognition to those who make major donations.
Major Donation Categories.
We Are Seeking:
(1) Navy Cross Donor – $ 25,000,00  This donor will be invited to attend and participate in the memorial monumentdedication and commemoration banquet (10 seats) and will be given the "inside back cover" of the programs for a memorial commemorative message.
(5) Silver Star Donors – $ 5,000.00 ea. These donors will be invited to attend the memorial monument dedication and commemoration banquet (4 seats), and will be given a quarter-page space in the programs for a brief memorial commemoration message.
(50) Bronze Star Donors – $ 500.00 ea.  These donors will be invited to attend the memorial monument dedication and commemoration banquet (2 seats), and will be named in the programs.
 Rodney M. Davis Memorial Monument DONATIONS!
Name, Company / Organization
Address
City, ST Zip
Email
Phone
Donation Amount
Checks payable to:  1/5 Vietnam Veterans For –  Sgt. Davis Monument FundMail to:
P. O. Box 1117 Flat Rock, NC  28731
Please contact me to discuss a Navy Cross,Silver Star, or Bronze Star Donation.
The 1/5 Vietnam Veterans Unit Chapter of the 1st Marine Division Association is a 501 (c) 19 non-profi t charitableorganization.  All donations made to support this special project are tax deductible up to the limits allowed by law.
Your donation will be placed in a charitable trust administered by the corporate attorney representing the 1/5 Vietnam Veterans.  If for any reason this memorialmonument is not built, all donations will be returned. 
For more than twenty-five years Ken Smith has been a leading advocate for veterans. A combat Vietnam veteran, Ken served during 1971-72 as a paramedic and an infantry squad leader with Delta Company, 2nd Battalion, 1st Infantry, in the 196th Light Infantry Brigade, Americal Division. After his discharge, Ken continued his work as a paramedic in New England. On the streets of Boston he encountered growing numbers of homeless Vietnam veterans, and he became determined to both assist them and draw attention to their plight.
In 1989, Ken founded the New England Shelter for Homeless Veterans, located in a former VA hospital at 17 Court Street in downtown Boston. One of the first facilities designed for homeless veterans and now a national model, the shelter has served over 35,000 of America's veterans who, for whatever reason, find themselves living on the streets.
In 1992 Ken was awarded Point of Light #142 by President George H. W. Bush, and later that same year received the AMVETS Silver Helmet Award, considered the "Oscar" for American veterans. As one of America's foremost veterans service organizations, AMVETS (or American Veterans) has a proud history of assisting veterans and sponsoring numerous programs that serve our country and its citizens. Ken was awarded this honor along with Peter Coors, with whom he still maintains a personal friendship.
Over the years Ken has appeared on many national media programs including Good Morning America, Prime Time Live, ABC News, CBS News, Larry King Live, CNN, 60 Minutes, and The Geraldo Show. He has been quoted in The New York Times, The Washington Post, The Boston Globe, The Los Angeles Times, The Chicago Tribune, The Miami Herald, and numerous international newspapers, magazines, and websites. In 1992, Ken had the distinction of addressing both the Republican and Democratic National Conventions as a keynote speaker on the subject of veterans.
Ken recently left his last assignment with the Military Order of the Purple Heart Service Foundation, where he was the chief technology architect of the Veteran's Vocational Technical Institute, Purple Heart Car Donation program, Purple Heart Call Center, Purple Heart Radio, Purple Heart Tech Support, Purple Heart Services, and over thirty new Purple Heart websites. Ken Smith provided the vision and has overseen the implementation of innovative, virtual, work-at-home training programs for veterans with combat disabilities. Ken has designed, upgraded, and supervised the integration and installation of Purple Heart Service Foundations computer and telephony systems, upgrading features from legacy POTS phones to SIP-trunked communications systems including establishing new VPN networks for teams of remote virtual employees.
An adventure sports enthusiast, Ken enjoys extreme skiing, competitive sailing, flying, and travel. He has traveled extensively worldwide, delivering his positive message to the veterans of other countries that a paraplegic veteran of the United States suffers the same as a paraplegic veteran of India; that an amputee veteran of Nepal suffers as much as an amputee veteran of France. Ken's mentor was Harold Russell, the two-time Academy Award winner who starred in the 1946 film Best Years of Our Lives. A World War II veteran, on D-Day, June 6th, 1944, Harold lost both of his hands. This ghastly misfortune did not stop him, and he went on to become the chairman of the President's Committee for People with Disabilities. For over fifty years he served US presidents from Truman to Clinton. Ken was humbled and grateful when Harold agreed to serve as the best man at Ken's wedding.
Ken has been instrumental in the planning stages for the Veterans Workshop, a new nationwide veterans' advocacy group building a new "Veterans Hotline, and the development of special programs for those who have lost their sight or their hearing, or who have suffered spinal cord injury, as a result of their military experience. The Veterans Workshop provides a forum where new technology and advancements in the fields of prosthetic and orthotic solutions, many designed by Ken, are shared along with virtual training and employment programs.
A 1970 graduate of De La Salle Academy in Newport, Rhode Island, for the past twenty-five years Ken has continued his education with extensive college courses in computer technology and related social service fields. He resides in his native state of Rhode Island with his wife and children.
ATTENTION READERS
We See The World From All Sides and Want YOU To Be Fully Informed
In fact, intentional disinformation is a disgraceful scourge in media today. So to assuage any possible errant incorrect information posted herein, we strongly encourage you to seek corroboration from other non-VT sources before forming an educated opinion.
About VT
-
Policies & Disclosures
-
Comment Policy
Due to the nature of uncensored content posted by VT's fully independent international writers, VT cannot guarantee absolute validity. All content is owned by the author exclusively. Expressed opinions are NOT necessarily the views of VT, other authors, affiliates, advertisers, sponsors, partners, or technicians. Some content may be satirical in nature. All images are the full responsibility of the article author and NOT VT.