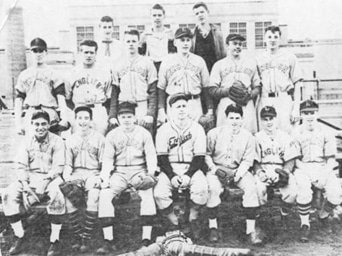 It's the 100th year anniversary of Boston's Fenway Park but to millions of fans it's the celebration of the Green Monster ~  the popular nickname for the thirty-seven foot, two-inch (11.33 m) high left field wall and home to the Boston Red Sox ~ the heroes of my youth.

The Red Sox opened Fenway Park with a 7-6 victory over the New York Highlanders on April 20, 1912. The Highlanders soon became the Yankees, and the rivalry between the two clubs blossomed into what some consider the best in sports ~ but what makes Fenway Park truly special is the Green Monster situated only 310 feet from home plate and a constant alluring target for any right handed hitter.
By the way, on the recent centennial birthday of Fenway Park, a day filled with ceremony, tears and recollection, the Yankees hit five home runs to ruin the party and decisively beat the Red Sox 6 – 2 ~ a familiar story this year, but I digress.
I grew up just north of Boston in the resort village of Nahant but I was an avid Red Sox fan and daily re-created games with my twin brother in the open field of the Thompson club across the street from our home.  Some days I'd be Vern Stephens or Ted Williams and my twin would be Mel Parnell or Denny Galehouse and we'd re-create Fenway Park using the high tennis court wall as the Green Monster.
John Smoltz describes what makes Fenway Park so special and how easy it actually  is, even for pitchers, to conquer the Green Monster ~ two minute video
The 1950s were viewed as a time of tribulation for the Red Sox. After Ted Williams returned from the Korean War in 1953, many of the best players from the late 1940s had retired or been traded. The stark contrast in the team led critics to call the Red Sox' daily lineup "Ted Williams and the Seven Dwarfs." And get this ~ Jackie Robinson was worked out by the team at Fenway Park, however it appeared that owner Tom Yawkey did not want an African American player on his team at that time. Willie Mays also tried out for Boston and was highly praised by team scouts but once again Yawkey said no dice. Ted Williams hit .388 at the age of 38 in 1957, but there was little else for Boston fans to root for.
But in 1953, my childhood dream and constant fantasy of playing on the hallowed infield of Fenway Park and facing the inviting target of the Green Monster became a reality.
Our High School Baseball team, Lynn English Fighting Bulldogs ~ on which I played shortstop, had raced through the season and tenaciously fought our way into the state High School championship game ~ which was played at Fenway Park. My twin brother, Bob, played third base and together we anchored the left side of the infield.
Oh my God! I was going to play short stop where my idol Vern Stephens played every day for the Red Sox ~ I was going to have the chance to face the Green Monster and maybe, just maybe, launch one into the nets. Our manager, Dave Barry, was just as excited as we were and I'm sure couldn't believe that this ragtag group of over achievers had made it this far.
 I remember that game like it happened yesterday ~ but it actually happened 59 years ago!
As we took infield practice I noticed that the infield was slightly rounded, probably for drainage reasons, and it might effect my throws to first base ~ but that thought was quickly forgotten, to my consternation, in my moment of reverie ~ I'm playing shortstop at Fenway Park!
Jim Leonard was on the mound for us but he was pitching on a few days rest and obviously did not have his best stuff. Arlington was a powerhouse team and their pitcher threw lightning bolts ~ we were definitely the underdog but who cared ~ we were playing at Fenway!
My first groundball was an adventure ~ a slow roller which I swooped in on (ala Vern Stephens ) and promptly threw it, much to my chagrin, into the opposing dugout. I vividly remember looking out to right field where my best friend and our best hitter, Chico Barrasso, was laughing into his glove.
But now for my big moment versus the green Monster. I was an average hitter, batting about .333 with most of my hits being soft line drives or ground balls through the hole ~ but I could really run. I was batting fifth; the Arlington pitcher was throwing darts and obviously was over powering our Bulldog hitters when I stepped to the plate.
I never saw the first pitch before I heard it hit the catcher's glove. Jesus, how am I going to hit this guy!
 I just closed my eyes and swung as hard as I could at the next pitch ~ and then it happened ~ I heard the crack of the ball hitting the bat and as I ran toward first base, I glanced over my left shoulder and, lo and behold, there was my hit ball rising in an arc toward the Green Monster in left field ~ I couldn't believe it, I literally stopped in my tracks as I watched the ball hit about 20 feet up the wall and bounce back towards the infield.  A sure double became a single as I barely got to first base.
 I hit the Green Monster!  The rest of the game was inconsequential, we lost 9 to 3, committed numerous errors and Dave Barry got thrown out for arguing a called strike ~ but made the most of his dream of managing at Fenway by kicking dirt on the umpire.
As such, the Green Monster forever lives in my memory of personal triumphs but it was soon replaced six years later after I graduated from College, Joined the Navy as an aviator and was busy living another childhood dream ~ flying supersonic jets off the deck of the USS Ranger on the South China Sea.
It's all about dreams and having the courage to live them. I guess I've been luckier, in that regard, than most ~ but leaving a dent on the Green Monster, even with my eyes closed, started the ball rolling.
---
About the Author: Allen L Roland is a Freelance Alternative Press Online columnist. He is also a practicing psychotherapist, author and lecturer who also shares a daily political and social commentary on his web site at AllenRoland.com. He also guest hosts a Truthtalk, a national radio show that airs monthly. He is available for comments, interviews, speaking engagements and private consultations via email at [email protected].
Allen L Roland, PhD is a Freelance Alternative Press Online columnist. He is also a heart centered spiritual consultant, author and lecturer who also shares a weekly political and social commentary on his web site at AllenRoland.com. He also guest hosts Truthtalk, a national radio show that airs monthly. He is available for comments, interviews, speaking engagements as well as private consultations via email at [email protected].
Roland is a twin who was born in Boston, Massachusetts, survived a dysfunctional family, pursued and lived his dreams, including becoming a Navy supersonic carrier pilot, finding himself by fully opening his heart, writing three books, siring four children ~ and is still living his ultimate dream by making a difference from a place of love, celebration and service.
His Ph.D dissertation THE UNIFIED FIELD was chosen by Common Boundary and Noetic Science Institute, in their 1998 national dissertation contest, as one of the top three finalists for combining spirituality and psychology. His ongoing heart centered work as a consultant with veterans with PTSD, is the most satisfying work of his life. Allen's online newsletter, columns and radio broadcasts are committed to the truth ~ as he sees it ~ for only the truth is revolutionary.
ATTENTION READERS
Due to the nature of independent content, VT cannot guarantee content validity.
We ask you to
Read Our Content Policy
so a clear comprehension of VT's independent non-censored media is understood and given its proper place in the world of news, opinion and media.
All content is owned by author exclusively. Expressed opinions are NOT necessarily the views of VT, other authors, affiliates, advertisers, sponsors, partners or technicians. Some content may be satirical in nature. All images within are full responsibility of author and NOT VT.
About VT
-
Read Full Policy Notice
-
Comment Policy