DARPA (Defense Advanced Research Projects Agency) Test Plane Flies at 13,000 mph for Three Minutes
Jules Verne time might be upon us soon folks, if we allow for  changing the 20,000 leagues under the sea to Mach 20 above.
DARPA reported this week that despite control problems that aborted the first two Hypersonic Technology Vehicle 2 (HTV-2) test flights, the technical data review substantiated that Mach 20 was reached for three minutes. It also revealed what problems have to be fixed for sustained flight.
What do we need a plane like this for you ask?
How about for the president to have an unmanned aircraft that can deliver a message anywhere on the planet in an emergency. But unlike a missile, it can be recalled if needed and ready to go again the next day.
Add in that nothing could shoot it down and you have a weapons system that can strike enemy missiles while they are being prepared for launch after being spotted by our satellites.
The next version HTV-3 will be a returnable vehicle. Funding for further testing with it awaits long range flight completions by the HTV-2, and a confident Congress.
DARPA is generally unknown among the general public despite the long record of major technologies it has birthed for military use initially that were eventually were worldwide.
Just a few examples just in the computing world were computer networking, as well as NLS, which was both the first hypertext system, and an important precursor to the contemporary ubiquitous graphical user interface.
There are vets who whine about research budgets for technology (ie. takes vet benefits out of their mouths), and they are the first to scream about fighting with outdated equipment and technology that kills and maims more of them.
The Marine airman at Wake Island in WWII learned this the hard way when they were shot to pieces by superior Japanese Zeros when they went out to attack their incoming fleet.
They called their Brewster Buffaloes 'flying coffins'.
And far from being a cash devouring government monster, DARPA is a tightly organized non bureaucratic hi-tech think tank.
The public has gotten a good bang for its buck from these folks.
According to former DARPA Director Tony Tether and W. B. Bonvillian, the keys to Darpa's success are:
Small and flexible: DARPA has only about 140 technical professionals; DARPA presents itself as "100 geniuses connected by a travel agent."

Flat organization: DARPA avoids hierarchy, essentially operating at only two management levels to ensure the free and rapid flow of information and ideas, and rapid decision-making.

Autonomy and freedom from bureaucratic impediments: DARPA has an exemption from Title V civilian personnel specifications, which provides for a direct authority to hire talents with the expediency not allowed by the standard civil service process.

Eclectic, world-class technical staff and performers: DARPA seeks great talents and ideas from industry, universities, government laboratories, and individuals, mixing disciplines and theoretical and experimental strength.

DARPA neither owns nor operates any laboratories or facilities, and the overwhelming majority of the research it sponsors is done in industry and universities. Very little of DARPA's research is performed at government labs.

Teams and networks: At its very best, DARPA creates and sustains great teams of researchers from different disciplines that collaborate and share in the teams' advances.

Hiring continuity and change: DARPA's technical staff is hired or assigned for four to six years. All key staff i.e. Office Directors and Program Managers are rotated to ensure constant infusion of fresh thinking and perspectives.

Project-based assignments organized around a challenge model: DARPA organizes a significant part of its portfolio around specific technology challenges. It foresees new innovation-based capabilities and then works back to the fundamental breakthroughs required to make them possible.

Although individual projects typically last three to five years, major technological challenges may be addressed over longer time periods, ensuring patient investment on a series of focused steps and keeping teams together for ongoing collaboration.

Outsourced support personnel: DARPA extensively leverages technical, contracting, and administrative services from other DoD agencies and branches of the military. This provides DARPA the flexibility to get into and out of an area without the burden of sustaining staff, while building cooperative alliances with its "agents." These outside agents help create a constituency in their respective organizations for adopting the technology.

Outstanding program managers: The best DARPA program managers have always been freewheeling zealots in pursuit of their goals. The Director's most important task is to recruit and hire very creative people with big ideas, and empower them.

DARPA Headquarters - Arlington, Virginia

Acceptance of failure: DARPA pursues breakthrough opportunities and is very tolerant of technical failure if the payoff from success will be great enough.

Orientation to revolutionary breakthroughs in a connected approach: DARPA historically has focused not on incremental but radical innovation.

It emphasizes high-risk investment, moves from fundamental technological advances to prototyping, and then hands off the system development and production to the military services or the commercial sector.

Mix of connected collaborators: DARPA typically builds strong teams and networks of collaborators, bringing in a range of technical expertise and applicable disciplines, and involving university researchers and technology firms that are often not significant defense contractors or beltway consultants.        …(Source:Wikipedia)

_____________________________

DARPA Engineering Review Board Concludes Review of HTV-2
Second Test Flight   ….April 20, 2012
 Aerodynamic design validated – New understanding of thermal material properties gained
Following an extensive seven-month analysis of data collected from the Aug. 11, 2011, second flight of DARPA's Hypersonic Technology Vehicle (HTV-2), an independent engineering review board (ERB) investigating the cause of a flight anomaly completed its report.
The findings of the ERB validated the vehicle's aerodynamic design and uncovered new information regarding the thermal material properties of the vehicle.
"The greatest achievement from Flight Two, which the ERB's findings underscored, was that we successfully incorporated aerodynamic knowledge gained from the first flight into the second flight," said Air Force Maj. Chris Schulz, DARPA program manager, who holds a doctorate in aerospace engineering.
A technology demonstration and data-gathering platform, the HTV-2's second test flight was conducted to validate current models and increase technical understanding of the hypersonic regime. The flight successfully demonstrated stable aerodynamically-controlled flight at speeds up to Mach 20 (twenty times the speed of sound) for nearly three minutes.
Approximately nine minutes into the test flight, the vehicle experienced a series of shocks culminating in an anomaly, which prompted the autonomous flight safety system to use the vehicle's aerodynamic systems to make a controlled descent and splashdown into the ocean.
"The initial shockwave disturbances experienced during second flight, from which the vehicle was able to recover and continue controlled flight, exceeded by more than 100 times what the vehicle was designed to withstand," said DARPA Acting Director, Kaigham J. Gabriel. "That's a major validation that we're advancing our understanding of aerodynamic control for hypersonic flight."
The ERB concluded that the "most probable cause of the HTV-2 Flight 2 premature flight termination was unexpected aeroshell degradation, creating multiple upsets of increasing severity that ultimately activated the Flight Safety System."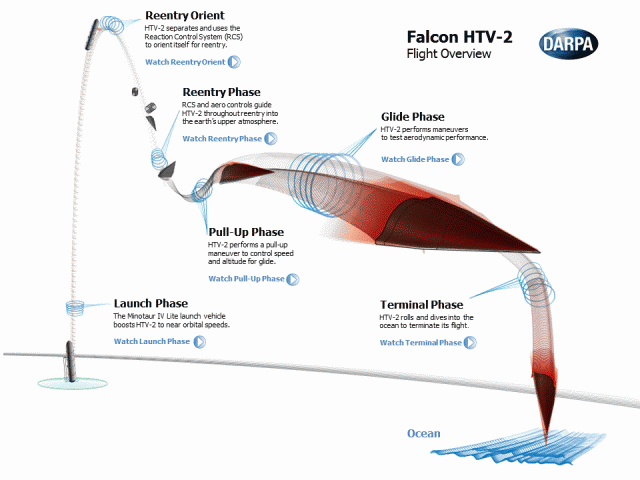 Based on state-of-the-art models, ground testing of high-temperature materials and understanding of thermal effects in other more well-known flight regimes, a gradual wearing away of the vehicle's skin as it reached stress tolerance limits was expected.
However, larger than anticipated portions of the vehicle's skin peeled from the aerostructure.
The resulting gaps created strong, impulsive shock waves around the vehicle as it traveled nearly 13,000 miles per hour, causing the vehicle to roll abruptly.

Based on knowledge gained from the first flight in 2010 and incorporated into the second flight, the vehicle's aerodynamic stability allowed it to right itself successfully after several shockwave-induced rolls. Eventually, however, the severity of the continued disturbances finally exceeded the vehicle's ability to recover.
According to Schulz,  "HTV-2's first flight test corrected our models regarding aerodynamic design within this flight regime. We applied that data in flight test two, which ultimately led to stable aerodynamically controlled flight.
Data collected during the second test flight revealed new knowledge about thermal-protective material properties and uncertainties for Mach 20 flight inside the atmosphere.
This can now be used to adjust our assumptions based on actual flight data and modify our modeling and simulation to better characterize thermal uncertainties and determine how to assess integrated thermal systems."
Aerodynamic assumptions and extrapolations from known flight regimes proved inadequate when preparing for HTV-2 inaugural flight test.
The data from second flight revealed that extrapolating from known flight regimes and relying solely on advanced thermal modeling and ground testing could not successfully predict the harsh realities of Mach 20 atmospheric flight.
"A group of nationally-recognized experts from government and academia came together to analyze the flight data and conduct extensive additional modeling and ground testing for this review," Schulz said.

"The result of these findings is a profound advancement in understanding the areas we need to focus on to advance aerothermal structures for future hypersonic vehicles. Only actual flight data could have revealed this to us."
Moving forward, the HTV-2 program will incorporate new knowledge gained to improve models for characterizing thermal uncertainties and heat-stress allowances for the vehicle's outer shell. The remediation phase will involve further analysis and ground testing using flight data to validate new tools for this flight regime.
The ERB findings and remediation phase efforts will inform policy, acquisition and operational decisions for future Conventional Prompt Global Strike initiatives executed by the Office of the Secretary of Defense, Acquisition, Technology & Logistics, Strategic Warfare directorate.
The goal is to ultimately have the capability to reach anywhere in the world in less than one hour.
Editing:  Jim W. Dean
Jim W. Dean was an active editor on VT from 2010-2022.  He was involved in operations, development, and writing, plus an active schedule of TV and radio interviews.
ATTENTION READERS
We See The World From All Sides and Want YOU To Be Fully Informed
In fact, intentional disinformation is a disgraceful scourge in media today. So to assuage any possible errant incorrect information posted herein, we strongly encourage you to seek corroboration from other non-VT sources before forming an educated opinion.
About VT
-
Policies & Disclosures
-
Comment Policy
Due to the nature of uncensored content posted by VT's fully independent international writers, VT cannot guarantee absolute validity. All content is owned by the author exclusively. Expressed opinions are NOT necessarily the views of VT, other authors, affiliates, advertisers, sponsors, partners, or technicians. Some content may be satirical in nature. All images are the full responsibility of the article author and NOT VT.