And here's why…look at the overall conclusions of the last group of observers on Syrian soil, and see how they markedly differ from today's dominant narratives about the Syrian conflict.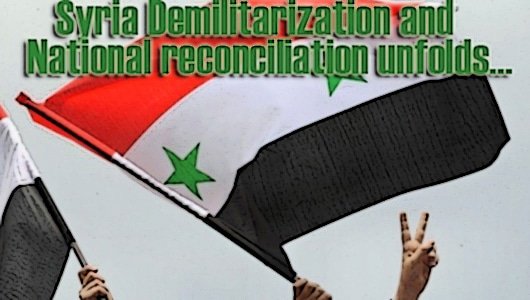 There is a lot of noise coming out of different quarters about the "imminent collapse" of the UN observer mission in Syria. "Dead on arrival," says one American commentator. "Failure to uphold truce," accused the White House and UN Secretary-General Ban Ki Moon, pointing fingers at the Syrian government.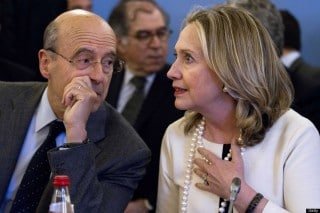 French Foreign Minister Alain Juppe warned the international community – just one day after the Mission Protocol was signed – to "prepare for the possible failure" of peace efforts. The very same day, his US counterpart Hilary Clinton enthused: "We need to start moving very vigorously in the Security Council for a Chapter 7 sanctions resolution," which allows for UN resolutions to be militarily enforced.
The Syrian Muslim Brotherhood was more specific about their concerns. They're worried about the "non-objective results it might issue."
Non-objective results? This sounds all too familiar. Usher in the discourse surrounding the Arab League observer mission in December/January, and you will find the exact doom-and-gloom rhetoric from more or less the same cast of characters, this time headed by Western-allies Qatar and Saudi Arabia.
Ironically, it was Qatar and Saudi Arabia who vigorously championed the Arab League Mission until Syria decided to participate. The moment it became clear that monitors would enter Syrian hotspots and report back their observations, those two countries started counter-spinning aggressively against the investigative mission, eventually scuttling it altogether.
Next came their demands to "upgrade" to an "international" observer group led by the United Nations. But now that the Syrian government has agreed to the terms of the UN mission, the negative rhetoric – from the same geopolitical bloc of nations/allies – is once more threatening to cast doubt on the mission and its ability to positively impact events in Syria.
Why Some Fear a Successful Mission
The question is why? Why would this bloc of nations – essentially spearheaded by the US, UK, France, Turkey, Qatar, and Saudi Arabia – actively seek to scuttle the UN Observer mission?
Firstly, a successful mission would mean the de-militarization of the Syrian conflict, with armed opposition groups laying down their weapons for good. That, of course, would herald the end of "forced" regime change, and with it, any hopes to control political outcomes in Syria.
Secondly, a successful mission would effectively put an end to a major part of the GCC-NATO counter-revolution in the region. The Arab intifadas that once threatened to target only pro-Western dictatorships, will whirl back in that direction with the focus removed from Syria. Still unresolved in the region are intifadas in Bahrain, Yemen, Egypt, and Libya. Without the crisis in Syria, the Mideast geopolitical balance of power would move sharply away from the hegemonic interests of the West and its regional allies.
Thirdly, a successful mission would provide answers to some very important questions about what is going on inside Syria: Who is killing who? Who is initiating the violence? How many Syrians have been detained by the regime? How many have been kidnapped by all sides? This vital information has been held hostage to a propaganda war waged by various interested parties on both sides – few of them interested in truth.
And here's why…look at the overall conclusions of the last group of observers on Syrian soil, and see how they markedly differ from today's dominant narratives about the Syrian conflict. In January 2012 – among other things – the Arab League Monitors reported two surprising counter-narratives:
The Syrian government "strived to help it succeed in its task and remove any barriers that might stand in its way. The government also facilitated meetings with all parties. No restrictions were placed on the movement of the mission and its ability to interview Syrian citizens, both those who opposed the government and those loyal to it."

"Recently, there have been incidents that could widen the gap and increase bitterness between the parties. These incidents can have grave consequences and lead to the loss of life and property. Such incidents include the bombing of buildings, trains carrying fuel, vehicles carrying diesel oil, and explosions targeting the police, as well as members of the media and fuel pipelines. Some of those attacks have been carried out by the Free Syrian Army and some by other armed opposition groups."
Evidence-Based Assessments is the Way Forward
The mainstream media almost entirely ignored the Arab League monitors' report. But as a new observer mission gets off the ground – perhaps a last chance to avert a civil war in Syria – it will be critical to make this UN mission as transparent as humanly possible.
To that end, I am providing links to two important recent documents that should be more readily accessible to the public. Many more will follow over the course of the next 90 days, and these should be avidly scrutinized for nuance missed by much of the media.
The first one is the draft protocol agreed between Syria and all 15 members of the United Nations Security Council on 19 April 2012. For whatever reason, this was difficult to come by, and I found this version uploaded by Ben Moran, the United Nations/New York Producer for Al Jazeera English, on TwitDoc.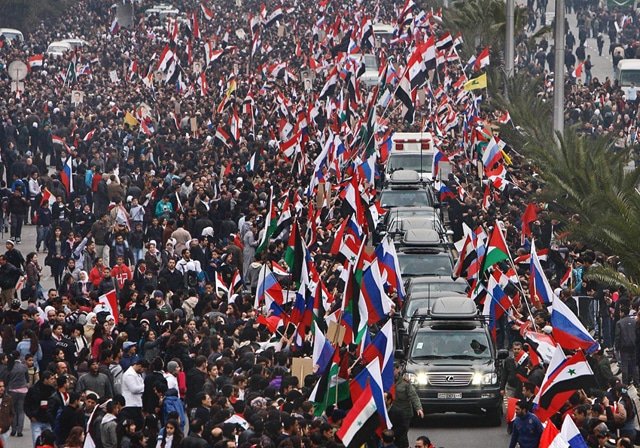 It is a worthwhile read. The requirements that the Syrian government needs to meet are precise and tougher than expected given that this was the draft provided by Syrian-ally Russia.

Although both sides in this conflict are required to cease violence within specific guidelines, some of the demands made on the armed opposition suggest that the UN is aware of things that the mainstream media does not readily report. For example:

16. Armed opposition groups and relevant elements operational requirements:

a. Cease all acts of aggression against Syrian Army formations, bases, convoys and infrastructure;
b. Cease all acts of aggression against Government agencies, buildings, infrastructure as well as private and public properties and not to hinder the resumption of public services;
c. Commit to stop all illegal activities according to Syrian law, including assassinations, kidnapping or vandalism; and to return all public and private property, stolen through violence, to their rightful owners.
d. Refrain from training, rearming, regrouping or reorganizing military formations;
e. Cease public and private display of weapons;
f. Commit, in accordance with Syrian law, not to conduct or initiate activities such as establishing checkpoints, conducting patrols or policing activities.
g. Allow the safe return of all affected people to their places of residence.

This text in the UN Protocol is revealing because these are not narratives often heard or confirmed about activities related to the armed opposition inside Syria.
We are much more likely to hear about atrocities committed by the Syrian government, whether confirmed or not. And this brings us to the second document that is worth a read – primarily because it provides insights into how the media can spin information to create skewed impressions.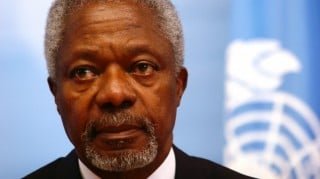 Since the six-point plan of UN Special Envoy Kofi Annan went into effect, and the parties to this conflict were required to cease hostilities, there has been an onslaught of stories of shelling, gunfire, and massacres attributed to the Syrian government. None of these have been verified or confirmed. But Western media and politicians – the UN secretary-general included – have highlighted quotes from an Annan document that appear to give credence to these allegations against the regime.
In fact, Annan's briefing to the UN Security Council on April 24, 2012 (courtesy of Inner City Press) was far more nuanced:
While Annan expresses "concern" and "alarm" about "media reports" of continued violence by the Syrian government in Hama, Idlib, and Deraa – all reported widely by mainstream media – he also reveals: "the government continues to provide me with reports of attacks by armed groups inside the country, including bombings and armed attacks on soldiers and public property."
Annan then cautions: "We continue to be hampered by the lack of verified information in assessing the situation," and references Homs, "where violence has dropped significantly in response to the presence of a very small number of observers."
He reminds his audience that the goal of observation is not only to "see what is going on," but in its "potential to change the political dynamics." The six-point plan is not just to halt violence and "freeze the situation." On the contrary, says Annan, its implementation "should provide an enabling environment for my efforts to facilitate a genuine political process."
But perhaps the most important part of the briefing is in item #11 when he introduces new "important information to share with you" which Annan claims "should make a real difference on the ground, if it is scrupulously applied:"
On April 21, the Syrian Foreign Minister informed me that, and I quote, "the withdrawal of massed troops and heavy weapons from in and around population centers is now complete and military operations have ceased."
What follows is further detail from FM Walid Muallem on the extent and nature of compliance with the UN plan – and then Annan's request for further assurances from the Syrian authorities.
This news is important because the Syrian government has claimed compliance – and this can either be verified as accurate, or disputed. But where are the UN observers who can investigate the distinction? Why did it take only a few days to bring 166 Arab League monitors into Syria last December, but will reportedly take 30 days to bring in 100 of the promised 300 UN observers?
That is an absurdly lengthy interval during which "spoilers" can do a lot of harm inside Syria.
The Syrian government has reportedly rejected accepting observers from any country that has joined the anti-regime "Friends of Syria" coalition, which consists of about 70 nations. But there are approximately another 124 nations to choose from, which shouldn't hold things up.
Instead, to hasten the process, Syrian President Bashar al Assad has reportedly requested that the first batch of observers be drawn from the United Nations Disengagement Observer Force (UNDOF) stationed in the Golan Heights since 1974 to supervise the ceasefire line there. UNDOF observers have already been vetted by the Syrian government and would be able to move into the new observer capacity quickly. Ban Ki Moon, surprisingly, has not rushed to embrace this obvious quick-fix.
In the meantime, as we await this observation team, the propaganda war continues to fuel tensions. Bombings in Damascus and Idlib in the past few days – and vessels captured by the Lebanese Army bearing Libyan weapons destined for the armed opposition – threaten to derail mediation efforts.
As this process of demilitarization and national reconciliation unfolds – aided hopefully by objective observers on the ground inside Syria – it will be vital to focus only on credible, verifiable information to keep cool heads. Reports and agreements that provide transparency are critical in this process, as are the statements of official spokesmen – not those of politicians.
We need to put a stop to unverified accusations that serve the political interests of the few. Thirteen months into this conflict, it is time to finally get empirical about events in Syria. That, of course, only applies to those who don't have anything to hide – and to those who are unafraid of this UN observer mission in Syria.
Source: Alakhbar English
Editing: Debbie Menon
---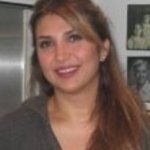 Sharmine Narwani is a commentary writer and political analyst covering the Middle East. You can follow Sharmine on twitter @snarwani.
ATTENTION READERS
We See The World From All Sides and Want YOU To Be Fully Informed
In fact, intentional disinformation is a disgraceful scourge in media today. So to assuage any possible errant incorrect information posted herein, we strongly encourage you to seek corroboration from other non-VT sources before forming an educated opinion.
About VT
-
Policies & Disclosures
-
Comment Policy
Due to the nature of uncensored content posted by VT's fully independent international writers, VT cannot guarantee absolute validity. All content is owned by the author exclusively. Expressed opinions are NOT necessarily the views of VT, other authors, affiliates, advertisers, sponsors, partners, or technicians. Some content may be satirical in nature. All images are the full responsibility of the article author and NOT VT.